How digital transformation leaders are planning for what's next
2020 changed everything. Faced with unprecedented hurdles, many companies made quick decisions to enable remote work at scale, deliver virtual care, and maintain business continuity. IT teams heroically rolled out collaboration tools overnight while users grabbed the first collaboration tools they could, but today, many organizations are left with the rubble:
Multiple siloed meeting solutions
Lack of control over the security and privacy of meeting solutions
Modern meeting solutions that don't work with legacy video infrastructure
As you plan for what's next, it's time to decide whether your panic purchases actually support a long-term collaboration strategy. This is a unique moment for organizations. Over the past year, business models have shifted, work has evolved, and we've learned just how creative and innovative we can be. It's time to adapt to the future of work, or risk being left behind.
Solve immediate needs with an eye towards the future
Frost and Sullivan
found that post-pandemic, the number of remote workers will be 6X more than the pre-pandemic number to reach 30% of the global office worker population. Remote work is no longer a luxury, and will be table stakes for organizations to remain competitive. As vaccines roll out and travel restrictions lift, hybrid workforce models will also emerge, creating a need for seamless communication between home and office workers.
With this in mind, below are four key areas to consider when evaluating meeting solutions for the long-term.
Modernize your meeting infrastructure for today's workforce
In this guide we share how technology leaders can:
Get more ROI from existing video equipment
Decide which considerations should be made for new meeting spaces
Determine which deployments options are best suited to their needs
1. Earn digital trust with a safe, secure meeting solution
Trust is paramount in today's digital economy. In fact, a recent
IDC survey
found that 63% of organizations are investing in cybersecurity to build digital trust for customers, employees, and partners.
Customers and partners want to work with those they can trust, and ensuring the privacy and security of meeting data is no different. This data could include audio, video, or chat text from a recorded call, or metadata such as IP addresses, email addresses, or company information. Protecting this information is crucial. Laws and regulations like the GDPR, CCPA, HIPAA and others set the standard of how this information is protected, but when considering a solution, it's important to perform a risk assessment or research the standards that companies guarantee.
Organizations should also have their own set of security protocols in place for video conferencing. For example, end-to-end encryption, meeting ID numbers and passwords to enter meeting rooms should be standard from day one.
Ultimately, meeting security comes down to control, and various deployment options offer different levels of control.
Ultimately, meeting security comes down to control, and various deployment options offer different levels of control.
Public cloud - While easy to implement, you are still responsible for knowing what data you're providing, where it's going, and what's happening with it.
Private cloud - Companies that trust a cloud provider like Google, Azure, or AWS can move the compute capacity to the cloud while still having employees manage the service. The data is still under the control of the organization, but the hosting is elsewhere to take the strain off the company's data center.
On premises - The ideal option for those who require utmost control over data.
Managed hosting - Provides the control and security of a self-hosted deployment with the ease and scalability of a shared cloud service.
Watch this video to learn key privacy and security considerations for video conferencing:
2. Deliver a better customer experience using video
As business models evolve, customer satisfaction and loyalty are more important than ever. Today's buyers conduct 81% of research online before making a purchase, and in the age of instant information, customer churn could be only a couple of clicks away. Organizations must rethink their digital engagement strategies and humanize their brand to deliver a better customer experience, and video is a great way to do that. Consider how video can help you engage customers -- and soon-to-be customers -- where they already interact with you. Below are a few ways leading organizations are already doing this:
Government - Justice organizations like the Joint Court of Aruba use video to conduct remote court proceedings, reducing the need for travel and the risk of infectious disease.
Healthcare - Hospitals and care delivery organizations like Queensland Health use video to extend their clinical workflows from hospital to home, embedding video visits into their existing workflows using flexible APIs and customizations.
Retail - Big box stores use video on their websites to enable personalized consultations, building stronger relationships over face-to-face video interactions.
Finance - Large banks use video kiosks to connect tellers with clients, offering a simpler and more convenient way to conduct transactions.
According to Frost & Sullivan, "technology innovation is expected to help many of the 2.70 billion frontline workers around the globe with mobile-first solutions and capabilities that are tailored to address specific workflows." By arming your frontline workers with vertical-specific video communication tools, you can simplify and optimize their workflows, while giving your customers a more personalized and engaging experience.
3. Empower employees in a hybrid workplace
Heading back to the office will be a big transition -- for employees, their families, and employers. Offices will look different in 2021. For instance, Irwin Lazar, president and principal analyst at Metrigy, spoke about
how offices will change
to support social distancing, minimal touch, and density tracking, and how virtual collaboration will continue to play a big part in keeping everyone connected. For remote workers, consider helping them optimize their home office environment to stay productive and focused.
Check out these videos
for best practices on audio, lighting, backdrops, and more.
After more than a year at home managing uncertainty and stress, organizations should strive to make the office transition as safe and seamless as possible. Below are a few tips to do just that:
Make sure everyone can connect, regardless of device or platform - In addition to using multiple collaboration tools, companies meet with external organizations who use different meeting platforms. Interoperability connects various meeting platforms and devices to bring everyone into the same meeting.
Video-enable meeting rooms for more natural, engaging conversations - Video is now a big part of our daily lives, and not just for work, but for virtual happy hours, gym sessions, birthday parties, and more. Make sure your office is ready to support video meetings to extend the same experience to the office.
Provide a safe environment with low-touch meeting join options - To protect the health and well-being of employees, consider how to make the office experience as contactless as possible. One-Touch Join options and QR-scanning capabilities can help users quickly join meetings.
Reduce meeting fatigue with intelligent collaboration tools - Don't settle for poor audio quality that drains your energy in back-to-back meetings, or screen layouts full of empty boxes instead of faces. Today's AI-powered meetings can deliver a more natural, engaging experience to help users power through their workdays.
Drive adoption of Microsoft Teams and Google Meet - Millions of new people started using these collaboration tools when they were sent to their home office. Consider bridging the gap between these modern solutions and legacy video solutions with interoperability, so everyone can join calls regardless of where they're working.


Wondering how Microsoft Teams fits into your
hybrid workplace
? Watch this video featuring UC Today editor Rob Scott and Pexip's Andrew Reitter to learn more:
With the right planning, companies can overcome inequities between home and office workers to help everyone thrive.
4. Future-proof your technology to adapt and thrive over time
While we've overcome tremendous challenges in the past year, we've also seen innovation like never before. As Microsoft CEO Satya Nadella put it, "we've seen two years of innovation in two months." Organizations have pivoted, created, and seen what's possible, and those who can harness that power will thrive into the future.

As we continue living in a period of uncertainty, leaders must embrace agility, though, and choose technologies that can adapt with them over time. Here are some areas to consider:


Leveraging APIs and customization options - Rather than locking yourself into a single, closed vendor, consider options you can shape to meet the changing needs of your business and workforce.
Bridging legacy and modern solutions - When rip-and-replace is not an option, consider how you can bridge the gap between old and new collaboration tools. For instance, if you already have Cisco or Poly video conferencing systems, how can you use those to join meetings hosted on Microsoft Teams or Google Meet, while maintaining familiar workflows?
Flexible deployment options - As you weigh factors like security, management, and control, does your current solution meet your current and long-term, strategic needs? For instance, can you move to the cloud at your own pace, while maintaining control over data? How about shifting from an OpEx spending model to a CapEx model? Learn how flexible deployment options can help you adapt.
For organizations that need ultimate data control, but want the simplicity of a cloud service model, Pexip can help. Check out this video to learn how Pexip Private Cloud can provide data sovereignty while reducing the cost and complexity of managing servers:
Now is the perfect time to re-evaluate your meeting solution and ask how it meets your needs -- today and in the future. As McKinsey & Company writes, "Crises are like adrenaline for innovation, causing barriers that once took years to overcome to evaporate in a matter of days." It's time to seize the moment, define a more resilient future, and drive your organization to success in your next phase.
Learn more about Pexip and how we help leading enterprises, government, and healthcare organizations adapt to today's changing landscape in this
report from Frost and Sullivan
, which ranks Pexip as a growth and innovation leader in the market. Click the image below to access your complimentary copy: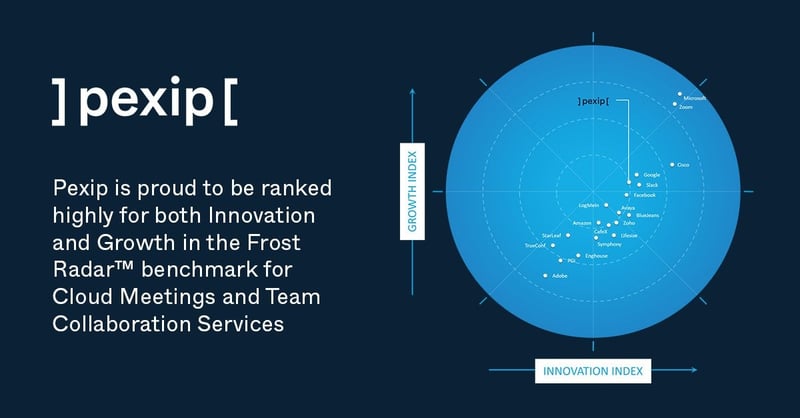 Topics:
Financial services
Healthcare
Judicial
Retail
Meet & collaborate securely
Digital transformation
Personalize customer engagement