Financial services are more digital than ever before.
Video helps engage customers, build trust, boost productivity, and personalize your interactions.
Secure and scalable video conferencing for financial institutions
Banks and financial institutions around the world rely on Pexip for their internal and external video conferencing needs.
Pexip's secure and customizable video solutions empower financial organizations to be more productive, streamline workflows, and improve customer experiences.
Digital banking, with a human touch
With video, you can combine the convenience of digital services with the power of human interaction.
By using Pexip solutions, you can offer your customers:
Easy-to-join video chats, with no downloads or plugins needed
Customized branding, making customers feel safe and secure
Personalized financial services that can be offered from anywhere, on any device
Face-to-face interactions using ultra-high quality audio and video
Pexip wins Retail Banker International (RBI) award
Pexip was recognized at the 36th annual RBI Global Awards for our video enablement solution, following successful implementation alongside leading Nordic bank, Nordea.
Here's why:
Nordea's web-based video meetings with customers increased from 500 to 4,000 per month
60 new advisors employed to manage expansion of customer interactions
At peak times, 500+ concurrent video meetings conducted with customers
Secure customer loyalty with face-to-face support
Customers want fast responses and personalized care. In the financial sector, where speed and security are critical, best-in-class collaboration matters. With face-to-face interactions, you can build and maintain customer trust.
Personalize video interactions using the power of AI
Pexip's AI-powered Adaptive Composition engine makes meetings feel natural and relaxed, creating more engaging meeting experiences. This technology can help you achieve more success in your customer interactions.
Keep your existing business workflows & tools
Pexip keeps things simple. Customers can easily join a video meeting, regardless of device. Financial advisors and other staff can continue to use their existing in-office or remote video conferencing tools, making internal and external meetings more streamlined and efficient.
Free eBook: How retail banks can master customer engagement
Did you know?
Only 10% of retail banks regularly work on enhancing the customer experience
Yet over 70% of retail banks believe that digital customer engagement is important to the success of their businesses today and tomorrow
Customer engagement is essential in today's competitive landscape.
Get your free copy of our guide and learn how to win more customers and scale your business.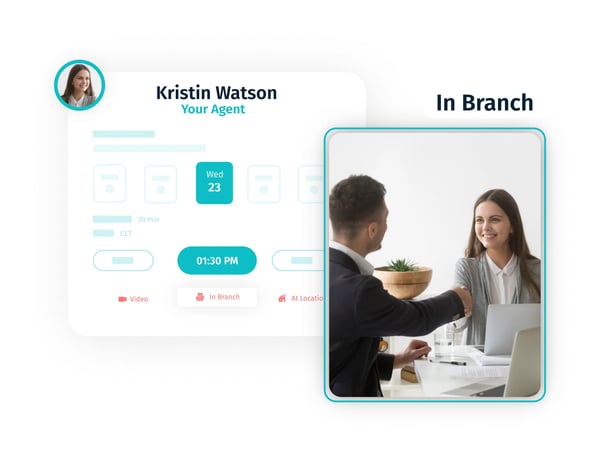 Pexip for financial institutions
Modernize your core technology capabilities by investing in seamless, best-in-class video solutions from Pexip. This includes:
Flexible deployment options
Proven scalability
Security compliance with industry standards
Video that's integrated into your existing business processes and workflows
Solutions which can be hosted on-premises or as a cloud-based solution
Customizable for your organization
The Pexip platform can be customized to extend your branding across the user journey. Financial organizations have integrated Pexip into their secure, logged-in company web pages, allowing their customers to access meetings while remaining inside their company's branded site. With integration into an organization's website, financial advisors can maintain access to historical financial data while in video meetings.
Pexip can also be integrated into an organization's custom workflows to power a range of financial services.
Discover how banks and financial services institutions can create a user-friendly
customer video solution
that
integrates with existing workflows
and
transforms customer engagement
with personalized, secure access to consumers.
Trusted by global financial institutions
With Pexip, you can easily adapt the platform to comply with existing regulations. The entire solution can be deployed and used within a secure environment, giving your organization control over its data. To mitigate issues such as insider trading, organizations can separate departments' information in a number of ways, from PIN-protecting meetings to separating deployments within the same data center.
Video meeting capacity on demand
Pexip's best-in-class platform is designed to be secure, flexible, and as scalable as you need it to be. Quickly and easily expand the capacity of your deployment to accommodate large, global meetings or a higher than usual number of simultaneous smaller meetings. Pexip allows you to be agile as markets change and your organization evolves.
Use existing technology & hardware
Many large firms have already invested in video conferencing hardware from brands like Cisco and Poly for their conference rooms. Pexip extends the reach of these technologies and connects them with collaborations tools from Microsoft and Google for seamless communications across your in-office and remote workforce.
Why does a seamless video experience matter for financial institutions?
Watch Geeth Kulendran, who is responsible for the Financial Services Sector at Pexip in the UK&I, explain the value of making video a natural part of customer engagement strategy today.
Video Conferencing for Finance: Case Study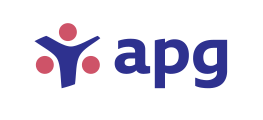 Pexip's solutions helped global pension provider APG optimize their workflows across a remote workforce, while ensuring secure communications.

"Pexip's interoperability between Teams and Cisco met our needs better than other potential solutions. We also appreciated that robust dial-in and compliance capabilities are included so we could meet all our virtual meeting needs from a single, secure platform."
- Patrick de Klerk, System Engineer at APG, the largest pension provider in the Netherlands and in Europe
Explore Our Finance Blog Posts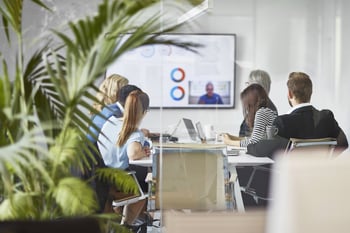 How to optimize internal collaboration in financial organizations
Find out how financial institutions optimize their internal communications to empower their modern, ...
It makes cents.
Learn how Pexip just makes cents when you need a secure video conferencing solution to meet with the demands of the modern financial sector.