Use meeting room solutions to join meetings on any platform
COVID-19 was a catalyst that changed our collaboration landscape forever. Whereas business travel and open office spaces were once the norm, today, we face a new reality, and one that is continually evolving. In the wake of stay-at-home orders, several shifts have taken hold:
Remote work is here to stay, and will be fundamental to the way we operate moving forward. In fact, Gartner reports that 74% of companies plan to to shift some employees to permanent remote work positions post COVID-19.
Video is now a big part of our daily lives, and not just for work, but for virtual happy hours, gym sessions, birthday parties, and more.
We no longer hide in "audio-only" mode; instead, turning on video so we can engage with others over face-to-face conversation.
Over the past few months, we have beared with each other and overcome the rookie mistakes of video calls -- forgetting to mute, backlighting -- and we've settled into home office environments. Working from home is no longer a novelty or a privilege; it's normal, and video meetings are a fundamental part of our new reality.
---
Free on-demand webinar: Meeting equity in the hybrid workplace
What it is, why it matters, and how technology can help.
▶️ Watch this free on-demand webinar to find out.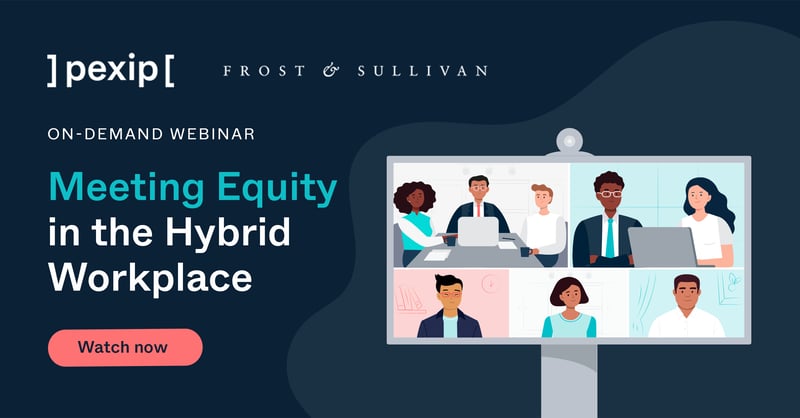 ---
Embracing a hybrid workforce model
While the situation is fluid and varies by location, some companies are planning the transition back to the office and considering how to keep employees safe while maintaining business continuity. There are a number of factors to consider as a part of this process, not limited to redesigning office layouts, implementing new protocols, and managing who will come back to the office and when.
While there are many recommendations and resources for creating a safe return plan, one theme is that workforces will use a hybrid model for a period of time, where some (or all) employees will continue working from home, and some will return to the office. As the Coronavirus situation evolves, this hybrid distributed workforce model will likely continue for months or years to come.
In this new model, employees must be able to join the same meetings, regardless of whether they are working from the office or from home. This means easy-to-join meetings from any device, whether a standards-based video system in the conference room or a laptop in a home office, as well as the ability to join meetings hosted on different collaboration platforms, when invited by someone outside your company.
Learn more about enabling a smooth transition back to the office at Pexip's "Back to the Future of Work" virtual summit July 22.
Interoperability brings everyone together
The key to this flexible meeting environment is interoperability, which breaks down barriers to enable everyone to meet. Interop allows organizations to:
Join the same meetings, regardless of device or location - In addition to using multiple collaboration tools, companies meet with external organizations who use different meeting platforms. Interoperability connects various meeting platforms and devices to bring everyone into the same meeting.


Drive adoption of Microsoft Teams and Google Meet - Millions of new people started using these collaboration tools when they were sent to their home office. Now, they can still join meetings hosted on Teams or Meet, regardless of whether they join from a laptop in a home office or a professional video system in a conference room.


Protect investments in legacy video conferencing systems - Organizations can extend the life of room systems from the likes of Cisco, Poly, Lifesize, and Yealink by enabling them to join meetings hosted on any platform.


Extend IT budgets - With an uncertain economy, many IT teams are adjusting their budgets and shifting their priorities. Some companies are delaying the purchase of more high-end video systems for conference rooms, opting for smaller, less expensive room systems for now. Interoperability can allow both types of room systems to join the same meetings.
Join any meeting, from any device, in one touch
Pexip meetings are easy to schedule, host, and join from any device, including traditional video room systems, a desktop client, mobile app, download-free via web browser, or Skype for Business. Pexip also offers certified, native interoperability solutions for both Microsoft Teams and Google Meet, so you can join those meetings using standards-based SIP and H.323 video systems in just one touch while keeping your familiar workflows.
With One-Touch Join, users join any meeting (including those hosted on Pexip, Microsoft Teams, Google Meet, Zoom, Cisco Webex, and Bluejeans) with a single tap. When a user walks into the room booked for the meeting, they can join the meeting by simply pressing the single button presented on the touch panel or remote of their Cisco or Poly endpoints. In addition, Pexip's unique MeetingConnect capability lets a user to simply scan a QR code inside the room using a smartphone, choose the appropriate meeting, and accept the incoming call on the endpoint.
These solutions are available as a service or self-hosted in a private cloud or on-premises, and are built with security and privacy in mind.
Change and uncertainty can be scary. But, transitions like this can also open the door to new possibilities. In the midst of these difficult times, employees' safety and well-being is the top priority. By adapting a flexible, hybrid workforce model with video interoperability at its core, you can foster a culture that respects distancing guidelines and stays connected in this ever-evolving normal.
To learn more about enabling a smooth transition back to the office, watch the on-demand virtual summit, "Back to the Future of Work."
To speak with a member of the Pexip team, contact us here.
Topics:
Digital transformation
Room connector