Video conferencing system management made easy
Our new Pexip Enhanced Room Management solution makes managing your video conferencing systems (room systems) an easy and error-free process. From system monitoring to bulk provisioning of software upgrades, address books, and branding profiles, everything you need to manage your systems can be carried out from one single management interface.
Monitor your room systems' health at a glance
The Dashboard gives you an instant overview and health status of your meeting room systems from a single management interface, enabling you to monitor your systems and view any issues in real-time. From this interface, you can also take advantage of the built-in call control to provide white glove services to support an existing call with the system or troubleshoot a problem on the system.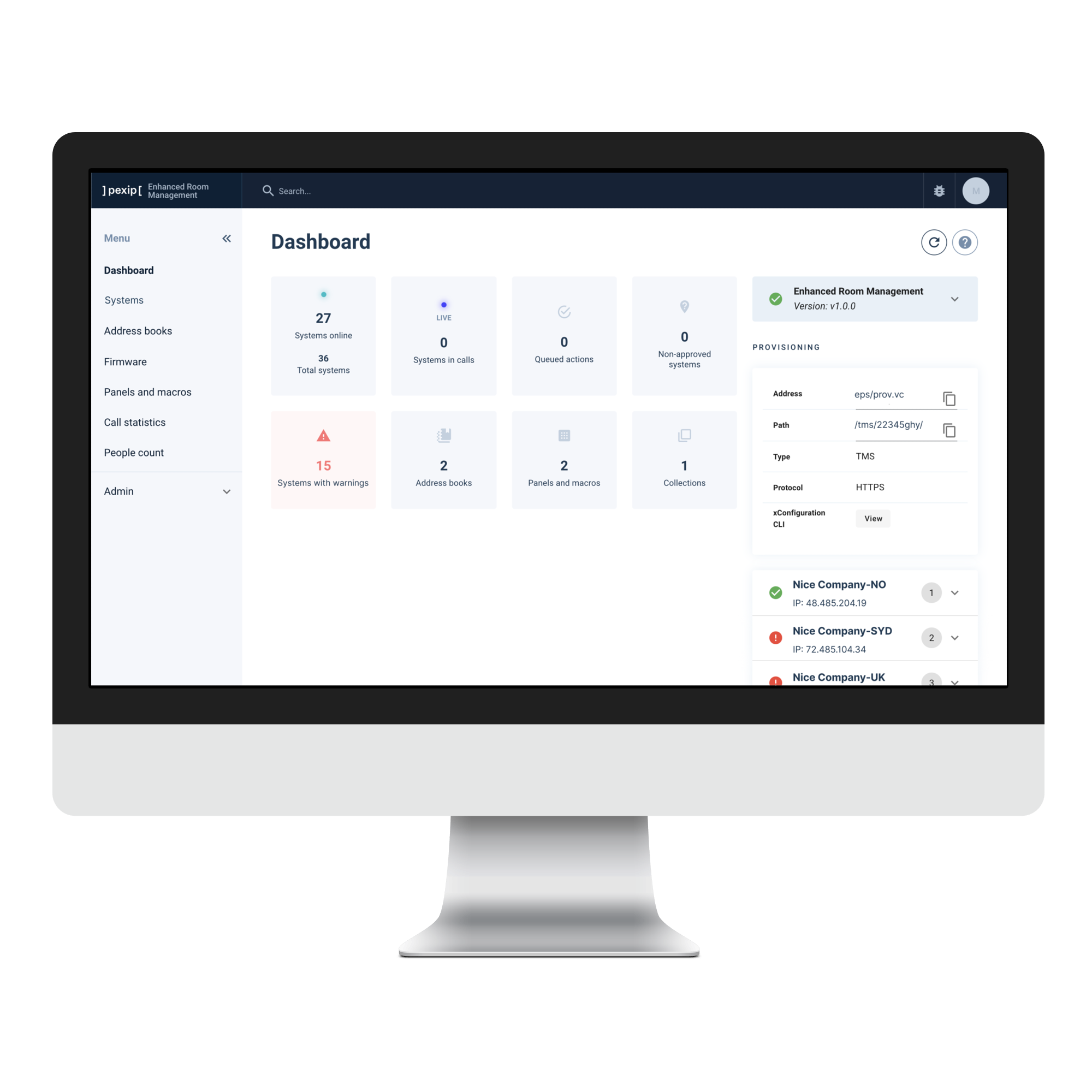 Provisioning made easy
Systems gives you a status overview of all your video conferencing systems in your organization. From this interface, you can quickly provision new configuration settings to a single system or in bulk across your organization. In addition, you can create and distribute powerful macros for room automation and update firmware for any number of systems either immediately or scheduled for later that night.
Address book management simplified
Address books can be created from multiple sources. This solution supports importing from Cisco TMS as well as adding entries manually. With automatic provisioning of updates, your address books are always kept up-to-date. Entries in large address books are easy to find by using the search and filtering functions.
Always up-to-date
Systems can be upgraded either manually or in bulk. Flexible grouping allows you to perform this in a way that suits your needs. For instance, upgrade a particular model type or upgrade all systems in a region. In addition, the scheduling function allows the systems to be upgraded when they are not in use.
Add value to your meeting room experience
Macros are a powerful way to add value to your meeting room experience by providing new features for the touch panel including background automation and room control of displays, lighting, and ventilation. You can also save room controls as collections to simplify the workflow even more.
Call statistics
Call statistics allows you to generate valuable insights reports showing system usage per hour/day by participant or group.
People count
Real time monitoring of meeting room usage by using People Count from room systems enables you to create powerful reporting from both online and offline meetings. Providing analysis of ghost meetings and scheduling efficiency as well as facility management for decision making.
Your brand in front
Quickly provision your Branding Profiles on all or some of your meeting room displays and touch panels. You can easily change all screens across the organization as often as needed, in just a few clicks!