As governments look to a post-pandemic future, work environments are no longer "one size fits all," and the lines between in-person and remote work have become blurred. It's now clear that hybrid working is here to stay, making the typical onsite employee experience a thing of the past. What does this mean for your technology?
Many of the quick fix-solutions that agencies adopted at the beginning of the pandemic, particularly video conferencing solutions, were not all designed for long term use — especially in a government setting. Now that this technology is a critical part of everyday business and the functioning of our government operations and services, the stakes are too high to continue using a solution that may expose your organization to vulnerabilities.
Here are five technology feature requirements to consider as you develop a long-term hybrid working/teleworking strategy in your organization.
1. Prioritize security
Security isn't just about hackers and cyber-attacks — though those are very valid concerns. With the advent of government-wide Zero Trust initiatives, agencies also need strong identity access management controls for their virtual meeting environments.
Zero Trust means, in essence, that every device that connects to your corporate network — no matter how many times they've successfully connected in the past — must be verified and validated continuously.
---
Video Conferencing & Zero Trust Security: Why Should You Care?
Learn how to optimize your video conferencing environment for zero trust security.
---
What can you do to ensure Zero Trust security in video meetings?
The Cybersecurity and Infrastructure Security Agency (CISA) outlines the following actions you can take to secure your video conferencing:
Ensure users are connecting to meetings in the most secure way possible. This includes changing the default passwords on home Wi-Fi networks.
Control meeting access by password protecting meetings and enabling "waiting room" features.
Set and communicate rules and guidelines around sensitive information, file sharing, and screen sharing.
Always keep video conferencing software up to date so that you have the latest security patches.
2. Utilize interoperability
One of the biggest challenges facing agencies in the post-pandemic workplace is getting their meeting tools to work together and creating workflows that are easy to use for a variety of different meeting contexts and users.
For example, executive-level users may use one type of technology, such as top-of-the-line meeting room endpoint devices, while other employees, meeting guests, and citizens use cloud-based conferencing applications from their personal devices. Often, everyone struggles to participate in meetings when these different types of video meeting systems can't easily talk to each other. This delays meetings and creates inefficiencies.
What can you do to improve workflows?
Pexip, widely considered the leading provider of interoperability between video meeting systems, supports standards-based videoconferencing and traditional H. 323 endpoints. It can also connect endpoints to solutions like Google Meet and Microsoft Teams to provide a native experience of these solutions. Flexibility is key to improving your workflows, so look for solutions with flexible deployment methods, which offer the option to be housed in a cloud environment or in the agency's data center.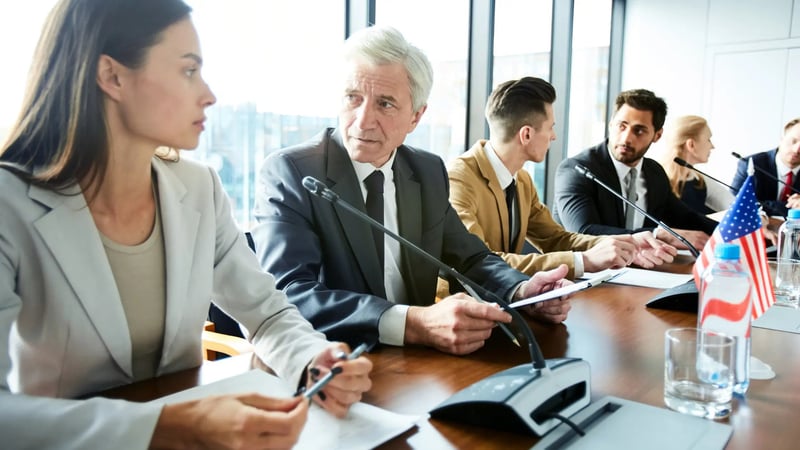 3. Offer accessibility features
If part of your hybrid working strategy includes video-enabled sessions with citizens, patients, or customers, accessibility is critical. Not everyone is digitally mature nor completely comfortable with video conferencing, so it's important to make your meetings as accessible as possible, to the widest range of people.
What can you do to make video meetings more accessible?
Opt for a platform with a simple user interface and that's easy to join–regardless of the user's digital skill level or the device they are using.
You should also look for AI-powered features like Pexip's Adaptive Composition, which crops and frames faces and makes the meeting feel closer to real life.
4. Enable customization
Agencies should consider the power that comes with putting their meeting guests at ease, whether they are citizens, employees from other agencies, or other contacts. Including your agency's name, logo, and imagery on the waiting room and in-meeting screens boosts security, builds trust, and makes the user experience more seamless and predictable.
For example, Pexip powers the Department of Veterans Affairs' VA Video Connect telehealth program. VA supports veterans across the country who have varying degrees of technical skill and comfort with using a video soft-client. The agency customizes experiences using Pexip's application programming interfaces to make the Video Connect experience a familiar place for its users.
What can you do to customize your end-user video experience?
If your agency invites or requires external parties to join your meetings it's important to choose a solution that enables customization of the video interface. Further, you can tailor the experience by customizing your video addresses through domain hosting, and using APIs to integrate video into your digital user journey.
5. Ensure business continuity
As hybrid working becomes more common, the need for reliable and resilient online collaboration becomes paramount. Technology can sometimes fail, internet outages can occur, or an external force such as political unrest can cause disruptions in digital collaboration. When communication breaks down, you need to have a backup plan in place.

In short, you want a solution where you have the central licensing management node and then you have other conferencing nodes regionally dispersed. That way, you can set up failover across those nodes, or you can have failover occur on premises in your data center.
What can you do to ensure resiliency?

This is where flexible deployment comes in handy. Flexible deployment options allow you to decide whether your video meetings should be hosted in the cloud, on premises, or maybe both. This way you can ensure reliable connections, and set up and host the solution exactly as you want to. On top of that, you can extend your existing video conferencing infrastructure or service. Pexip supports multiple deployment options, from fully cloud-based to self-hosted to entirely private.
---
Read my interview with Vanessa Roberts from Federal News Network.
---
Conclusions
"As we look at our reentry to the workplace, we can't expect to return to 'business as usual'," said U.S. Deputy Defense Secretary Kathleen Hicks in a recent statement.
In today's digital landscape, it's no longer enough to just "get by'' with video conferencing. Learn more about Pexip's solutions for robust, secure, accessible video conferencing systems for hybrid work in government organizations.
Topics:
Government
Meet & collaborate securely
Digital transformation