Trusted by government organizations
Secure workflows and deployments.
Government organizations around the world rely on Pexip's secure video conferencing platform for their most sensitive communications.
Pexip's platform is designed to meet the strictest US Federal requirements and is:
JITC-certified
FIPS 140-2 compliant
Enables HIPAA compliance
GDPR compliant
Section 508 compliant
Pexip uses industry-standard encryption and security protocols to control access and to prevent unwanted audiences from listening in, and gives organizations control over their own environment.
Customer Case Studies | Government
Interoperability is key to connecting your technology and users.
Enable anyone to meet on video, regardless of technology or location. Connect your standards-based SIP/H.323 video conferencing systems from vendors such as Cisco and Poly with Microsoft collaboration tools, Google Hangouts Meet, and audio conferencing platforms.
Pexip provides certified, native interoperability for Microsoft Teams, Skype for Business, and Google Meet.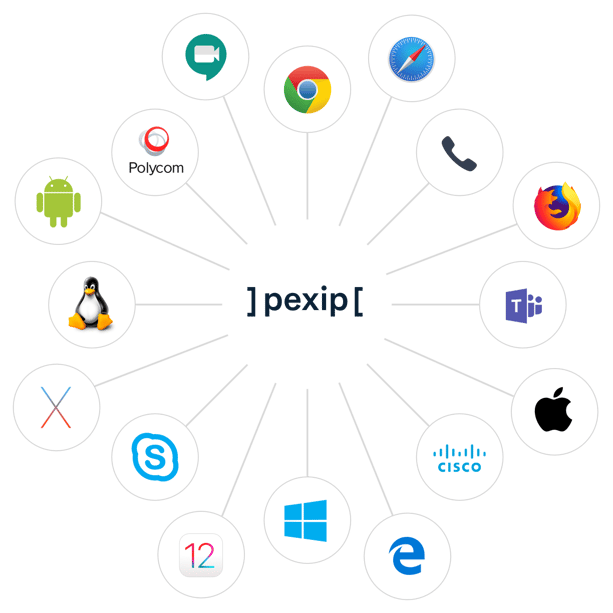 Scalable capacity
Manage hundreds of thousands of video conferencing users in real-time and add capacity when you need it - right from the management dashboard. Added capacity becomes available from the moment you set it up with no additional licensing or configuration needed.
Flexible deployment
Deploy Pexip to best suit your technology and infrastructure requirements. You can run the entire platform on-premises, in the FedRAMP-compliant cloud of your choice (Microsoft Azure, Google Cloud Platform, Amazon Web Services), or as a service.
Customizable
Customize your platform to meet the unique needs of your organization, employees, and constituents. Use your own branding to create custom themes, control your settings and layouts, and integrate the platform with your existing workflows using open APIs for a seamless user experience.
Enable mission-critical communications from anywhere
Connect with anyone, any time, anywhere in the world. With Pexip, you can equip military personnel with secure communications so they don't miss a beat.
Adapt to the changing workforce
Today's workforce is changing, with workers demanding more flexible collaboration tools that allow them to work from anywhere. Pexip fits seamlessly into telework programs so you can keep your teams connected, whether at the office or at home.
Modernize your infrastructure
Pexip's flexible deployment options allow you to move to the cloud at your own pace with no need for multiple deployments or complex licensing schemes. You can deploy fully on-premises, entirely in the cloud, or a combination of both. You can even have your primary platform nodes on-premises and make use of dynamic bursting to cloud-hosted nodes.
Engage users
Video communication can help you deliver information and public services instantly, improving constituents' experience and ultimately reducing your bottom line.
With Pexip, it's easy to schedule and host video meetings instantly on any device. Participants can join meetings download-free from any web browser, from the app on their mobile device or laptop, from video room systems, or from other collaboration tools like Microsoft Teams or Google Hangouts Meet.
Deliver telehealth services
Pexip's platform is trusted by some of the world's largest healthcare providers to connect patients and caregivers using video visits. Discover how telehealth can help you increase patient satisfaction, improve the quality of care, and reduce treatment costs.
The Department of Veterans Affairs uses Pexip to power telehealth appointments for roughly nine million veterans. Patients connect via custom-built web and mobile apps, whilst doctors can connect via the custom web app or dedicated video conferencing systems (SIP / H.323 devices).
Custom video conferencing solutions and infrastructure built for modern communications.