Healthcare, government, and finance organizations are undergoing major transformations, and how they engage with their customers is evolving. On the one hand, the need for collaboration intensifies. On the other hand, strong legislative regulations are in place to uphold.
This article outlines the specific data security and privacy context in which organizations in highly-regulated industries operate.
How can the security standards in these industries be met while enabling the best digital collaboration practices to provide exceptional customer experience?
Government: the need for secure inter-agency and citizen communication
Governmental agencies have always had to comply with the highest security standards in their operations. In Europe, the stakes were raised with the introduction of GDPR and the enactment of the US CLOUD Act. In the US, governmental agencies also need to consider FedRAMP suggestions.
Outside of high-security standards, government agencies are often motivated to increase their efficiency, meaning more inter-agency collaboration. Since agencies work independently, they often use different systems and digital tools, making communication more complex.
Moreover, the government is increasingly turning to digital communication solutions to expand access to services and increase efficiency. Failing to meet citizens' needs in this area could lead to deteriorated trust.
For these reasons, government agencies must offer effective digital communication channels to citizens and governmental agencies' employees. This includes chat, video conferencing, and customizable government-to-citizen appointment scheduling.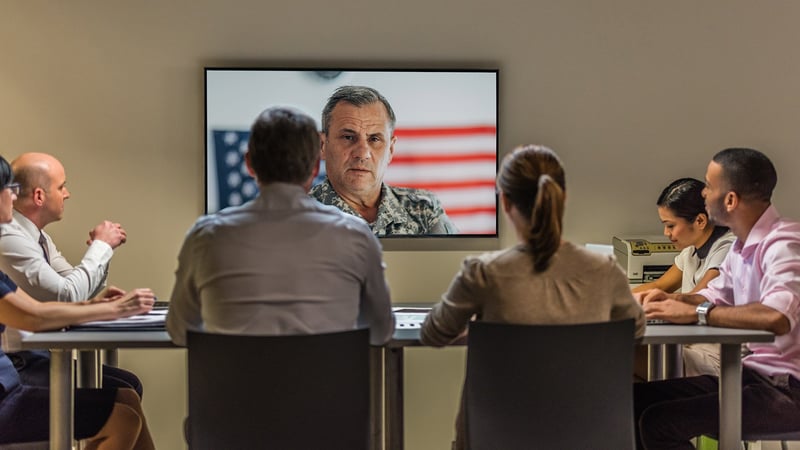 When introducing such solutions, government agencies need to take the following into account:
1. Employ measures to safeguard against security threats
Governmental organizations need to utilize advanced measures to avoid security threats such as data breaches and cyber-attacks. This includes specific technological features as well as internal security training for personnel.
For example, this includes encryption and custom user roles and permissions for the communication tools. It also includes training and customization according to data privacy regulations. In this case, open-source software can ensure high customizability and flexibility according to specific requirements from governmental agencies.
However, maintaining full control over exchanged data is the best way to provide maximum security measures.
2. Ensure complete data sovereignty
Data sovereignty is owning your data and having full control over it. It can be achieved by hosting solutions on-premises and can be reinforced by introducing air-gapped software environments.
On-premise deployment ensures that organizations never worry about how their data and metadata are handled because it never leaves their premises.
3. Offer decentralized and interoperable communications
The government, the public sector, and defense industries comprise numerous independent organizations collaborating on project-basis. Organizations must establish decentralized and interoperable communication to enable efficient, secure communication between independent parties.
Interoperability ensures that employees from different organizations can communicate with users on other platforms, thus allowing everyone to use the software they want. The preferred way to establish federated communication is via Matrix protocol.
One example of decentralized and interoperable communication is set by the Swedish Government. It issued a report with several compatible solutions that agencies can choose from — Rocket.Chat and Pexip are included — to collaborate efficiently and securely.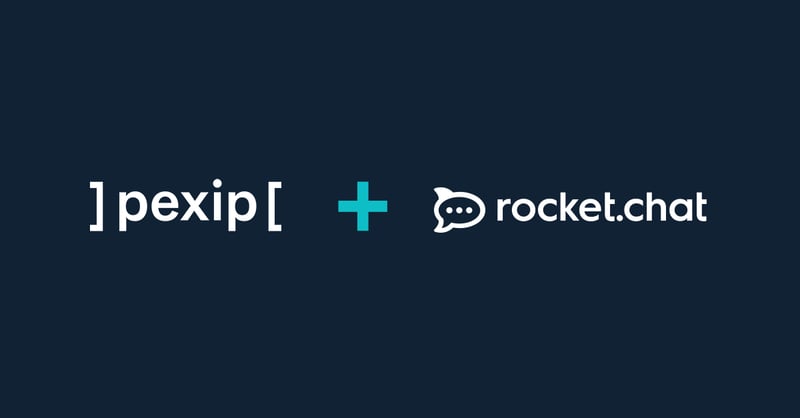 Supporting digital transformation in finance
Trends in Financial Services (FinServ) show the need to improve customer-facing services: with blockchain technology and further digitization of core business, one of the main differentiating factors for financial institutions in the future will be the quality of the customer service they deliver.
This also drives the need for better internal collaboration while ensuring ethical walls between departments.
Due to the exchange of sensitive customer data, financial organizations must enable secure internal collaboration while securely supporting their customers on digital channels.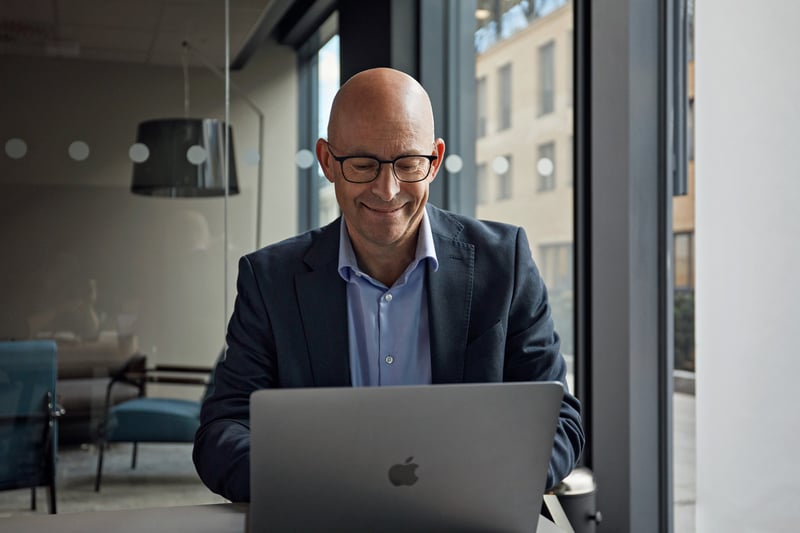 To stay ahead of the competition in the digital future while complying with the most important data privacy regulations, financial institutions need to focus on the following:
1. Personalized digital customer support
Deloitte predicts that automated operations will lead to FinServ organizations increasing their focus on providing added value, such as exceptional customer service.
Meeting customers' needs and expectations include doubling down on digital communication. Offering video conferencing and chat as communication tools can lead FinServ organizations into a new, customer-centric era.
2. Efficient yet secure internal collaboration
Efficient internal collaboration in the era of hybrid work relies on the diversity of communication channels.
Digital channels such as video conferencing and instant messaging are efficient ways to contact colleagues working apart. However, the communication needs to be extremely secure to comply with the industry's highest data privacy and protection standards.
On-premise solutions that ensure complete data sovereignty are also a good choice for the FinServ industry.
3. Ensuring ethical walls between departments
FinServ organizations work with highly-sensitive customer data. Even though effective collaboration includes unobstructed information sharing, FinServ sometimes needs to maintain the ethical walls between departments to stay within compliance range to data privacy regulations.
Organizations must introduce digital capabilities that allow them to collaborate and maintain ethical walls. Yet again, interoperability functionality is important since this involves setting up multiple workspaces that federate each other and allow only authorized personnel to participate in each workspace.
Enabling telehealth services and digital patient interactions
During the pandemic, we saw a huge rise in telehealth services and adoption. Even before that, patient preferences started to shift towards digital services such as online appointment scheduling, receiving test results via digital channels, and getting reminders for check-ups.
Healthcare providers and supporting businesses in the US need to consider that they need to collaborate and deliver their services in compliance with HIPAA. Therefore, acquiring HIPAA-compliant tools is necessary for healthcare-related businesses that want to digitize their services.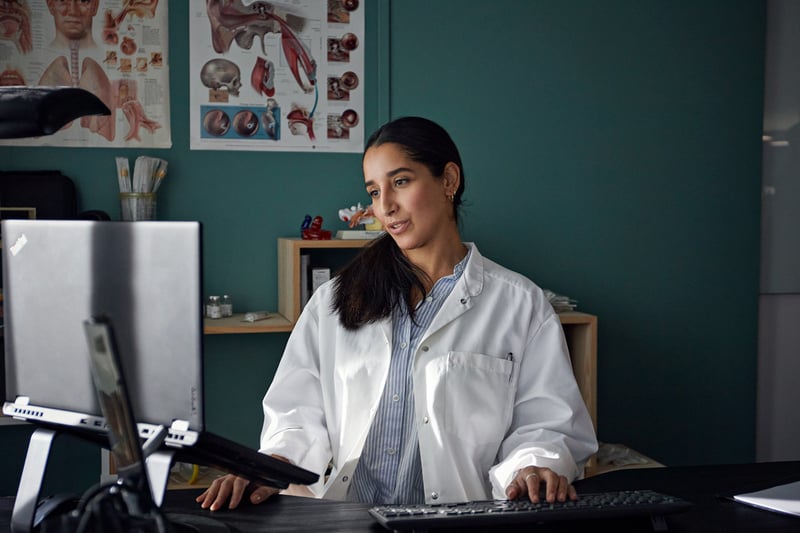 In what specific ways can patient satisfaction be improved through digital channels?
1. Personalized virtual care and appointments
Patients are increasingly choosing healthcare providers that offer digital capabilities, research finds. Secure, easy-to-join telehealth visits for patients from any device and location will mark the new standard for personalized virtual care.
Healthcare providers that make it easy for patients to easily schedule appointments, chat with medical staff, and participate in video meetings will be able to differentiate their business from the other providers. Incorporating digital telehealth services will help them retain patients and attract new ones.
2. Secure video conferencing for confidential medical conversations
Did you know that only 7% of cloud-based telehealth services were found to meet compliance and security norms?
Healthcare providers must offer digital capabilities to their patients - but not at the expense of data security and privacy. Protecting patient data and ensuring HIPAA compliance should go hand-in-hand with expanding digital patient communication.
Once again, ensuring that telehealth providers offer features with high-security standards is a must to retain patients' trust and loyalty.
3. HIPAA-compliant patient messaging
Patients want faster and more efficient ways to reach their healthcare providers. By including chat in the portfolio of digital services, organizations can reduce phone waiting times and operational costs in general while simultaneously offering an increased quality of service.
Staying compliant with HIPAA for US-based healthcare providers is necessary, so their solutions must follow specific guidelines to maintain patient data confidentiality. HIPAA-compliant patient messaging solutions such as Rocket.Chat makes it possible to increase efficiency and maintain HIPAA compliance.
Conclusion
Government, finance, and healthcare organizations are under increased pressure to digitalize. Improving business results by increasing efficiency, accelerating outcomes, and increasing customer satisfaction depends on introducing new digital capabilities such as collaboration apps and secure collaboration software.
To successfully implement and use the newest technologies, companies need to ensure the highest data security standards but, at the same time, support collaboration. Internal and external collaboration and customer-facing communication need to be brought to a higher level and feel seamless to produce the best results.
With that in mind, organizations choose secure collaboration platforms with advanced flexibility and security features that cater to their needs and pave the way for a more collaborative future.
Topics:
Financial services
Enterprise
Healthcare
Government
Meet & collaborate securely
Secure collaboration