Today's healthcare organizations face complex challenges. Connecting patients and providers shouldn't be one of them.
Discover how we power secure virtual care solutions:
Pexip Build | Personalized virtual care to suit providers & patients
Pexip Build
enables you to customize your telehealth video platform with branding and workflows to maintain a consistent user experience from the doctor's office to the patient's home, and manage it all using a single, secure interface.
Extend your organization's brand throughout the patient experience
Give patients added peace-of-mind that they're in the right place
Expand your presence from brick and mortar: from bedside video communications to digital virtual care with virtual rounding
Create a user-friendly and personalized virtual care video solution that will transform patient experiences
Flexible APIs to integrate with other electronic medical/health records (EMRs)/EHRs like Cerner, Allscripts, eClinicalWorks, Practice Fusion and your existing technology
Did you know?
Pexip Health is a solution that allows healthcare providers to extend the reach of their practice by providing secure, easy-to-join telehealth visits for patients from any device or location.
of patient interactions are expected to be virtual by 2022.
With telehealth video conferencing enablement, powered by Pexip Health, you can adapt to the changing landscape and give your patients the care they need, when they need it.
of cloud-based telehealth services were found to meet compliance and security norms.
Despite cloud adoption in healthcare core operations being as high as 83%, raising IT security concerns.
Connected Spaces | Making virtual appointments & meetings easy to join for patient & provider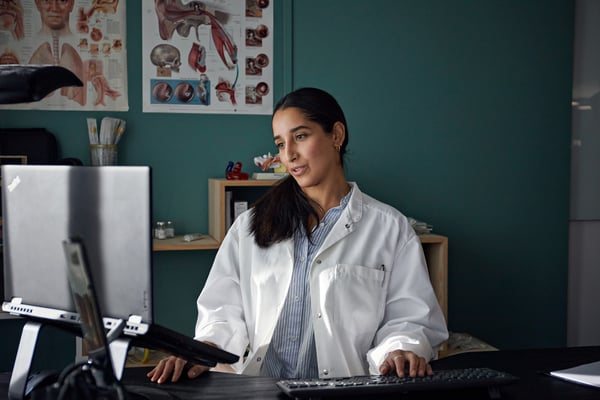 With Connected Spaces, healthcare providers can use telehealth carts or video conferencing systems from Poly, Cisco, and others to join video visits when registered to Pexip.
No new workflows to learn. No new hardware to buy.
Use the same video platform to communicate with others inside and outside your organization. Whether consulting with specialists from the hospital room, or joining a weekly department meeting, you can easily connect with others from any location and device.
Invited to a meeting hosted on a different collaboration service? No problem. We can get you into the meeting so you don't miss a thing.
"Choosing the right vendor for how you deliver care is crucial. Your patients will rely on this platform. An outage is no different than a locked door at the clinic. Pexip Health has demonstrated unmatched security, scalability and reliability in healthcare. Your patients and clinicians deserve that assurance."
- Angie Stevens, CEO, Virtual Insights and Former Executive Director of Telehealth, Kaiser Permanente
Secure Communications | The
secure video solution for confidential medical conversations
Pexip's Secure Communications solution enables healthcare providers to securely c
onnect from anywhere, at any time, eliminating the need for travel.
With an increase in cyber-attacks, it is critical to secure confidential patient information. Our video solution will help your organization maintain rigorous privacy needs and comply with data sovereignty laws and regulations.
Enabling HIPAA compliant video conferencing
Pexip supports HIPAA compliant video conferencing for healthcare providers, meaning you can be confident that the provision of your virtual care experiences meets strict regulatory requirements.
HIPAA enabled compliance safeguards sensitive patient and employee data and information through the deployment of security-first technology.
Robust IT admin experience
Control your entire experience and manage the platform in the way you want. Pexip Health is scalable by design and easy to manage, today and in the future.
Single pane of glass to deploy and manage the platform globally

Flexible deployment options (as a service, in a private cloud, on-premises, or hybrid)
Offers the control and security of a self-hosted deployment with zero management required through Pexip Private Cloud
Customizable user interface extends your branding across the patient experience
Meets strict regulatory requirements: FIPS 140 and JITC-certified, 508 compliant, supports HIPAA compliance

Unmatched scalability
Pexip Health for Epic: Virtual care simplified
With Pexip Health for Epic, patients and providers can meet face-to-face through a secure video meeting directly from MyChart. Patients get a seamless experience from hospital to home with click-to-join visits and a custom-branded interface that lets them know they're in the right place.
Pexip Health wins "Best Virtual Care Solution"
Learn why Pexip Health's virtual care solution was recognized at the
2022 MedTech Breakthrough Awards for leading players in the global health and technology market.
100% of Pexip Health customers would buy again
According to KLAS Research, customers rate Pexip Health A+ to A- in all four performance indicators and 100% of customers see outcomes within 6 months. Download this First Look report from KLAS Research to learn more.
Helping you achieve the Quadruple Aim
How can healthcare providers achieve better outcomes, at a lower cost while improving both the clinician and patient experience?
Learn more about how implementing a best-in-class telehealth system across all your organization's use cases can bring you closer to this goal.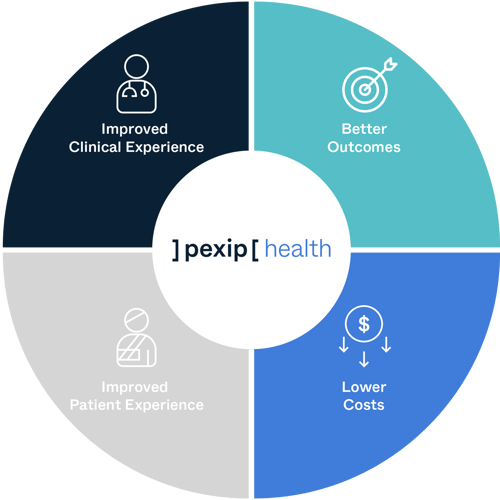 Explore further: Telehealth & virtual care trends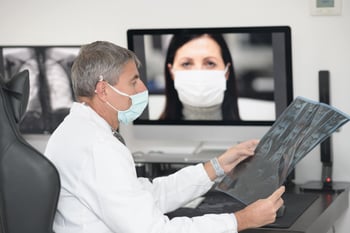 How integrated telehealth streamlines clinical workflows
See why it's critical that healthcare organizations choose a video conferencing platform that integr...
Pexip Health: Case Study
Pexip solutions help the Royal Belfast Hospital for Sick Children provide virtual care for young patients with congenital heart conditions.

"The platform has significantly improved the timeliness and ease of connecting with patients and the pediatric cardiology team. It is extremely reliable and easy to access. We are also reassured by the security of the platform."
- Dr. Brian McCrossan, Consultant Pediatric Cardiologist at the Royal Belfast Hospital for Sick Children
Read more real-world virtual care stories:
Hampshire Hospitals NHS Trust
Learn how Pexip's flexible, integrated video solution is used by Hamsphire Hospitals NHS Foundation ...
Pexip simplifies communication between patients and doctors.
Care providers can use the technologies they already own to meet with patients via virtual rounding, powered by a robust medical video conferencing platform.
There's no need to buy additional hardware, and the video platform integrates with existing workflows and tools so it fits seamlessly into daily schedules.