Experience flexible video solutions to secure confidential government communications, GovTech initiatives, and internal agency collaboration.
Protect confidential communications, underpin your business continuity plan, and secure G2C video interactions.
Secure Communications | Maintain control of your critical collaboration
Our infrastructure enables and protects
sensitive and mission-critical communications
. Security is a primary concern in many public sector communications, including:
Military personnel
Intelligence teams
National security departments
Counter-terrorism units
Discussing sensitive citizen and government worker information
Legislative or executive branch meetings and inter-agency communications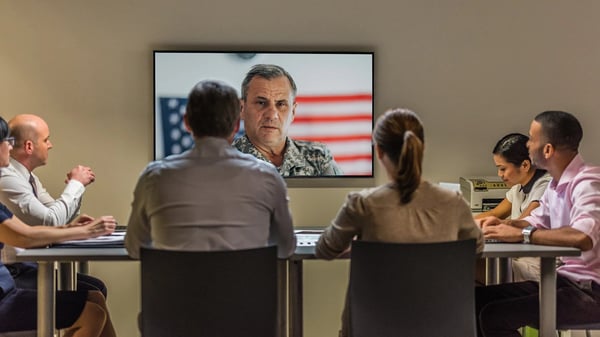 Our
emphasis on data sovereignty
is what drives us. Your organization will remain in control of all call data and metadata, meaning data doesn't leave country borders and also extends into vital government-to-citizen communications. Pexip Secure Communications can be deployed via either a self-hosted or on-premise video meeting solution.
Secure workflows & deployments
As an approved video conferencing solution for government use, Pexip's platform is designed to meet the strictest U.S. Federal requirements and is:
→ JITC-certified
→ FIPS 140-2 compliant
→ Enables HIPAA compliance
→ GDPR compliant
→ Section 508 compliant
→ FedRAMP Moderate "In Process"
Pexip uses industry-standard encryption and security protocols to control access and to prevent unwanted audiences from listening in. Pexip gives organizations full control over their own environment. In response to the Schrems II ruling, we ensure that you continue to control data flows.
Pexip achieves FedRAMP "In Process" designation
Pexip Engage | Customizable G2C appointment scheduling to build citizen trust
Building and maintaining user trust in technology is critical to driving adoption and creating successful communication channels.
This is especially true in government-to-citizen video interactions, which must serve a wide range of user types, and often involve the sharing of sensitive information. In moments like this, creating peace of mind is key.
The Pexip Engage platform enables you to deliver frictionless G2C video interactions.
What are the some of the ways you can customize your end-user's experience?
Create custom themes and backgrounds for virtual waiting rooms and in-meeting screens

Have your agency or department's logo always visible, so users know they're in the right place

Control your video meeting settings and layouts

Integrate the video platform with your existing workflows using open APIs for a seamless user experience
Connected Spaces | A simple video platform for inter-agency communications
We care about making the user experience as simple and intuitive as possible, both for internal video meetings and government-to-citizen (G2C) interactions.
Pexip integrates video meeting technology into your existing workflows to facilitate easy-to-access internal and external collaboration, including for:
National tax and pension services
Welfare and unemployment offices
Public health and safety services
Local government and city council
Departments of traffic and motor vehicles
Immigration offices
Child and family services
Inter-agency communication at local and federal levels
Customer Case Studies | Government & Public Sector
Government & Public Sector Blog | Explore Further