The monthly active users of Microsoft Teams have almost doubled in the past year, increasing from 145 million users in 2021 to 270 million in 2022 (source: www.statista.com). The stats are clear, Microsoft Teams is one of the most used meeting platforms globally.
Introducing Pexip's new Teams-like in-meeting user experience for CVI participants in Teams meetings reinforces our commitment to bringing a unified best-in-class meeting experience to everyone, no matter which device they join with. It enables organizations to deliver a Teams-like experience on all their SIP/H.323 video systems across all their meeting rooms.
Did you know? According to our 2021 Global Report on the State of Video in Large Enterprises, nearly 40% of the business leaders surveyed worry that remote participants don't fully participate or express their views during meetings.
Participants joining from a meeting room using the new Teams-like experience can now share a similar experience as participants using a Microsoft Teams desktop or mobile client, allowing everyone to engage and be visible.

Pexip has introduced the following popular Microsoft Teams features to the video meeting experience:

Look and feel

Rather than a standard video conference meeting, the CVI-enabled meeting will look and feel like a Teams meeting with its familiar layouts, colors, notifications, and other on-screen experiences.

Audio avatars

When meeting participants join a meeting with their video camera turned off, a portrait photo of the participant taken from the Active Directory integration will be shown on the video system.

Guest waiting in lobby notification

The waiting guests in the lobby were previously unseen unless the host had an open computer with the Teams client. With the new Teams-like experience, participants in the meeting room get a notification when someone is waiting in the lobby with an on-screen message on the video system, making sure everyone gets to join.
Raised hand indication

If a participant raises their hand on the Microsoft Teams client, this will also be shown on the video system with the raised hand icon and a yellow highlighted border around the participant who has raised their hand. This is the same familiar experience users are accustomed to in the native Microsoft experience (MTRs and Teams clients).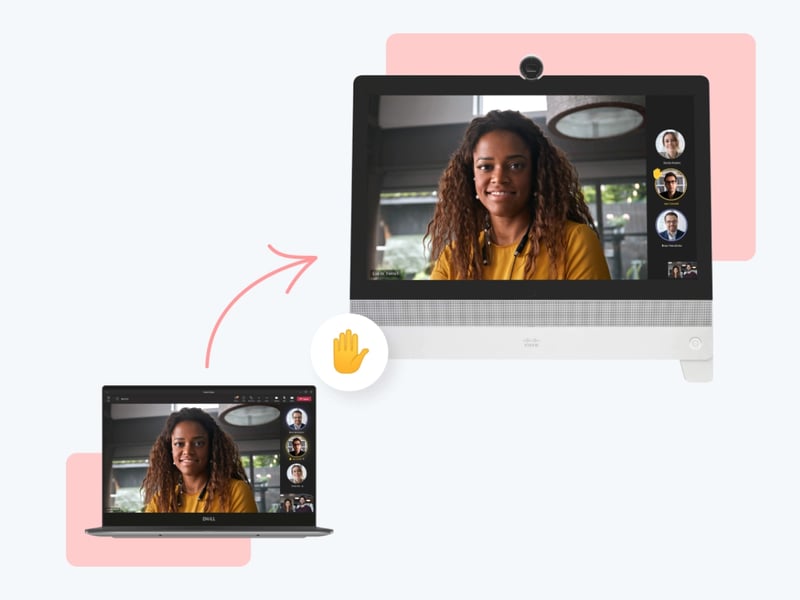 Active speaker highlights

A purple highlighted border around the participant's image or video will also be shown on the video system when a participant speaks.

Spotlight sync

When a participant is put in the spotlight, that participant will also be spotlighted (given more screen space) on the video conferencing system (spotlighting can be applied via Teams client, MTR, mobile client, etc.).


---

Organizations already using Pexip's CVI solution can take advantage of the new Teams-like experience to further extend the lifetime of their third-party video conferencing devices with a modern, familiar user experience, leading to an increase in productivity and greater usage of video meeting rooms.

For organizations that have decided to transition to Microsoft Teams Rooms, the Teams-like user experience allows you to transition at your own pace as users will have the same familiar and intuitive joining and in-meeting experience whether they are using an existing third-party video conferencing device (Cisco, Poly, etc.) or a Microsoft Teams Room, resulting in higher adoption rates and lower user training costs.


Get Started
Existing Pexip Enterprise Room Connector and Microsoft CVI customers can be the first to try this new user experience by contacting their Pexip representative, channel partner representative, or our team of experts.
Topics:
Financial services
Enterprise
Government
Meet & collaborate securely
Room connector