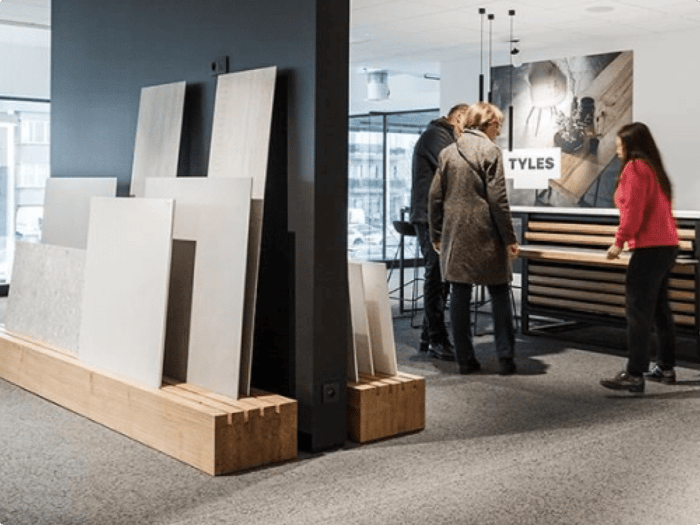 Customer story
Retail
Customer engagement
How Tyles improved their efficiency and customer experience
Belgian ceramic tile wholesaler, Tyles carefully selects ceramic tiles from high-quality suppliers.
They focus on creating long-term relationships with their partners and visit every tile manufacturer they work with on-site. That guarantees that Tyles offers the best ceramic tiles on the market with a wide selection from Spain and Italy (the traditional tile countries), as they have been doing for the past 44 years.
Transforming from Wholesale to B2C

The new brand name 'Tyles' was born a few years ago. The company set up a marketing department focussing on B2C, marketing the Tyles brand, and supporting the underlying dealer network. These dealers are independent and focus mainly on local marketing, whereas the marketing department supports the Tyles brand nationally.

Over time, the most significant change is that in addition to selling to professionals such as dealers and installers, the brand Tyles now has exposure to the end consumer thanks to our marketing efforts. This change triggered the demand for an online appointment platform because customers and dealers were interested in visiting Tyles' showrooms.
The most crucial showroom is the flagship store in Zellik, where many of the existing dealer networks send their customers. Zellik has a complete Tyles product range to show to customers and offer expert advice. The showroom advisors receive these customers and support them in their decision-making process. Afterward, they return to the dealer for the next steps and installation.

The purpose of using Pexip Engage was to streamline the appointment scheduling flow because there is quite a bit of administrative work involved when booking appointments traditionally.
Life before Pexip Engage
We got in touch through one of the Pexip Engage mailings when working by appointment was on top of the covid agenda. That mailing contained a relevant use case for us, and we needed to evaluate this further. After careful consideration, we chose to work with Pexip Engage.

We used to follow up and confirm every appointment request manually. This approach, of course, comes with back-and-forth communication, which was very tedious for our employees and a suboptimal experience for our customers.

Booking an appointment for a high-involvement purchase as a customer was an inconvenient experience. The challenge was getting in touch to confirm an appointment after customers filled in a form, mainly in the evening or on weekends. At these times our showrooms are closed.

For our showroom advisors, this proved to be an inefficient process. Before Pexip Engage, our showroom advisors had to deal with appointment administration instead of helping people or working on open leads.
Pexip Engage increases the efficiency of the sales process
Referrals from dealers/installers are a vital part of our business. One of the advantages of working with Pexip Engage is the additional questions in the plug-in during a customer's booking process. This scheduling flow allows us to track referrals by asking questions such as 'have you been referred by a professional' and 'by whom.'

This way, the salesperson is informed before the appointment, which is also an essential advantage for preparing conversations and keeping track of lead generation data. Some dealers/installers sometimes even book an appointment with the customer in the flagship store when the customer is in their showroom, with notes to help the salesperson prepare for the conversation.

One of the typical problems in a showroom is that it is always the same salespeople who go in first or handle the mailbox with appointments. Using Pexip Engage also allows us to evenly distribute incoming appointments between showroom advisors using round-robin rules to assign new customers. That makes life easier for the sales manager and our advisors as they can plan their day more efficiently.

For high-involvement retail, the convenience of working by appointment has been discovered by many consumers and will continue to be part of their buyer journeys.
Onboarding process

The experience with Pexip Engage during the setup went very smoothly. Based on other customers' plug-ins, we had a clear view of how we wanted our configuration to look. The sandbox is also well set up and explains itself once you know which direction to go—certainly not a complex environment to set up and super flexible to adjust as needed.

The documentation offered was unambiguous during the integration process into the website. This fact ensured that our communication agency did not need a developer but that the support team could handle this directly.

Looking to the future, Tyles feels that appointments are here to stay. The more accessible customers can book appointments, the more people will use them.