Queensland Health manages hundreds of hospitals and many more healthcare facilities. These include public dental offices, public nursing homes, and primary care clinics. General Practitioners (GPs) and wider community care organisations sit independently, but Queensland Health ensure that working with them stays top of mind, particularly because these groups are often involved in patients' specialist care.
The need for telehealth consultations into patients' homes
Until 2016, 100% of telehealth within Queensland Health was happening from hospital to hospital, meaning patients could meet with their clinicians for a virtual consultation by visiting their nearest hospital and using the video infrastructure within specific health care facilities.
The Telehealth team, dedicated to the direction and delivery of statewide telehealth and help desk services, wanted to set up a telehealth platform for patients to connect with their physicians or consultants from their home.
Since 2016, Queensland Health has worked with Pexip to devise and create the Queensland Telehealth Virtual Clinic, a custom developed platform running over Pexip video communications.
The Queensland Health Telehealth Virtual Clinic is designed to mirror the real-life scenario of visiting a doctor's surgery, in a virtual environment. When appointment time arrives, patients click on a link sent to them by their consultant and they join a virtual video waiting room from their personal device. There is a dashboard for staff to register and monitor patients and when required, reception transfers them to their virtual consult room or to a secondary waiting room.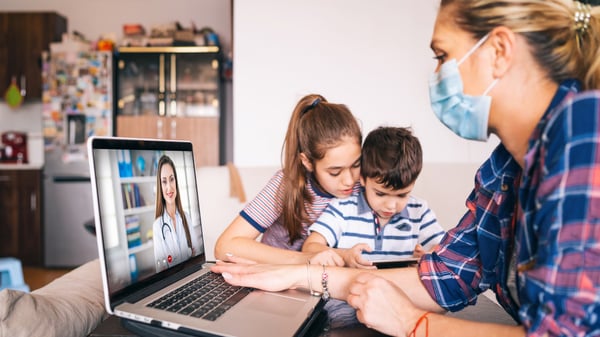 Queensland Health/Pexip Solution
*Pexip was chosen by Queensland Health through a competitive procurement process as one of their telehealth technology providers because they demonstrated experience in the following areas:
Interoperability
Queensland Health had an established video infrastructure and unified communications platform already in place with Cisco Telepresence as well as other vendor hardware and software. The interoperability Pexip offers between video meeting solutions such as Microsoft, Cisco, Google, Poly and other standards-based video conferencing meant that Queensland Health didn't have to overhaul its existing infrastructure but could use Pexip to scale, build and improve upon its existing investments.
Pexip's interoperability was of considerable benefit to Queensland Health, according to a Telehealth Representative at Queensland Health.
"Previously, we had to manually add ad-hoc consultations and it was difficult to manage high volumes of clinical sessions because we didn't have the telehealth infrastructure to support this," Queensland Health Telehealth says. "With Pexip, not only could we maximise the potential of our existing solutions, we could also avoid potential technology barriers between Queensland Health and people's homes. We can now scale to coordinate and manage hundreds of patients via video conference outside of our network."
Ease of Use
The ease with which patients and their medical practitioners can join a video call, regardless of device, operating system, mobile environment, or tech savviness, was also a key feature of the Pexip offering
"The user experience is seamless," says Queensland Health Telehealth. "We don't have to send a list of sign-in requirements to the patient. Even the least technology literate person can use the system and connect with their healthcare provider. We send a quick email or text message to patients with a hyperlink for them to click on. Then they can call by video to where they need to be. We don't have the scenario of managing multiple requirements for PC, Mac, iPhone, Android and so on."
There's a testing system for patients who want to be sure in advance that the video call will work before their appointment. The service is quick and practical with a link sent prior to the patient's appointment so they can try the connection and check the video quality. The service also allows staff to call a third party and invite them into the virtual clinic, for instance the patient's GP.
Customisations
Every virtual clinic has a custom background so that patients know that they are in the right place as they wait. Healthcare facilities can also upload a custom audio file with useful information about waiting times or news from the clinic. These messages can be quickly recorded and administered so that information stays up-to-date.
"We've been able to personalise the experience for health care facilities and they've been able to tailor their offerings according to patient requirements," Queensland Health Telehealth adds.
Security and privacy
Naturally, security and privacy are paramount for Queensland Health and all new technologies go through rigorous cybersecurity assessment to ensure hospital services meet high levels of security, including transparency around data and privacy. Pexip offers security-first, enterprise-grade video conferencing solutions using industry-standard encryption and security protocols to maintain privacy and security including Health Insurance Portability and Accountability Act (HIPAA) compliance.
"Pexip has supported our transformation, moving telehealth from the hospital to the home."
Making an impact
The Queensland Health Virtual Clinic started trials in 2019 within a small number of hospitals. During 2020, Queensland Health is scaling up the platform and it is running as a full service, a situation that has been accelerated recently by COVID-19.
"Telehealth is not always appropriate but there are many situations where it is, saving time and cost for doctors, patients and Queensland Health. Over the last couple of decades, perhaps 1-2% of outpatient consultations in Queensland have been via telehealth. While COVID-19 has accelerated that demand and forced the department to operate differently, we are hopeful that people will continue to use the service on a long-term basis. Pexip has supported our transformation, moving telehealth from the hospital to the home."
Learn more about Pexip's telehealth solutions in Australia and worldwide, and how they help to seamlessly connect patients and providers.
Queensland Health Telehealth Contact Details:
Topics:
Healthcare
Digital transformation
Video technology platform