With every new version of our Infinity self-hosted software, our goal is to improve and enhance the following areas with new features and functionalities:
Version 28 is packed with exciting new features and enhancements with an added focus on our Cloud Video Interop (CVI) integration with Microsoft Teams that will take your Microsoft Teams user experience on your meeting room video endpoints to the next level. 🚀
Here's a quick look at some of what's new. 🔎
---
Delightful user experience
Take advantage of the pre-meeting waiting time
Pexip's Media Playback Service allows you to play pre-recorded video content (such as advertisements and informational videos) to consumers. When the media finishes playing, the user can be transferred to another service, such as a VMR conference, or disconnected.
This is a more visually pleasing way to get your customers ready for a meeting/consultation or a smarter way to promote other products/services while they wait.

Examples could include a video explaining the rules of court before entering a court hearing, confidentiality info prior to a medical consultation, NDA disclaimer prior to a confidential meeting.


Making the most of your dual-screen endpoints (Tech Preview)
When an endpoint is in a call, and no content is being shared, the video participants will be split over both screens. This enables participants to engage fully with more active participants while making the most out of their investment in dual-screen endpoints.

Dual screen layout - With content

Dual screen layout - Without content

Watch the Dual Screen layout in action
Putting the host in the driver's seat
When using the Infinity Connect client, host participants can now use a new Change layout* option in the side panel's Control menu, enabling them to dynamically change the layout used during a meeting to any of the support layout options (Adaptive Composition, speaker focused or equal) to suit their individual meeting needs.

Participant names can also be shown or hidden as desired. Giving the meeting host even more flexibility to change how they would like their meeting to look. *Applies to Infinity Connect only.
Change layout - select layout/show names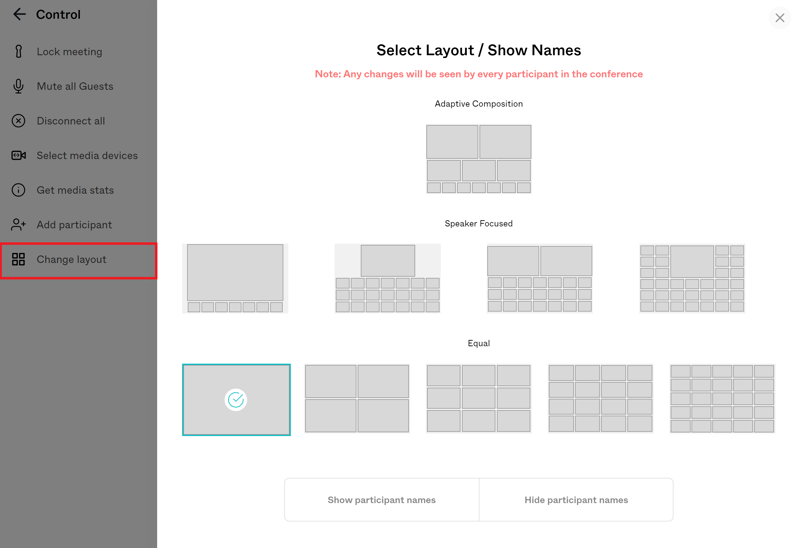 With our new Pexip Layout Control macro for Cisco CE devices, users can easily change layouts by tapping a button on their Cisco touch panel. Supports Microsoft Teams, Pexip, WebEx, Zoom, and BlueJeans meetings.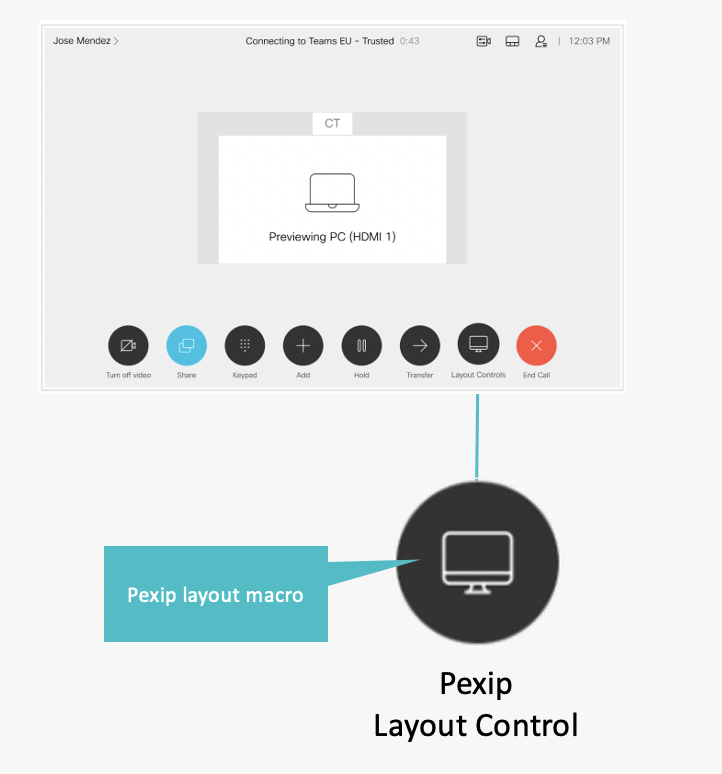 Keep tabs on your chats
A visual indicator is displayed when a new chat message is received. It is displayed against the Events tab if the side panel is open and showing the participant list or above the button used to show the side panel if it is closed. *Applies to Infinity Connect only.

Reduce background noise
When a participant has muted themself, they can press and hold down their keyboard spacebar to talk. It does not allow participants to talk if they have been administratively muted .*Applies to Infinity Connect only.


Organize participants alphabetically
The participant list can be customized to be sorted alphabetically via a new sortAttendeesAlphabetically application setting (instead of the order the participants joined). *Applies to Infinity Connect only.
---
Enhancing our interoperability solutions
Increase meeting engagement
What about when you have a question and don't wish to interrupt the presenter? Or are you in a muted state?

With the new raised hand indicators 🖐️, a notification is now shown to any video endpoint participant if a Microsoft Teams participant raises their hand, allowing hosts using a CVI connection to see and interact appropriately.

Raise hand - Microsoft Teams Client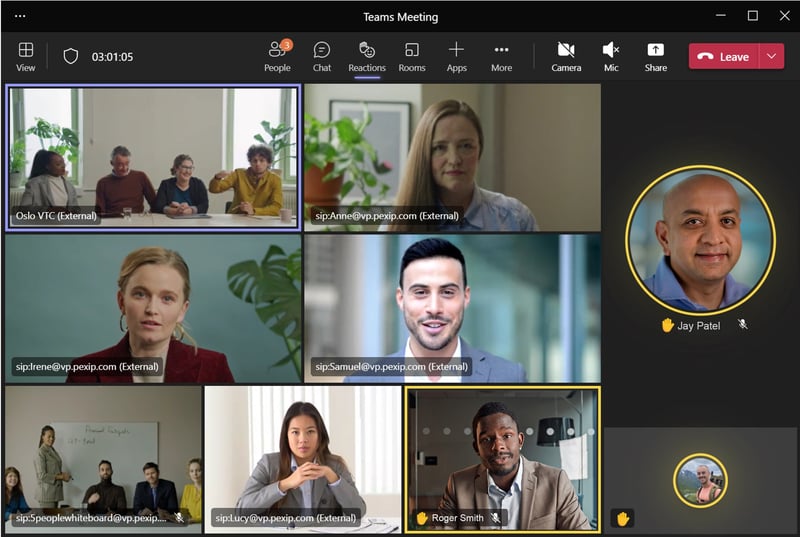 Raise hand - Video endpoint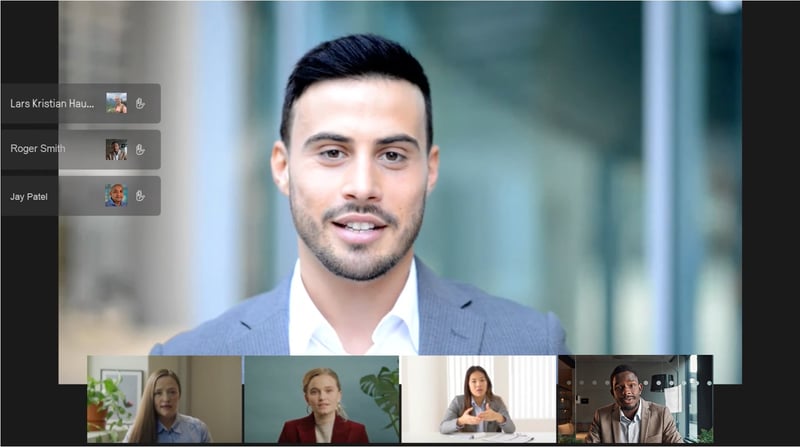 Watch the Raise Hand feature in action →
Synchronized mute/unmute
Video endpoints can now also be muted from the Microsoft Teams client.

Muted CVI participants can quickly re-engage in the meeting after being muted by sending a DTMF command (*6) to the conference.
Mute participant - Microsoft Teams Client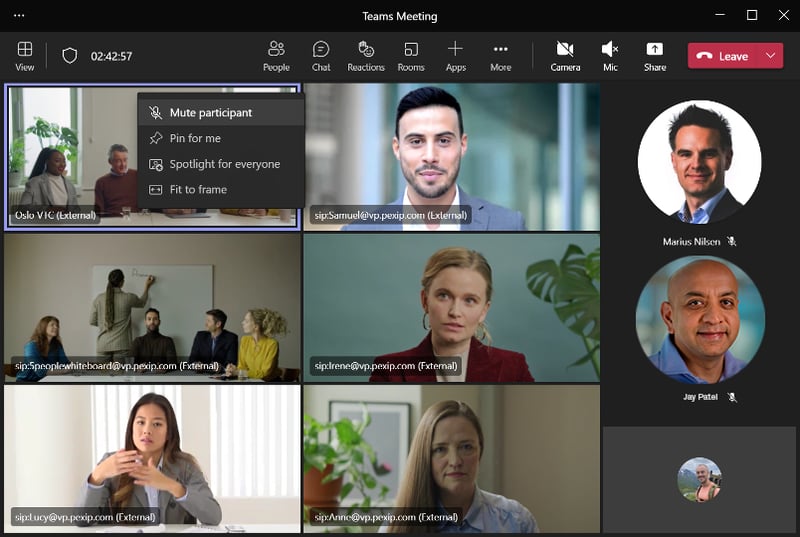 On-screen mute indicator - Video endpoint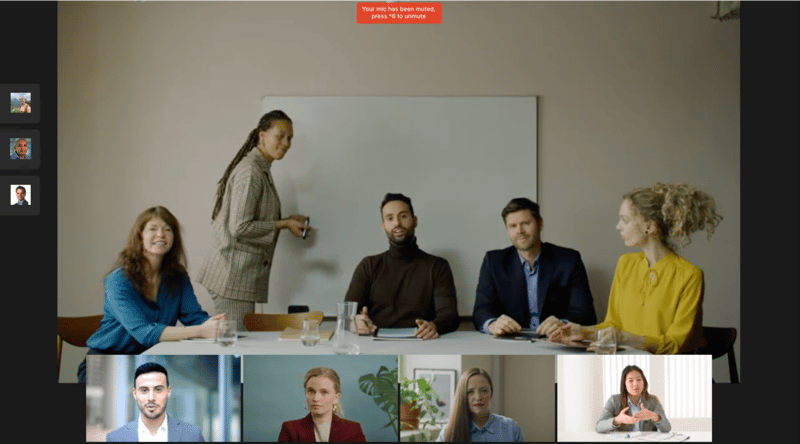 Watch the On-screen mute indicator in action →
Putting Participants in the Spotlight
Spotlighting a user is now supported on video endpoints. If a participant in a Microsoft Teams meeting is spotlighted by a Teams client, that participant is also spotlighted in the layout presented to any video endpoint on the call giving the CVI participant an experience that resembles more the Microsoft Teams desktop client experience.
*Note that this doesn't apply when using an Adaptive Composition layout.
Spotlight participant - Microsoft Teams Client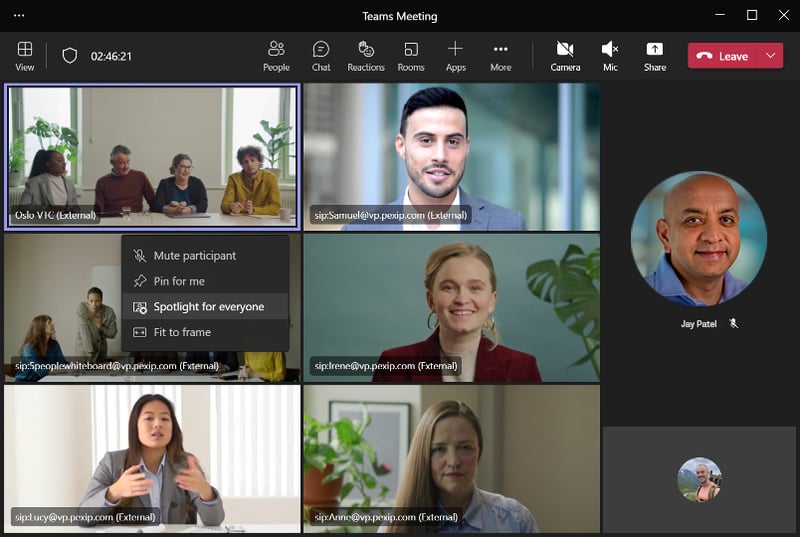 Spotlight participant - Video endpoint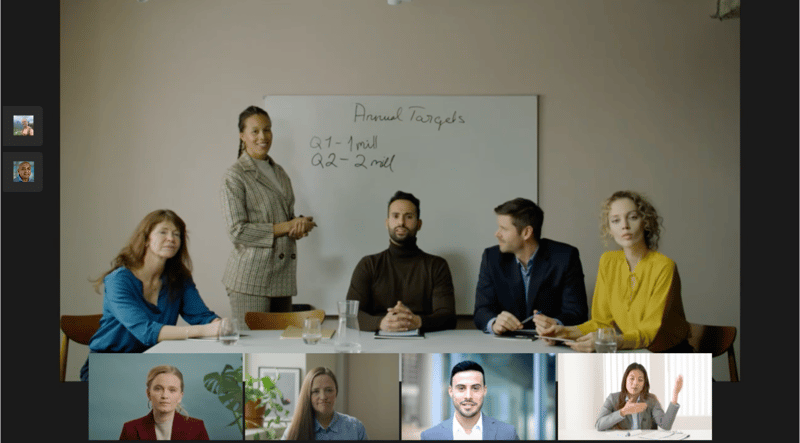 Watch Spotlighting in action →
---
Improving Privacy & Security
Participant authentication: multiple web app FQDN support
Support has been added for participant authentication deployments where multiple FQDNs can reach the Infinity Connect web app.
---
Improving the Admin experience
IPv6 support for H.323
IPv6 addresses are now supported for H.323 calls.
One-Touch Join Office 365 integrations using Graph API
One-Touch Join integrations with Microsoft Office 365 now support the use of Microsoft's Graph API to provide access to One-Touch Join calendars without the need of a service account.
Web proxy bypass for One-Touch Join Exchange connections
For deployments where One-Touch Join system locations are configured to use a web proxy, it is now possible to bypass the use of the web proxy for Exchange Web Services connections to the Exchange server.
For more information on all of the technical updates of this release, please visit our documentation site.
Topics:
Meet & collaborate securely