This post covers the new features and functionality in Pexip Infinity (self-hosted) version 23:
1. One-Touch Join for Cisco video endpoints
Joining video meetings can be tricky with dialing various numbers, URIs, or IP addresses. A frequently requested feature from our customers has been integration with their primary calendar, such as Microsoft Exchange (on-premises or in Office 365) or Google Calendar (G Suite). Starting with version 23, this feature is now built-in (requires a license key).
One-Touch Join allows the Pexip platform to access your calendar meeting room resources, enabling scheduled meetings to appear as a green join button. When the meeting is ready to start, the button appears on your video endpoints (list of supported models here)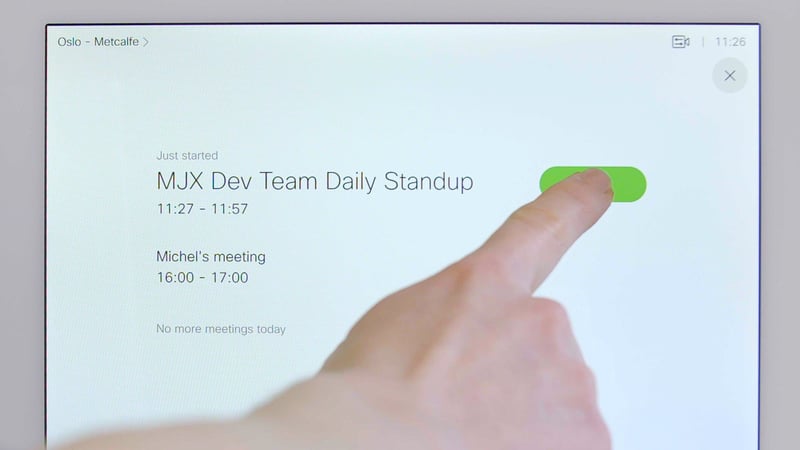 For end-users, this feature makes joining meetings even more accessible. They need to invite their meeting rooms to the video meetings. It will be simpler than ever to join meetings on time with just the push of a button no manual dialing is needed.


For administrators, it's a one-time setup (with a minor addition for new video systems) to activate Cisco devices.
Since the One-Touch Join solution runs in the customer's network, the highest data privacy standards have been considered. The integration reads room calendar data and pushes it to the video endpoints. Pexip or other external 3rd parties never process the calendar data. The sensitive company data that are often contained in calendar invitations remain entirely in the customer's network.
The One-Touch Join capabilities are available for Pexip Infinity self-hosted and Service customers. Existing Pexip Infinity customers need to add a license key and configure the feature, while Pexip Service customers will need to install and configure the solution. Pexip has a professional services team and partner network ready to assist with installation or configuration.
Read more about One-Touch Join here.
A complete overview of the updates in version 23 can be found on the documentation site here.
2. Adaptive Composition
Video conferencing has improved a lot over the last couple of years, but one area that has not changed is the traditional video layouts in our meeting rooms and personal clients.
Pexip's Adaptive Composition is a sneak peek into our work with Artificial Intelligence (AI). Adaptive Composition leverages AI to identify the number and placement of participants in a room and then uses this information to create optimized framing. It also gives additional screen real estate to larger groups of people. This allows participants to have more natural and engaging contact with everyone in the meeting.
The key concepts of the Adaptive Composition feature preview in v23 are:
Participant detection: Find out how many and where in the room people are. Pexip will never track who's in the meeting room. To respect participant privacy, we do not use facial recognition technology.
Participant auto-framing: We are actively zooming, panning, and tilting where the camera might not be optimally adjusted. If people join or leave the room, the system adapts and recomposes the view of the participants.
Intelligent Composition ensures optimized use of screen real estate, putting rooms with many participants in the larger, higher area and single participants further down – instead of the more traditional experiences where a room full of people is demoted to a small image or removed from view while not talking.
Adaptive Composition is achieved with transcoding and AI, so all optimization happens on the server side. This means the feature is available for ANY client and system connecting to a Pexip Meeting.
To learn more about adaptive composition, see https://www.pexip.com/features/adaptive-composition
3. Media enhancements
Several media enhancements are also done in Pexip v23, allowing customers to take advantage of the latest functionality in their meeting room systems, browsers, and clients.
Key areas to mention here are:
Granular 1080p control: Allows administrators to set individual virtual meeting rooms (VMRs) or gateway calls to 1080p mode, where previously, this was a global on/off setting in the platform.

Granular presentation bandwidth usage allows administrators to adjust what % of the call bandwidth should be allocated to the presentation in a video meeting on their platform. With single-screen video rooms, you may prefer to allocate most of the bandwidth to the presentation while it is being shared – but if you have dual-screen systems, you may prefer an equal split.


Full VP9 support allows administrators to fully enable VP9 on their Pexip platform, taking advantage of a stronger compression (lower bandwidth for the same quality or higher quality at the same bandwidth) at the cost of higher CPU usage. This is available for customers with Conference Nodes supporting AVX2 instruction sets (most servers from 2015 and later). Today, VP9 is supported as a standard feature for users of the Google Chrome browser and the Pexip Infinity Connect clients.
4. Firewall and network enhancements
Firewalls are everywhere in corporate networks; in some cases, additional features might be required to ensure video works in corporate networks.


The ability to fall back to transport audio/video and content from web browsers supporting TCP-based media is added as a Tech Preview feature in this release, where administrators can enable the option of falling back to port 443/TCP if media cannot connect over the normal UDP ports.

For large enterprises, the Pexip platform deployed internally on their network might be unable to communicate with the internet unless passing via proxy servers. Response to issues such as license activation, incident reports, and access to anonymous statistics that previously required offline interactions. This release introduces proxy support to simplify the administrator's job and enables a more proactive and agile support flow in case of incidents.
5. Microsoft Teams improvements
The Virtual Machine Scale Set disks are now encrypted by default, and access keys for the storage account are moved to Azure Key Vault and regenerated every 90 days.


Improvements in media quality, in particular for presentations.


Improvements in the deployment scripts for the Pexip for Microsoft Teams Connector to help with certificate-related issues.


Teams users will now show up in name@domain format, whereas previously, they would show an ID. This is a subtle but welcome improvement for administrators and support personnel using the Pexip Management interface.
In addition, v23 includes multiple improvements for customers with a large number of conference nodes, concurrent calls or meetings, and customers using the Pexip Infinity Connect web app, and clients will benefit from performance improvements to ensure lower CPU usage for clients.