Video conferencing has become an integral part of our everyday life, and it's here to stay. Tasks that used to require a face-to-face interaction can now be managed through an online meeting. For financial organizations, this provides a massive opportunity to build streamlined, easy-to-access, hyper-personalized services whilst boosting internal productivity: video conferencing with customers and clients.
Whether your organization is just getting started or has been using a video chat solution for banking for some time, here you'll find an overview of which aspects of financial services can benefit the most from integrating video, and how a smart video integration can both enhance the customer experience and make your team's workday more efficient.
Video is no longer a perk - it's an expectation
Today, customers expect more – and higher quality – video call banking arrangements, with better optimized video communication with banks and other financial organizations than ever before. This is especially true for Generation Z and millennial digital natives who enjoy the experience of personal interaction, but prefer face-to-face meetings to be conducted remotely.
But it's not just the younger generation driving this demand; there is now an appetite for video banking across all demographics. According to the Accenture Banking Consumer Study from 2020, only 15% of customers had spoken to a bank advisor by video call before the pandemic, but 46% said they would be prepared to do this when branches reopened, and 35% would now prefer video to a face-to-face meeting.
The message is clear. If your financial institution wants to provide a rounded customer experience, video needs to be a core offering. And the service you choose needs to be simple to access, on-demand, and personalized.
Read more: How will video transform consumer banking in 2021?
Building trust with the human touch
The modern state of digital finance is demonstrated in the Cognizant report The Work Ahead in Banking & Financial Services 2021, which showed that the banking industry expects to boost its revenues from digital channels by 54% by 2023. But keeping customers engaged and loyal with digital banking and other financial services can be a challenge.
The Accenture study mentioned above showed that customers' trust of their bank has dropped to 29% compared with 43% two years ago, which could be attributed to a greater trend toward digital banking. Another key finding from the report is that the rush to provide digital services has been at the expense of human-driven services that customers feel are important.
The growth of digital finance has contributed to a one-size-fits-all model of customer experience, rather than delivering a relationship-based service, delivered by highly trained staff. Video conferencing can help re-imagine that connection and modernize the customer experience.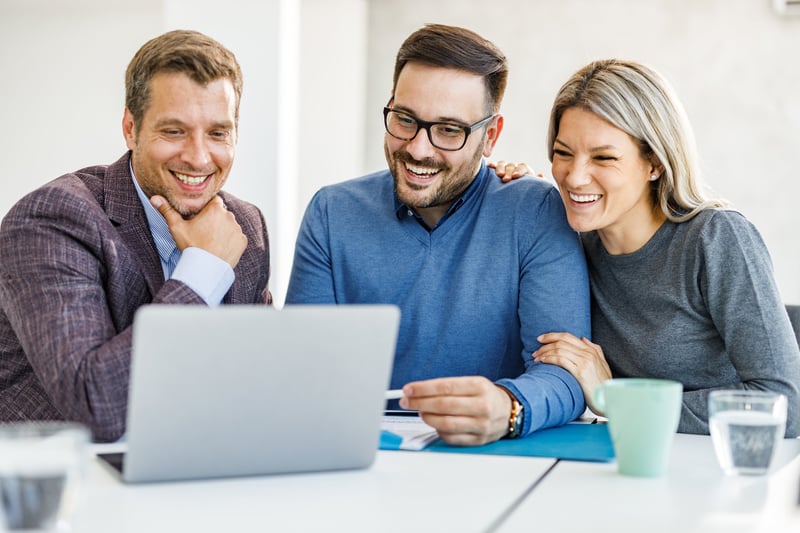 Free eBook: How retail banks can master customer engagement
Did you know?
Only 10% of retail banks regularly work on enhancing the customer experience

Yet over 70% of retail banks believe that digital customer engagement is important to the success of their businesses today and tomorrow
Customer engagement is essential in today's competitive landscape.
Get your free copy of our guide and learn about video banking examples, and how to win more customers and scale your business.
---
When it comes to providing a modern customer experience in the financial sector, there are many scenarios in which integrated video meetings can provide better, more accessible communications. Here are a few examples of the "video banking purpose" for today's customers:
Mortgage and loan applications
Mortgages and loans are some of the most complex financial products for consumers, and many banking customers want support from someone in an advisory role. Typically this advising session would happen at an in-office meeting, but video can be just as effective, and more time efficient. A typical mortgage in the United States takes on average 46 days to complete, involves six unique roles, and uses more than 30 touch points. Video meetings can streamline this process by greatly eliminating many of these traditional touch points and providing fast, personal advice.
Navigating insurance options
Personalized, face-to-face remote meetings can be a useful tool when guiding customers to the right insurance products, especially when they are facing life-changing events like buying a home or starting a family. The choices being made by consumers are evolving: according to a recent study by Accenture referenced by StarDust, "nearly 60% of insurance customers are open to purchasing policies from neo-insurers or other tech companies looking to break into the industry," and this increases to 80% when only considering millennials. For more established players to remain relevant in an evolving market, they need to provide a range of services that meet the demands of today's customers. And fantastic remote meeting experience can be a major differentiator.
Retail and private banking
Value for money is now the most important factor for financial services consumers. This is driving demand for on-demand digital services for retail and private banking. Customer behavior is changing and a Gartner report from 2020 showed that more than 50% of retail banking customers want to manage their daily finances digitally.
Whereas relationships between customers and bankers at their local branch used to be long-term and personal, we're now in a market where customers are willing to change banks often for better rates. Face-to-face interactions using video provides more opportunities to build long-term customer rapport, boost loyalty, and maintain the feeling of community in an increasingly digital market.
Business banking services
Video services can be highly relevant for providing personalized advising on business banking, especially for businesses needing integrated services such as accounting and payroll management. Many business customers travel extensively and work remotely. Being able to meet their advisor from any location can be a huge advantage, saving them both time and money.
This also goes the other way; for financial advisors working with business customers, who often have a range of diverse financial requests and transactions, video conferencing can be an efficient way to connect customers with multiple advisors in a shorter period of time. As the main advisor, for example, when a question or concern arises, you can quickly connect the customer with a colleague over video, rather than requiring one or both of the parties to travel or schedule additional meetings. In this way, you can provide a better "one stop" service for some of your most valuable business customers.
Long-term advising on pension plans and asset management
While the "anonymous" nature of simple financial services like transferring funds or checking an account balance can be done easily through apps and online banking, when it comes to larger and long-term financial decisions, there's still a great need for real human interaction, even for the most digitally savvy customers.
Long-term financial planning like asset management requires personal context and "big picture" discussions that are much more easily handled face-to-face. Keep in mind that when sharing digital data on customers, the video service's data handling procedures must meet high-compliance requirements, so it's important that the platform being used is highly secure, both in the interest of maintaining customer trust and the integrity of your organization.
Read more: Learn how pension provider APG uses Pexip video to maintain security and streamline remote workflows.
Personalized tax advising
The handling of personal and business taxes can be a complex, confusing, and demanding process. Many individuals and organizations rely on tax advisors year after year to help them prepare their tax returns. This includes helping customers navigate complicated forms and tax procedures, ensure compliance with regulations, properly report spending and earnings, and future tax planning.
This process often requires tailored discussions around specific financial situations, which can be done using video meetings with screen sharing capabilities. This workflow can make the process more efficient for both advisor and customer, saving time and travel for in-person meetings, all of which becomes important with looming tax deadlines.
Maintaining personal connections through video
No matter the scenario, video conferencing for consumer-facing financial services isn't only about convenience, but also creating a no-fuss experience that puts people first. Pexip's video platform removes the technological guesswork, offering security, simplicity, and customized branding integration, so you can build customer trust through familiarity.
With multiple deployment options and the ability to join meetings from Microsoft Teams and other providers from any device, you can focus on the connections that really matter.
Learn more about how Pexip can provide your financial organization with integrated, accessible video solutions.
Topics:
Financial services
Digital transformation
Personalize customer engagement
Customer engagement
Video technology platform