Secure and scalable video conferencing for financial institutions
Banks and financial institutions around the world rely on Pexip for their secure video conferencing needs. Whether used for secure internal collaboration or for face-to-face customer interaction, Pexip provides a space for global communication that is secured and managed by you.
Improve customer experience
Engage your clients with video meetings for a more authentic interaction than phone meetings, building stronger relationships. Give your customers more flexibility to meet where they want, how they want, reducing the need to travel to a local branch.
accelerate sales cycles
improve loan processing times
increase user satisfaction
reduce the time needed to address a customer's concerns or questions
Trends
Why banking needs people-first video conferencing
As banking becomes more virtual, here's how Pexip's video conferencing solutions can help you maintain a human touch.
Video when you need it
Markets move fast. When you need to respond quickly, video meetings can be arranged ad-hoc and from any location. Clients can join meetings simply and instantly via a web browser, with no downloads or plugins required.
Capacity on demand
The Pexip platform is designed to be flexible and scale as you need it. Quickly and easily expand the capacity of your deployment to accommodate large, global meetings or a higher than usual number of simultaneous smaller meetings.
Use existing technology
Many large firms have already invested in video conferencing hardware from the likes of Cisco and Poly for their conference rooms. Pexip extends the reach of these technologies and connects them with collaboration tools from Microsoft and Google for seamless communications.
Keep your workflows
Pexip allows your clients to easily join a video meeting, regardless of where they are and what systems they are using. Financial advisors can continue to use their own enterprise video conferencing tools such as Microsoft Teams, Skype for Business, Google Hangouts Meet, or dedicated video conferencing systems. Clients can join plugin-free using their web browser, or via the Pexip app on their laptop or mobile device. Pexip makes it easy for all parties to join using the workflows they already know.
"We needed a way to talk to our partners and customers who were using different platforms, and the Videxio [now Pexip] service gave us just that."
Eric Larsen, Head of Operations at BankID
Meet regulatory requirements
With Pexip, you can easily adapt the platform to comply with existing regulations and requirements. The entire video conferencing platform can be deployed and used within a secure environment, allowing your organization to control your data at all times.
To mitigate issues such as insider trading, organizations can separate departments' information in a number of ways, from PIN-protecting meetings to completely separate deployments within the same data center.
Trusted by global organizations
Customizable for your organization
The Pexip platform can be customized to extend your branding across the user journey and build user trust and confidence. With integration into an organization's website, financial advisors can maintain access to historical financial data while in video meetings.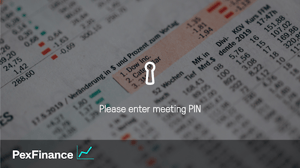 Financial organizations have integrated Pexip into a secure, logged-in web page within their company website, allowing their customers to access meetings while maintaining their company's branding.This customization not only maintains the security of the platform and provides an easy joining experience, but it also provides a sense of security to end users.
It makes cents.
Learn how Pexip just makes cents when you need a secure video conferencing solution to meet with the demands of the modern financial sector.