In this article we explore how the right business tools can help law firms grow, and consider: how do law firms use technology today, and what kinds of technology do lawyers use?
---
In our conversations with law firms, one of the biggest challenges we often hear about is business growth. For some firms, that means adjusting to recent growth from a merger or acquisition. For others, it means taking on more clients and scaling up to adapt to the operational changes that brings. In the past, accommodating this growth may have necessitated increased costs for office space and staff, and a drain on efficiency and productivity during these transitions. But with the right technology tools, you can scale up with greater speed and less cost while boosting productivity and job satisfaction.
Boost efficiency and reach more clients with video
The challenges of administrative work can make it hard to keep up with the demands of growing a business, and inefficiency around tasks and projects can have a negative impact on paths to business growth.
Three Bloomberg Law surveys between March 2019 and July 2020 found an increase of more than 50% of firms that reported increases in efficiency after deploying new technology for the legal sector. Some popular legal tech tools include time tracking, expense reporting, document automation, e-signing, project management, and invoicing applications, and all of these have been growing exponentially as firms around the world look to modernize their processes.
And on the survey results of Robert Half's Future Law Office 2020 report, 34% of respondents said that "emerging technology" was most likely to transform the practice of law over the next five years.
But in the wake of the Covid-19 pandemic, there was one tool that became more important than all the rest: video conferencing. Out of necessity that happened overnight, many lawyers and firms turned to video conferencing collaboration tools to maintain business continuity and client relationships amidst office closures, travel bans, and lockdowns.
Now, it's becoming more apparent than ever that remote collaboration using video is not just a "quick-fix," but a key tool for the long-term strategy of many businesses in the legal sector.
---
"Videoconferencing will not die with the pandemic. It has quickly become the preferred method of communication for our clients who don't want to spend the resources to meet in person if they don't have to."
- Melanie Leonard, Esq., Founder of streamlined.legal, in a Clio interview
---
Law firms around the world have now found that video conferencing:
boosts personnel efficiency and productivity by eliminating commutes for both associates and clients
frees up time spent organizing and traveling to meetings, which equates to more billable hours, more time spent on business strategy, and ultimately, higher revenues
enables your firm to generate new business by making it easier to connect with clients and expanding your business's geographic reach
Improve job satisfaction and cut costs with a hybrid workplace
Distributed and hybrid working are high on the agenda for law firms looking to grow in the new normal after the Covid-19 pandemic, and technology tools have an important role to play here. Debbie Foster, Partner at Affinity Consulting, told Clio that law firms can expect a high ROI from using technology effectively to enable a distributed workforce model. She underlines that now is the time to be more deliberate about which technology tools are used and how, in areas including collaboration and virtual meetings.
This means that an effective video conferencing tool should be a key part of your firm's hybrid workforce strategy. Efficient distributed and remote working policies can provide your employees with greater flexibility and empower them to be more productive. These factors can play an important role in boosting job satisfaction, morale, and loyalty. Longer-term employee retention can lead to a larger pool of partner-track associates who can build lasting client relationships and drive growth for your firm.
Another benefit of a hybrid workplace is that firms can substantially cut costs. For instance, Robert Amrogi, attorney and LawSites author, explains in the Robert Half report how law firms can save on the overhead costs of office spaces by enabling a hybrid workplace. Instead of having an office for every lawyer, they can simply provide temporary office spaces for those who split their time between home and the office.
In light of this, it should not come as a surprise that a Thomson Reuters survey found that 91% of law firm leaders expect to cut costs by using technology tools. By using video conferencing to conduct internal and client meetings, firms can reduce costs without reducing capacity.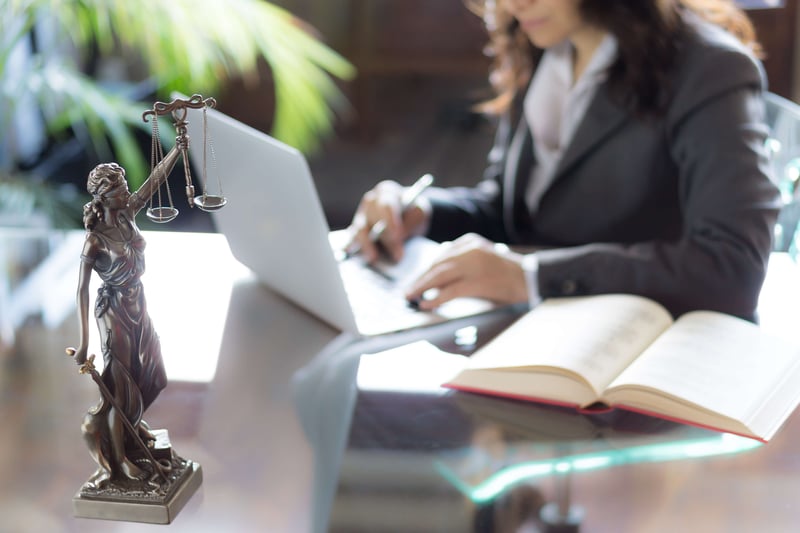 Build stronger relationships to improve client retention
In a competitive market, clients have their choice of law firms, so how can you be sure your firm rises to the top? By keeping your clients happy.
Consider all the ways you currently build relationships with clients. Perhaps it's through in-person events and meetings, virtual meetings, phone calls, emails, or even social media. While each has its place, which has been most effective for you? Face-to-face meetings continue to be the best way to build relationships for most, but we now know that the hassle and expense of in-person meetings are no longer necessary to achieve this kind of personal interaction. By integrating video meetings into your existing client interactions through a video technology platform, you can make these meetings a seamless part of their experience.
Many firms today rely on outdated audio conferencing systems, but have found, during the pandemic, that there are many benefits to using video meetings instead. By being able to read facial expressions and body language of clients, it becomes possible to have more honest conversation and build lasting, trusted relationships. In fact, we've heard from some of the law firms we work with that they've seen increased client retention as a direct result of using virtual meetings instead of phone consultations.
The legal industry today is facing a number of shifts, from increasing client expectations, to changing rate models, to new ways of working. To stay competitive and grow, law firms must adapt to these changes, and the right technologies can help you get there. We'd love to talk to your practice about how other firms are using Pexip to build their business and enrich their client relationships. Click here to get in touch today!
Topics:
Enterprise
Judicial
Meet & collaborate securely
Digital transformation
Personalize customer engagement