With a global pandemic, supply chain disruptions, climate change, and political conflicts around the globe, the potential for your business or government organization to be affected by a disruptive event is higher now than ever before.
Consider the following statistics:
The frequency of natural disasters has been rising continuously since 1980
Cyber incidents, including cyberattacks, have increased by 3,900% since 2013
According to McKinsey research, companies report that one month or more of disruptions occur every 3.7 years, resulting in losses worth almost 45% of one year's EBITDA over the course of a decade
The likelihood of a catastrophic event is higher than ever. And if or when your organization needs to handle such an event, it could severely impact your ability to operate.
What are the business continuity risks from such an event?
Loss of critical staff

Inability to manage business-critical processes
Disruption of business-critical communications
Loss of confidence in your organization by customers and stakeholders
According to a 2020 report from Deloitte, nearly 50% of businesses without an effective business continuity plan will fail following a significant disruption. So, if you want to ensure your organization is resilient and prepared for anything, it's imperative that you start planning for business continuity right away.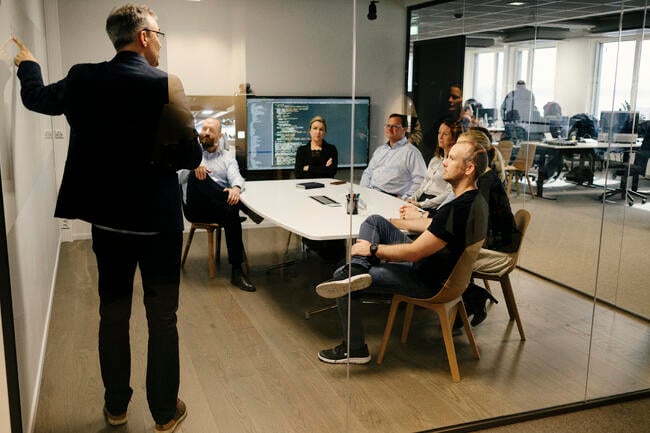 Protecting business-critical services with video conferencing
So, what can you do to ensure business continuity in times of crisis or if your primary collaboration tool is compromised?
1. Plan for technological resilience
This means investing in robust, secure, and flexible infrastructure to manage cyber threats and avoid being negatively affected by technology breakdown. A backup meeting solution should be an essential business continuity planning (BCP) feature.
Pexip's secure communications technology can be hosted on-premises and configured to operate without an internet connection. Hosting on-premises ensures you can communicate if a primary solution fails or you are cut off from communicating due to:
Network outages
DDoS/DoS attacks
Natural disasters
Other digital attacks
2. Be prepared to scale up communication when you need it
What will you do if you suddenly need a LOT of bandwidth? This might require hosting video conferencing nodes on a public cloud or even multi-cloud. Pexip has many different deployment options and can even run in "idle mode" in the background, ready to scale up quickly. You don't need to provision for the bandwidth until you need it, which saves you money.
3. Remember that business continuity is a journey, not a destination
You need to review and continuously optimize your business continuity plan. No one can predict the future, but organizations that prepare themselves for potential crises will experience less damage and disruption than those that don't. You must continuously adapt and optimize your plans for proper business continuity as new threats and/or opportunities arise.
In times of crisis, the lines of communication need to be kept open. Pexip for Business Continuity can keep your organization connected. Reinforce your business continuity communications strategy with a secure video communication platform in case of network outages, cyber-attacks, or natural disasters.
Topics:
Financial services
Enterprise
Government
Meet & collaborate securely
Secure meetings
Business continuity