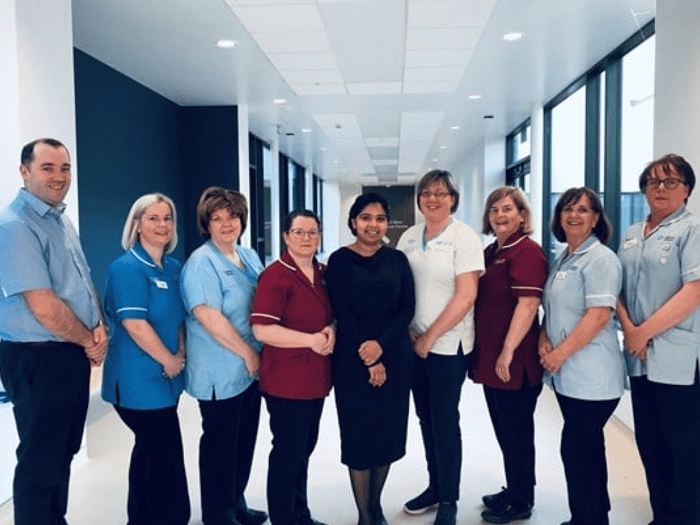 Customer story
Healthcare
Digital transformation
Gestational Diabetes Pathway provides easy and accessible virtual visits for pregnant women

About the Gestational Diabetes Pathway
The award-winning Gestational Diabetes Pathway is located at Altnagelvin Area Hospital. The Western Trust is one of five Health and Social Care (HSC) Trusts which provide health and social services across Northern Ireland.

In England, Scotland, and Wales, the National Health Service (NHS) provides healthcare services, while local councils provide social care services. In Northern Ireland, these services are combined under what is known as Health and Social Care (HSC).
Challenges
Need for patients to come to the clinic for frequent appointments, which requires time and travel


The desire for a telehealth service that is easy for patients to join and could provide access to consultations on any device without additional downloads


The need for a video solution to integrate with the Trust's existing systems, technology, and workflows
Pexip solutions
The self-hosted Pexip Infinity solution provided high-quality, scalable, and secure video conferencing from any device, regardless of technology
Results
The solution provides easier access for patients and care providers by streamlining the user experience, removing conversation barriers, and reducing costs


The virtual consultations reduced face-to-face diabetes specialist appointments by 32%


An estimated 15,811 miles of travel has been saved for 654 appointments, equating to 4.37 tons of CO2
Challenges
At Altnagelvin Area Hospital, a Western Health and Social Care Trust (HSC) facility in Northern Ireland, telemedicine is vital in providing quality, accessible care at the hospital's Gestational Diabetes Pathway.
The clinic specializes in gestational diabetes, which increases the risk of complications for both mother and baby. It requires expectant mothers to attend up to 13 additional appointments during their pregnancy, requiring extra time and travel.
The clinic sought a telehealth solution allowing their caregivers to interact with patients for accurate diagnostics and treatment closely. They also wanted to ensure that video service was easy to access and didn't require patients to download any new apps or programs.
From an organizational perspective, they needed a solution to simplify and streamline their existing video communication technologies to integrate everything into the Trust's existing patient administration systems (PAS) and electronic patient records (EPR).
By integrating the new video call capabilities into the existing healthcare workflow, the program could be practical and intuitive for providers and gain widespread patient and provider acceptance.
Why Pexip?
Starting in January 2019, Pexip Gold Partner Hospital Services Limited (HSL) led the design of the telehealth offering.

HSL chose the Pexip platform for its ability to provide high-quality, scalable, and secure video conferencing from any device, regardless of technology. The Pexip implementation allowed for an end-to-end solution that could integrate video seamlessly into the HSC's IT systems, workflows, and processes.

"We made it our priority to ensure our Telehealth service by Pexip was embedded into existing procedures and processes to enable clinicians to utilize this technology without adding to their already large workload. No other service offers this level of integration. As a result, it will increase the NHS's capacity without putting extra stress on its resources. Resulting in reduced costs and clinicians' time better utilized while outpatients avoid the need to travel," said Sam McMaster, Director of Telehealth at HSL.

"I can't see our service defaulting to phone clinics. It's not the same when engaging in complex conversations like a health care consultation."
Results
Thanks to the Pexip integration, clinicians can organize a remote and secure outpatient consultation with the tap of a screen. Meanwhile, patients can easily access the sessions via a smartphone, tablet, laptop, or PC without any downloads or barriers to joining.
Led internally by Dr. Athinyaa Thiraviaraj, Consultant Physician in Diabetes & Endocrinology, the clinicians at the Western HSC Trust have carried out 1000 consultations just between January 2019 and November 2020 via the newly integrated interface. It has allowed them to meet patient needs better and gain a more holistic view of the patient's overall condition while maintaining patient communications during the Covid-19 pandemic.
In addition to helping patients and staff, the program has also proven the positive environmental effects of remote care. The virtual consultations reduced face-to-face diabetes specialist appointments by 32%. As the trust covers a rural area, some women traveled more than 120 miles for each clinic visit. The team estimates that the changes have saved about 15,811 miles of travel for 654 appointments, equating to 4.37 tons of CO2.
Dr. Thiraviaraj's team received the prestigious British Medical Journal Award in the Innovation in Quality Improvement category for their adaptability and innovative thinking to preserve high patient care at a worry-filled time for expectant mothers.
"Working in partnership with women who attend our service, we have been able to develop, test, and standardize video consultations," said Dr. Thiraviaraj. "This has helped our service to continue with minimal interruptions through both the first and second surge of the pandemic. This innovative model of care has made it possible for us to continue our commitment to support expectant mothers during anxiety and concern."
Contact us today to learn more about Pexip Health solutions for your telehealth offering.