The current state of retail
The retail industry is at a moment of dramatic change. Internet retail sales have accelerated at an exponential rate during the last 18 months, peaking at 37% of total sales in January, and leveling to 25.5% in August 2021, according to a recent ONS retail sales index.
Retail analysts, like Womble Bond Dickinson, are predicting internet sales to account for 53% of retail sales in the coming 10 years, driven by Gen Z as their demographic becomes half of the UK's adult population.
Adapting to retail's digital revolution
So, what does this massive shift toward internet sales mean for your retail business? It means that it's time to rethink how you digitally engage with your customers, whether they're shopping in-store or online.
These dramatic changes in consumer habits and purchasing decision-making are driving digital transformation across the retail industry like we've never seen before. But this doesn't just mean having an effective and engaging online store. There are many considerations (and adaptations) to consider, including the following:
Brick and mortar stores are beginning to include digital experiential centers and adopting new technologies to modernize, personalize, and differentiate their customers' in-store experiences.


Similarly, online and e-commerce systems are being adapted to include personalized customer experiences, leveraging big data and artificial intelligence to create informed customer engagements.


Now, as always, successful retailers are having to reinvent themselves. The pace of change is now faster than ever. So, how can your retail business keep up? By implementing a digital-first approach, paired with the best, most engaging customer experiences.



Using video technology to personalize customer engagements
Building brand loyalty and trust today isn't easy. We're now in a world where the vastness of consumer choice across the digital marketplace requires new and inventive customer engagements. It's not enough anymore to just be present for your customers in a one-size-fits all approach to customer service. Instead, a great customer engagement strategy means incorporating more time spent helping people face-to-face, and giving them a personal and memorable interaction.
Personalizing customer experiences with video communications brings a human touch into the digital world. And connecting your retail associates directly to your customers, wherever they are, creates customer value, lowers digital churn rates, and maintains your brand's connection throughout the entire buying process.
Video powered, person-to-person customer engagements can be used at every step of the buying journey to personalize the experience. This can include:
Real-time product demonstrations
Associate consultations and recommendations
Customer services, pre- and post-sales
VIP & brand experiences, including new product offerings
Help with using, setting up, or building products such as furniture or home technology
Solutions from Pexip for video-powered retail experiences
Pexip's video engagement platform provides a secure, scalable, and programmable video engine that delivers intuitive person-to-person video interactions. These experiences can be accessed by customers and employees using any device or browser, with no plugins or downloaded apps needed. This offering means a stress-free, uncomplicated means to connect consumers directly with your brand using high-quality audio and video to bring the experience to life.
This platform can easily integrate video experiences into any or all of your
existing or new customer engagement workflows. With this, you can:
Scale video-driven customer experiences across all your national and global brands from a single Pexip video engine.
Expand and connect the platform with your other business operations, using Pexip's interoperability for Microsoft Teams and Google Meet.
Add branded virtual waiting rooms with customized video messages playing whilst your customers wait for their appointments, to make them feel secure and looked after.
We also offer a fully developed customer engagement system from one of our Pexip ecosystem solution partners. Skedify, a Pexip certified partner, provides a complete branded customer engagement solution with online appointment bookings, virtual video and in-store appointments, automated advisor selection rules, calendar integration and CRM and CMS connectors.
Pexip and Skedify provided a solution to help a high-end retailer, active in the home improvement markets, increase their sales by improving the digital customer experience using online appointments and person-to-person video.
Learn more about how Pexip and Skedify provide seamless scheduling and video meetings.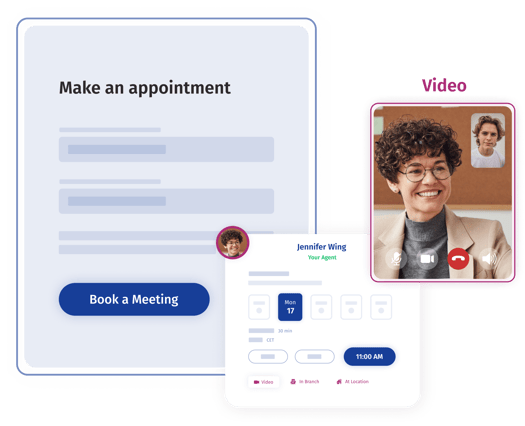 With Pexip and Skedify your video-powered engagements will include:
A fully-branded video meeting

experience,

from

the waiting room to the

post-conversation follow-up.




File sharing between internal and external participants so decisions can be made on the spot.




The ability to easily record and share your conversations or provide a post-meeting summary with chapter and annotating features.




Secure, high-quality video meetings that are easy to schedule.




Easy-to-join video meetings, thanks to device set-up assistance and a personalized test link to help get customers ready for the call.




A private post-meeting space lets participants download any shared files and allows you to capture relevant feedback with a survey
Whatever your use case, Pexip's video engine brings a human touch and person-to-person experiences to your digital customer journeys. This personalization can strengthen brand loyalty, engage new and existing customers throughout the digital buying journey, and add value to your customers experiences. To get started, contact us today.