For decades, electronic devices have been a staple of the modern workplace, and the Covid-19 pandemic made reliance on digital tools, especially for remote communication, more relevant and critical than ever.


Workers today depend on electronics for almost every task, from laptops to cellphones to video endpoints, monitors, and servers. But what happens to those devices when they become old and outdated? They become e-waste.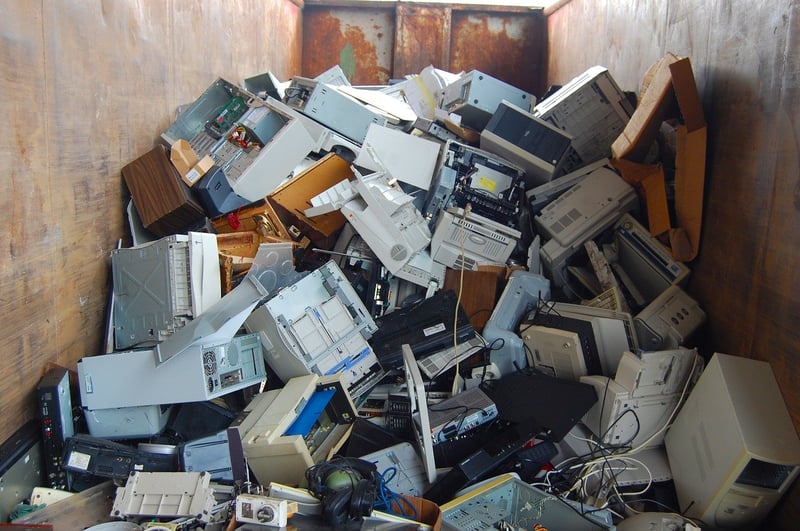 What is e-waste?


E-waste is short for electronic waste: discarded electronic appliances like mobile phones, computers, printers, and large household appliances, among many others. When these items end their useful life, they become e-waste. According to the European Commission, "electrical and electronic equipment continues to be one of the fastest growing waste streams in the EU, with current annual growth rates of 2%." As technology and innovation continue to grow, and at faster rates, people, on average, use more electrical devices, and those devices become old and outdated much quicker — which leads to ever-increasing amounts of e-waste.



Why is e-waste a problem for the environment?


According to the 2020 UN Global E-Waste Monitor, "The increasing levels of e-waste, low collection rates, and non-environmentally sound disposal and treatment of this waste stream pose significant risks to the environment and human health. A total of 50 t of mercury and 71 kt of BFR plastics are found in globally undocumented flows of e-waste annually, which is largely released into the environment and impacts the health of the exposed workers."

Unfortunately, removing unwanted electronics isn't as easy as removing the trash. In addition to mercury and plastics, discarded electronics contain hazardous materials, including lead, cadmium, chromium, brominated flame retardants, or polychlorinated biphenyls (PCBs). If not disposed of properly, these materials can cause damage to humans and the environment through inhalation of the toxic fumes and leaching into soil, water, and food.

As more electronic devices are discarded, proper e-waste management becomes more urgent. According to one study, "Society only deals with 20% of e-waste appropriately, and there is little data on what happens with the rest."
Reducing business-related e-waste


There are many ways to reduce e-waste, from comprehensive recycling programs to lobbying for Right to Repair laws. But one of the best ways to reduce e-waste, especially in an office environment, is to make conscious choices that allow you to extend the life of your existing devices. Research has shown that "extending the lifespan of smartphones and other electronic devices by one year can save as much carbon emissions as taking two million cars off the road each year."
---
Did you know?
According to the 2021 Pexip Global Report, 71% of business leaders surveyed reported using video conferencing daily. This shows that this tool – and the devices it requires - has become integral to day-to-day work in large enterprises.
---
As workers head back to the office and adapt to a new model of hybrid working, as leaders, it's important to think about ways to continue using your existing in-office meeting devices, even if you've adapted to different cloud-based solutions during the pandemic. By making smart choices, you can reduce your organization's environmental footprint and save money by protecting your investments.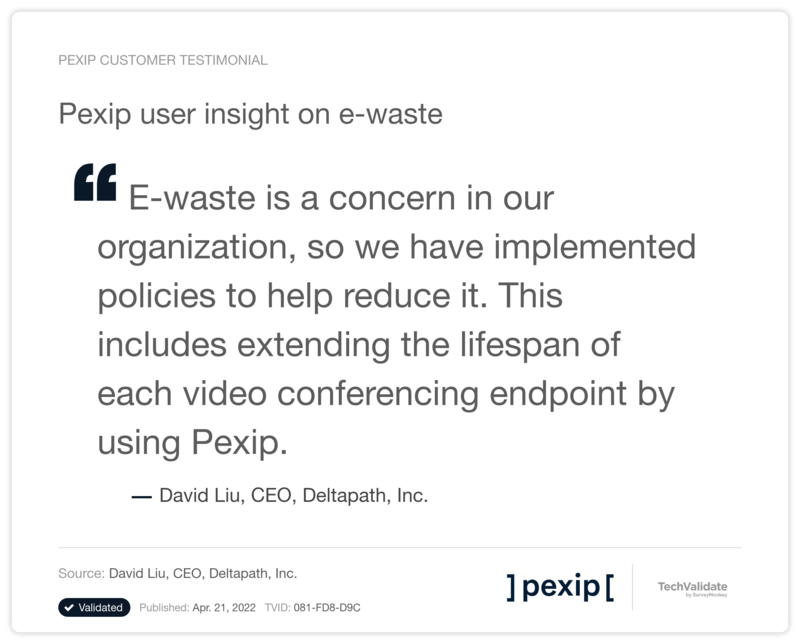 How Pexip's solutions can make a positive impact


1. Interoperability.


If your organization has invested in standards-based video conferencing systems like Cisco and Poly, you can extend the life of these systems with an interoperability solution. Pexip interoperability solutions for Google Meet and Microsoft Teams can help extend the life of your video conferencing systems by making it easy to connect to these meeting solutions from your existing video endpoints.


Connecting your different video conferencing technologies and devices is at the core of what Pexip does. With Pexip, you can enter a Cisco-equipped meeting room and join the Microsoft Teams all-hands meeting or the Google Hangouts Meet team call. Engage with your fellow meeting participants and easily work in real-time on the same content — all while extending the life of your devices.
2. Enablement of seamless AI experiences.


Pexip believes in sustainable innovation that provides an alternative to the "rip and replace" cycle, leading to resources ending up in landfills. By providing customers with the means to upgrade and reuse existing technology, Pexip helps reduce this negative environmental impact.


Pexip solves this with its core technology at the platform level, providing a device-agnostic solution that works with any technology, enabling video conferencing systems, laptops, mobiles, and webcams to be as "smart" as the latest cutting-edge AI meeting products.


AI can be applied to any video image regardless of which device originated the image, including legacy hardware endpoints and video sent from soft clients and mobile devices. This removes the need for new hardware and enables reuse of existing video infrastructure. The savings accrued allows Pexip customers to scale the benefits of AI across their entire hybrid workforce, eliminating the need for new equipment and expensive training and technical support associated with adopting new systems.
3. Efficient data processing.


A core focus at Pexip is delivering video conferencing solutions that require fewer network resources and more efficient CPU (central processing unit) usage and, as a result, use less energy than comparable solutions. This means using network, CPU, and power over alternative solutions three to four times more effectively. This equates to organization cost savings and reduced resources needed to power your video solutions.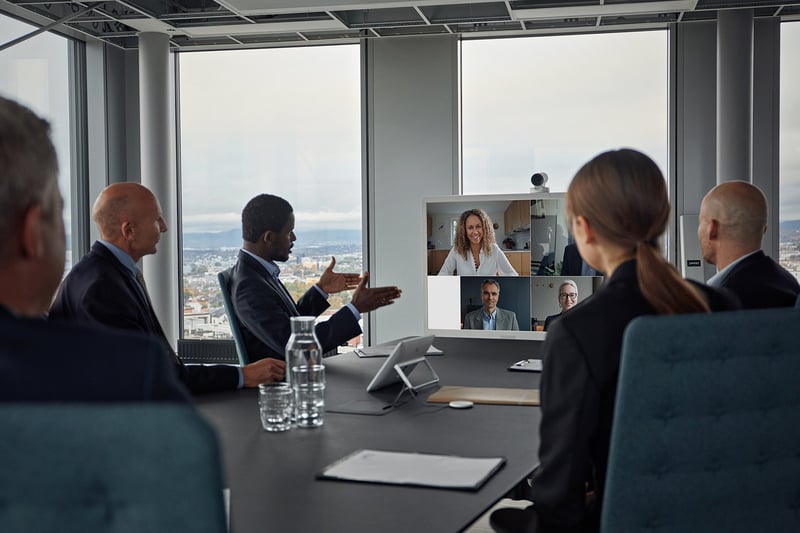 Download a free copy of our e-book Modernize your Meeting Infrastructure for Today's Workforce to learn more about how you can optimize your existing investments, reducing your organization's environmental footprint.
---
To learn more about Pexip's commitment to sustainable business practices, read our 2021 Sustainability Report.