We are excited to announce the launch of the latest version of our Infinity self-hosted software, version 27. With every new version, our goal is to improve and enhance the following areas with new features and functionalities:
Version 27 has exciting new features to enhance and improve your video meeting experience.
---
Delightful user experience
Far End Camera Control (FECC) – controls others
In some scenarios, it's very useful to adjust the camera of a remote conference participant. A host participant can now control Endpoints that support FECC using arrow keys and +/- (for zoom in/out) when controlling.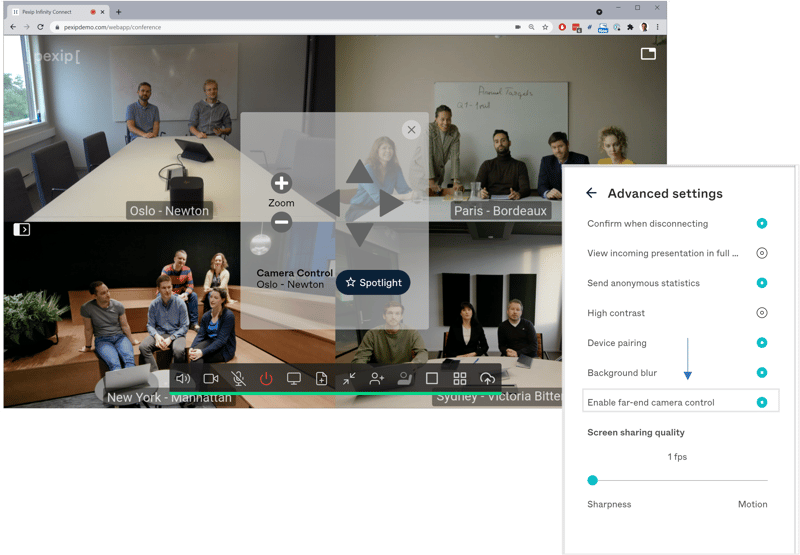 FECC - Control others
Far End Camera Control (FECC) – control me​
Individual participants can now enable their local camera for Far End Camera Control (FECC) i.e. they can allow their camera to be controlled (pan/tilt/zoom) by a remote participant. In healthcare, a common use case would be a doctor talking to a patient and needing to ensure a better view of the patient.
​
FECC - Control Me demo video

Presentation in mix
Looking for a better presenter engagement experience? When using Adaptive Composition, single-screen endpoints can receive any presentation content as part of the layout mix (replacing some other video participants). They can use DTMF commands to switch to receiving the presentation as a separate stream if required. This allows for a more immersive video meeting experience as the presenter is more prominent in the screen layout.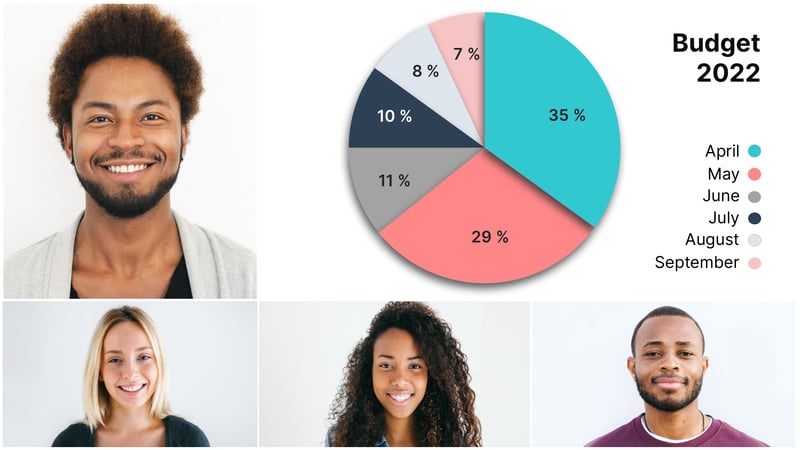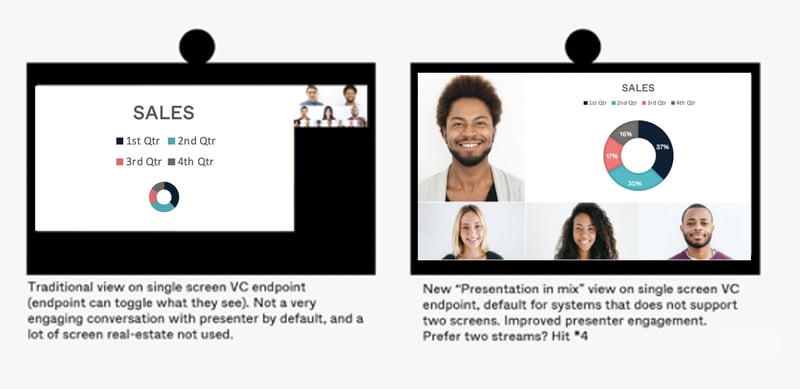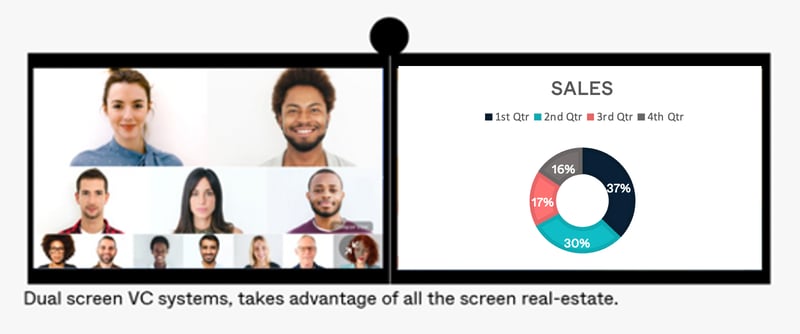 Equally focused layouts
How can you make meetings more equitable? Our equally focused layouts give everyone in the video meeting the same screen space, empowering people to be seen and engage better.
9 main speakers (3 x 3 layout)

16 main speakers (4 x 4 layout)

25 main speakers (5 x 5 layout)
Equal layouts demo
Host participants on video endpoints can change the layout currently being used by the conference by sending Dual Tone Multi-Frequency (DTMF) commands to the conference. The available layouts, and the DTMF keypad controls used to change the layout, are all customizable via themes.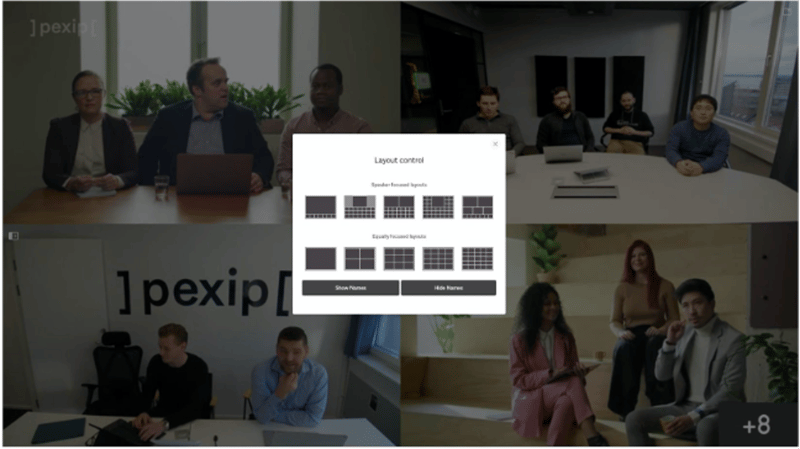 New speaker-focused layouts
The small main speaker and up to 33 other participants (1 + 33 layout — this was a technical preview feature in v26).
1-33 layout demo
Extended Adaptive Composition* (displays up to 23 video participants); this is a technical preview feature, and it can only be enabled via the transforms functions in the Pexip client APIs.
Highlight active speaker
The ability to show the name of the active speaker is now available in the following layouts: Adaptive Composition, 2 x 2, 3 x 3, 4 x 4, 5 x 5, and 1 + 33.
Web background blur​
Individual participants using a Chrome browser can now blur their local background on the image they send to a conference from the Pexip Infinity Connect web app. *Coming to the desktop client very soon.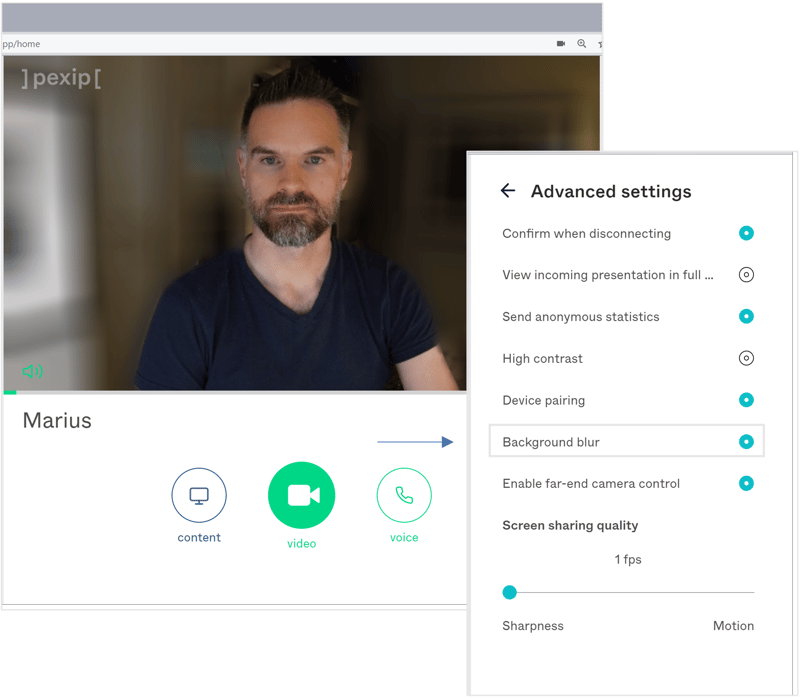 Significant WebRTC resilience improvements​
Significantly improved audio and video experience when connecting over a poor network or when network conditions change.​

Constant network condition analysis is needed to decide what bandwidth, frame rates and resilience technique to use. ​
---
Improving privacy & security
SAML integration/authentication
Now you can optionally require participants attempting to access an individual Virtual Meeting Room (VMR) or Virtual Auditorium in your deployment to verify their identity using Single Sign On (SSO) before joining the meeting. First, you set up one or more Identity Providers, which are third-party services (such as ADFS, Azure AD, or Okta) with which users authenticate using SSO. Then, you configure individual VMRs to require that Hosts, Guests, or both authenticate with the Identity Provider to access that VMR.
Other Security enhancements can be viewed here.

---
Enhancing our interoperability solutions
Enhancement of Pexip's Cloud Video Interop (CVI) integration with Microsoft Teams

Scheduled scaling allows you to automatically scale up and down the capacity of your Teams Connector at different times of the day. This allows you, for example, to cater to increased demand during core working hours but run at a minimal capacity (and thus reduce running costs) at other times of the day.
VTC participants can now use DTMF/keypad controls to control the meeting layout during an ongoing conference.
Other changes and improvements to the Teams Connector can be viewed here.


---
Improving the Admin experience
Installation wizard improvements
Default values are now also offered for the hostname, domain name, DNS, and NTP servers if provided by DHCP.

You can now use commas (as well as spaces) to separate the list of DNS and NTP servers.
For more information on all of the technical updates of this release, please visit our documentation site.