For most people, there comes a time when they must come into contact with their government, whether it's to obtain a driver's license, appear in court, or apply for social benefits. Regardless of the scenario, government interactions are often synonymous with frustrating logistics and long wait times. Until now.
In this article, you will learn how today's government-to-citizen (G2C) communication, as a part of e-government, is focused on modernizing public services and how video plays a key role.
It's now clear that remote collaboration technology, especially video conferencing, can be utilized for much more than just an emergency measure. As government organizations plan for the post-pandemic future, many are rethinking the public sector workplace and focusing on G2C initiatives that lean even more on video interactions.
What are the benefits of government-to-citizen video communication?
1. Improving accessibility
Many citizens may have to take time off work, travel long distances, and wait in line to access essential government services. All of this takes time, and time is money. For instance, the cost of transportation, parking, childcare, and unpaid time off from work can add up. This can be especially true for low-income families and those living in rural areas. This disproportionately impacts some citizens, causing inequity in accessing government services that should be available to everyone.
G2C agencies can ease some of these challenges using video conferencing by offering remote meetings with citizens. Some of the G2C services that could be made more accessible with video-powered communications include:
Tax authorities. Appointments with advisors at local taxpayer assistance offices can be made virtual, making these meetings easier to access, regardless of the citizen's location or circumstances.


Pension services. Retirement-age citizens are more likely to have poor health or physical ailments that make it difficult to travel to in-person appointments. With video, they can meet from home.


Unemployment and disability offices. Citizens without income may be more likely to have difficulty - whether economic or physical - traveling to offices to meet with case officers about their benefits.


Child and family services. In-person meetings are difficult with small children, especially with long commutes and wait times. Children in foster care programs may not have reliable transportation methods, and it may be difficult for pregnant or breastfeeding women to leave home. The video makes all of these scenarios easier.


Remote courts. Regarding attending hearings, trials, and arraignments, remote courts enabled by video conferencing have proven to be a successful alternative to meet in district courthouses, which tend to be located in larger cities and towns. With remote court, defendants, plaintiffs, witnesses, and attorneys can participate in legal proceedings in a more convenient and accessible way.


---

Learn how Pexip helped the New Mexico Justice System
to deploy an interoperable, easy-to-use G2C video solution.
---
2. Increasing efficiency
It's only natural that both government workers and citizens are wary of the inefficiencies caused by bureaucratic bottlenecks. Wait times for case processing in some government areas can significantly impact entire communities and citizens' well-being. At the same time, government bodies are increasingly challenged to provide essential services on a limited budget and use taxpayer funding responsibly.
Video-empowered G2C can help by improving work flexibility and cutting costs. For instance, video chat could drastically reduce overhead costs for government buildings and service centers. Remote meetings reduce the number of employees needed on-premise, and opening hours, parking spaces, and waiting rooms could also be reduced.
In addition, G2C communication leveraging a modern video platform can help reduce wait and processing times for various essential G2C services. This could have a significant effect on services provided by:
Courts, who are often dealing with backlogs of cases
Immigration offices, which are often overwhelmed with applications
Law enforcement offices, who are looking to speed up response times
Departments of traffic and motor vehicles, which deal with long waits and crowded service centers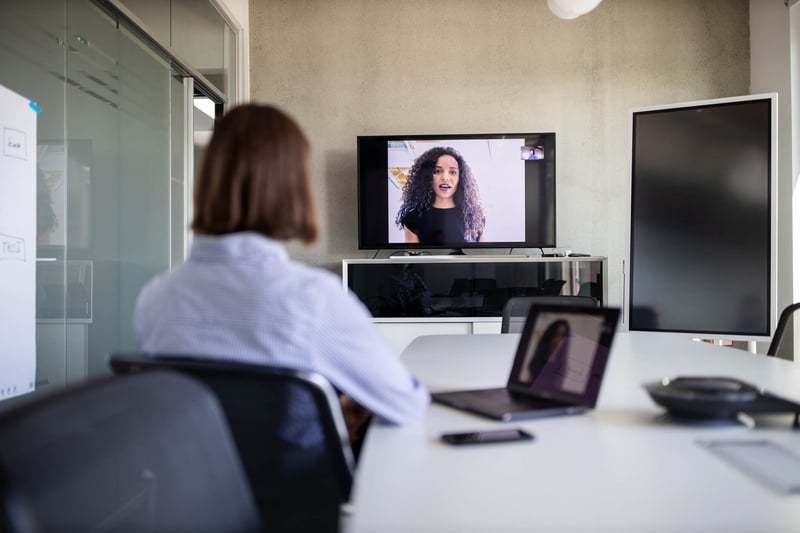 3. Enabling remote experts
One of the most potent ways video can make G2C interactions more effective is its ability to instantly connect citizens and government employees with remote experts and specialists. This possibility provides benefits for many scenarios, including:
Decentralizing government offices and taking the pressure off of the busiest locations. Video can quickly connect citizens with the experts they need to navigate systems or answer case questions. Connecting to experts at multiple locations makes the workload more evenly distributed across public sector offices.


Breaking down language barriers. Translators and interpreters (including for sign language) can be brought into virtual meetings on-demand.


Subject matter experts can be available from anywhere, at any time, which reduces wait times and case handling times, and decreases the need for citizens to travel between offices or make multiple appointments.


Enhanced efficiency and availability of government services gives citizens and employees more freedom to live in more dispersed areas, thus bringing public services closer to the people who need them.


4. Boosting citizen engagement
In addition to the e-services mentioned above, citizen engagement is another critical aspect of G2C communication. Citizen participation in government processes, decisions, and services was already relatively low in modern times, especially in local government. However, when the Covid-19 pandemic struck, virtual public meetings were implemented widely to support G2C interactions, and suddenly these kinds of gatherings became easier to access, with more opportunities for participation.
In the United States, research by the Center for Digital Government (CDG) found that over 80% of senior government executives in both state and local government reported using virtual public meetings during the pandemic. 37% also said they expected to continue using virtual public meetings as part of the "new normal" going forward.
Virtual public meetings have been used successfully for G2C in other parts of the world, including UK city councils. The increased accessibility and convenience of video break down barriers to citizens participating in their local governments. This is poised to play a fundamental role in sustaining functioning democracies for a long time.


Make your G2C video initiatives simple and secure
"Multichannel citizen engagement," listed as one of Gartner's top 10 trends for government technology in 2021Gartner, involves seamless and bidirectional G2C communication in whatever channel citizens prefer. Video meetings through Pexip Engage - our citizen engagement platform to enable government-to-citizen communication - are accessible via any device or browser, making remote or virtual G2C services available even to citizens with older technology or those who are less tech-savvy.
Pexip is designed to take the guesswork out of video meetings, meaning that sessions are always easy to join, with no extra downloads or plug-ins required. Organizations can also add custom branding to meeting screens to assure citizens that they're in the right place and that their conversation is secure.
As a result of strict regulations and the large volumes of personal data and confidential information shared through G2C interactions, security is one of the prime concerns for deploying video chat for government services. With a strong emphasis on data sovereignty and protection, Pexip's secure deployment options, including on-premise and in-country private cloud, make it easier to ensure regulatory compliance.
Ready to learn more? See our Government page for more information about Pexip solutions tailored to the unique needs of the public sector.
Topics:
Government
Digital transformation
Personalize customer engagement
Secure meetings
Customer engagement