Digitalize your services to win more customers and scale your business.
Banking customers expect an omnichannel experience. Are you ready to offer it?
Many B2C industries have made substantial progress in digital transformation, offering increasingly fast, simple, and convenient customer experiences. As a result, consumer expectations are higher than ever, as we see in the financial services industry -, particularly in retail banking.

If you oversee customer experience or strategy at a large or mid-sized retail bank or credit union, now is the time to invest in customer engagement to mitigate the risk of being driven out of business by stiff competition from the banking giants and fintech challengers who beat you to it.
Giving customers the flexibility with an omnichannel experience they expect shows your organization's unique strengths.

Your experts and regional advisors understand the specific needs of customers. Empowering them with the right tools can help them build better customer connections.

You can gain a critical competitive edge by continually establishing the right technology, knowledge, and ways to optimize the customer experience.

Over 70% of retail banks believe that digital customer engagement is vital to the success of
their businesses today and tomorrow.


Regularly optimizing the customer experience leads to 3.2x faster growth for retail banks than competitors that don't do this.
Source: Forrester report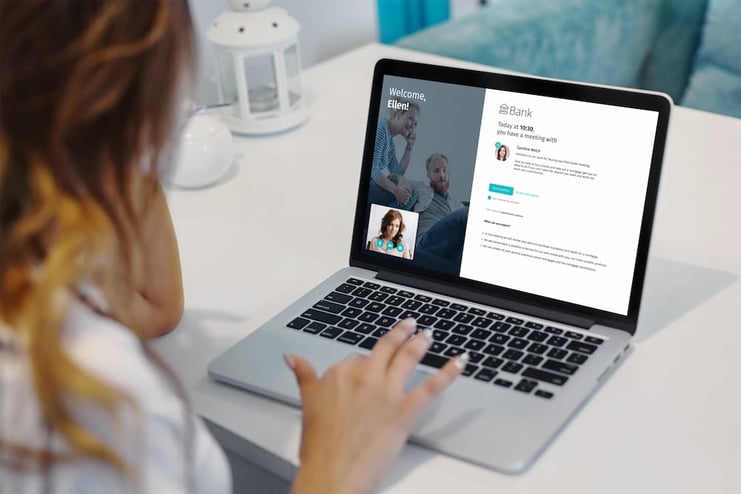 What do your customers expect?
The World Retail Banking Report 2021 found that 76% of retail banking customers now expect an omnichannel experience. The first thing you may think of when you hear omnichannel is digital customer experience (CX). In a rush to digitalize everything, remember that the need for human
connections and personalized advice is also a critical component of the overall experience.
Your business can also consider ways to bridge the digital and in-person experience. In-branch technology like self-service kiosks and interfaces make the journey consistent and convenient from home to the branch. In addition, a great way to provide personalized interactions outside branches is to offer video meetings as an alternative to in-person meetings.
According to Pexip's 2021 global report, more than three-quarters (84%) of business leaders with customer-facing services said video enables stronger customer connections than voice-only calls.
Additionally, according to Finances Online, up to 82% of customers also want to be able to book an appointment with a bank advisor quickly and conveniently online. It means that your customers can check the availability of your advisors via a self-service scheduling interface and book their appointment instantly without having to make a call or send an email.
Whether your customers schedule a video or in-branch appointment, your staff needs access to relevant data and information about their customers to personalize the meeting and its communications.
It is crucial for optimizing omnichannel engagement and advancing to the next level of data-driven personalization, providing the optimal channel for your customers in each context, which means:
the right channel

for the right interaction

at the right time

with the right advisor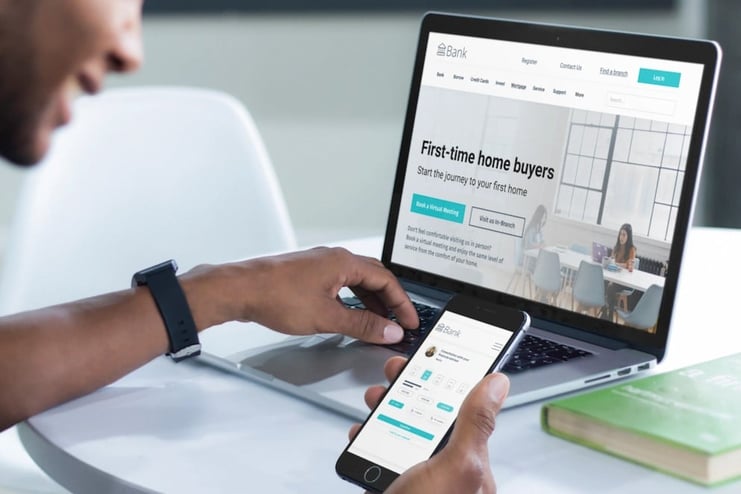 How can the right technology help deliver tangible outcomes?
Technology has a natural place in meeting modern customer needs, helping you improve customer
engagement, delivering omnichannel experience, and enabling more personalized human interactions.
However, before diving deep into a wide range of features and solutions, it can be helpful to take a step back and look at how the right technology can deliver genuine business outcomes. This way, you can align the technology selection process with your bank or credit union's goals and be more explicit about what you need to meet them.
First, your website's customer experience can be crucial for capturing and converting more customers into sales. Some questions to consider include the following:


How quickly can your customers find the exact information they are looking for?
How easily can they schedule a meeting?
Can you beat competitors by offering them a more convenient and personalized experience?

Regarding appointment scheduling, in the old days, customers may have had to call and be placed on hold, go to a branch in person, or send an email to book a future appointment. Nowadays, enabling customers to book an appointment quickly and easily via self-service scheduling should be the main priority. According to Pexip Engage's internal user data, 40% of customer contact requests are made outside business hours. This means that convenience is vital, and easy-to-use appointment scheduling provides customers the flexibility they seek in a retail bank. The outcome? More sales and happier customers.



Personalized experiences are also more critical than ever.

This means that customer meetings should not be with a random staff member. Giving the option to choose a preferred contact person, an expert based on the topic with which they need help, a preferred branch, or a channel of choice (virtual meeting versus in-person) gives customers the omnichannel experience they crave and ultimately builds loyalty. Offering easy-to-schedule video meetings can also help you beat out your competitors. After all, more than half of customer engagement leaders surveyed in our global report agree that video interactions increase customer retention.





Decisions like taking out a mortgage are big and emotional for your customers.

Giving your staff the right tools to connect with your customers on a personal level will make customers feel heard and taken care of. Empathy, in the form of understanding a customer's circumstances and building rapport, was identified as one of the top CX attributes for choosing a mortgage provider by KPMG. Suppose you can show them empathy through human-to-human interactions in your branch or over the video. In that case, they will be likelier to continue choosing your business for significant, long-term decisions like loans and mortgages.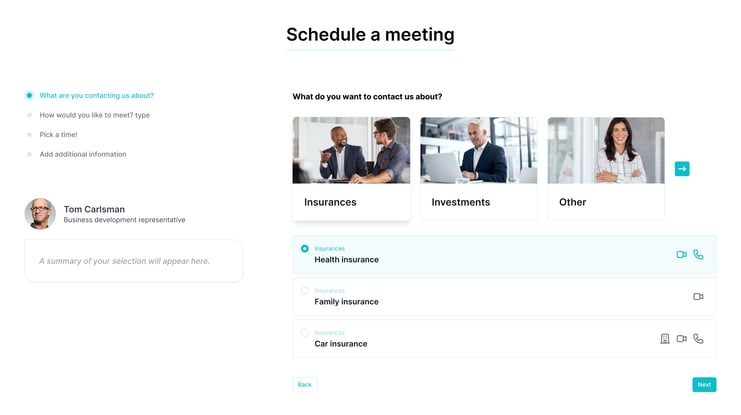 What to consider when enhancing your customer engagement?
According to Celent's Retail Banking Research Outlook for 2022, optimizing customer engagement and delivery is one of the top five technology priorities. The research consistently shows that banks still have much work to optimize customer engagement, from selling and onboarding to servicing and retention. The report also underlines that the right set of tools is needed to provide the best possible experience using both digital and human-assisted interactions cost-effectively.
Let's look at what these tools may be for your business. Mapping technology tools to a
typical new customer's buyer's journey can help to conceptualize what you need to be successful.
Creating a simple and flexible pre-meeting experience:


Consider going beyond basic scheduling functionality to achieve proper omnichannel scheduling with a strong focus on the user experience (UX). Ensure the tool seamlessly supports options for a phone meeting, video meeting, or in-person meeting. This approach will make it easier for your customers to use and integrate into your website and processes.

You will need advanced calendar integrations and intelligent scheduling algorithms to ensure your scheduling tool shows the correct time slots, experts, and meeting locations.

These features are crucial for ensuring complete control of how the personalized scheduling appears to each customer. Look for customizable fields and Q&A that align easily with your buyer's journey. This way, you can collect relevant and valuable customer data so the tool can book the correct type of meeting and give your staff helpful information to prepare for the meeting.


Enhancing in-meeting personal connections while ensuring privacy:


Consider a video conferencing solution that integrates seamlessly into your scheduling tool. An application with customizable branding can help your customers feel at home, recognize immediately that they are in the right place, and feel that the meeting is personalized to their needs. This level of integration will help build stronger human connections and brand awareness by making the whole experience more straightforward and approachable.

Look for AI-enhanced features that can improve the video meeting experience, such as making it easier to see and hear the person speaking and enhancing audio and video quality. Ensuring your video meetings are easy to join from as many browsers and devices as possible is also a vital CX parameter to have in mind.

68% of Pexip's 2021 global report respondents stated that security and privacy are top considerations when choosing a video meeting provider. Retail banking is an industry with sensitive data and high-security requirements. On-prem and private cloud deployment options can help you ensure data sovereignty and compliance. High encryption standards are also essential in transit and at rest. It's important to ask your video provider the right questions to ensure you are keeping your customers' data safe and maintaining their trust.



Maximizing post-meeting efficiency:


Ensure your scheduling and video conferencing applications are compatible with integrating your chosen CRM. The data entered in the scheduling form should automatically populate your CRM, so your staff can track progress, follow up, and offer personalized information and responses to questions.

You should also be able to easily track conversions and discover valuable insights from your scheduling flows to help you continuously improve the customer experience. If your video conferencing application supports automatic transcription, this data can also be stored in your CRM to make future meetings and contacts more data-driven. All of this will help you win more customers.


How can Pexip Engage help you master customer engagement?
Pexip is a globally trusted video conferencing provider with enterprise-grade security, innovative AI optimization, and industry-leading ease of use.

Now, with Pexip Engage, your customers can experience video meetings as part of an omnichannel experience with appointment scheduling, built-in compliance, and custom branding options tailored to the financial services industry.

Explore Pexip Engage for financial services
The best way for financial advisors to connect with their clients.
Topics:
Financial services
Personalize customer engagement
Customer engagement