For years, we've been saying that the video conferencing market was on the cusp of a transformation and ready to take off. With the disruption, accelerated innovation, and changed work habits we saw in 2020 caused by COVID-19, we can now say that the age of video has arrived.
Everyone is using it.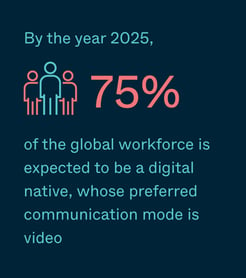 There will always be a need for direct human-to-human contact. In our professional lives, we believe there are at least two times you should meet in-person: the first time and when you have something to celebrate.
Most other meetings can be done using video conferencing. As we move towards hybrid models of working, with combinations of people working from home while others return to the office, we believe that the demand for video will continue to grow, ensuring that this hybrid workforce can meet.
---
Get your FREE White Paper report on 'Empowering the modern workplace through enhanced video collaboration experiences,' a Frost & Sullivan report in collaboration with Pexip.
---
Gen Z thinks of voice as video. Analog audio calls are a thing of the past, and the research supports this. According to Frost & Sullivan, by the year 2025, 75% of the workforce is expected to be filled with digital natives whose preferred communication mode is video.
With the considerable transformation in the past year, we are likely to see new ways of working accelerate further as a new generation influences the workforce. It is therefore essential that we make video as accessible as possible for employees of the future while safeguarding and maintaining the needs of companies, addressing issues such as security, data protection and privacy.
---
At Pexip, we believe in the power of video communication and its potential to be as effective as in-person meetings. Pexip simplifies video communication across borders, businesses, and platforms, enabling everyone to be seen, heard, and included.
---
For those working in the video conferencing industry, the transition to remote, collaborative working was relatively painless. There are, however, many organizations that have struggled at some point with their video strategy, making quick, on-the-spot decisions to ensure business continuity. They are now assessing if they have the right processes, people, partners and tools in place.
All enterprises require a strong foundation for their collaborative and operational needs. That's why we're proud to have worked with Frost & Sullivan to explore how we can democratize video for business. This means making it accessible to all and supporting organizations while empowering employees, partners and customers.
We've researched trends and provided insights for leaders to determine if they have the right elements to support their video and digital workplace strategies. At the same time, we've explored opportunities for new models of service provision within industries such as finance, government and healthcare. We hope you find this research informative and actionable.
Download 'Empowering the modern workplace through enhanced video collaboration experiences,' a Frost & Sullivan report in collaboration with Pexip.