Pexip simplifies video communication across borders, businesses and platforms.
High-quality video meetings
Reliable, high-performing video experience for both you and your guests. Every time.
Total interoperability
Connect all your video conferencing technology with a single solution. Support tools like Microsoft Teams, Google Hangouts Meet, or Skype for Business in the same workflow as meeting room systems and mobile, desktop, or web users.
Flexible and secure deployments
A cloud-native platform provided as a service or deployed as a self-hosted solution either on-premises or in any cloud environment.
Trusted by global organizations
Pexip named a Challenger in the 2021 Gartner Magic Quadrant
Read the report to learn why Pexip was named a Challenger in the Meeting Solutions Magic Quadrant.
Rated No. 1 by video conferencing users worldwide
In the latest Wainhouse Research, Pexip ranked:
#1 with large companies
#1 with frequent video users
#1 with IT purchase authorities
#1 with non-IT users
#1 with users under 40 years old
#1 with users for brand perception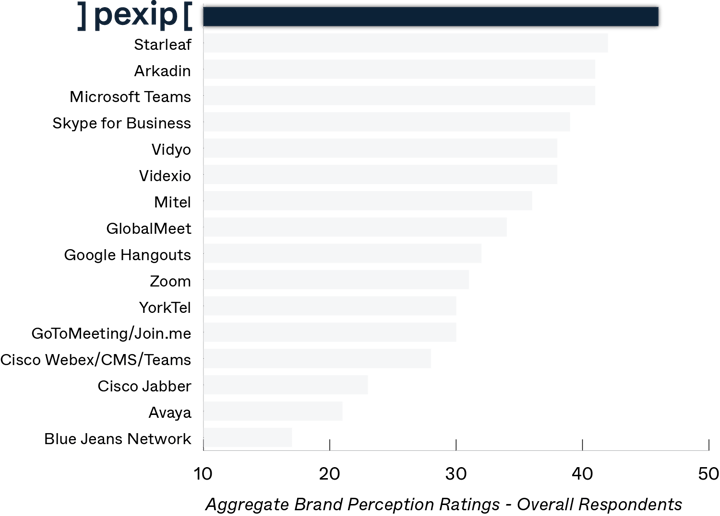 Put people at the center of your collaboration technology
Pexip redefines its video-first experience with the introduction of Adaptive Composition.
Pexip awarded the

2021 Global Customer Value Award by Frost & Sullivan
"Today's customers want simple, intuitive meeting solutions with enterprise-grade security and quality. Pexip has risen to the challenge to support its fast-growing customer base across the enterprise, healthcare, and government sectors. With a complete range of end-to-end meeting solutions, Pexip leads the way in helping its customers adapt to changing workplace needs."
- Roopam Jain, Senior Director, ICT, Frost & Sullivan
We're hiring!
Join our growing team of people who are passionate about improving business communication
"Pexip has become mission-critical for our organization. It has streamlined our meeting collaboration to a standard system and cut down on drive time exponentially."
Gary B., Video Services Manager
Read what our customers say about us
Pexip provides a flexible, scalable video conference platform that enables interoperability between video conference systems.
Learn more about the best solution for your enterprise collaboration needs.