Take your meeting rooms to the next level
Give your employees a better meeting room experience. While simplifying your infrastructure with an all-in-one license.
All-in-one solution for all your meeting rooms
Enterprise Room Connector (ERC) helps organizations modernize their video conferencing infrastructure to save money and provide a simple, intuitive meeting experience for users.
Any video system. Any meeting platform.
Bridge the gaps between modern video meeting platforms and existing meeting room devices.

Make hosting and joining video meetings a stress-free experience with Pexip Enterprise Room Connector (ERC).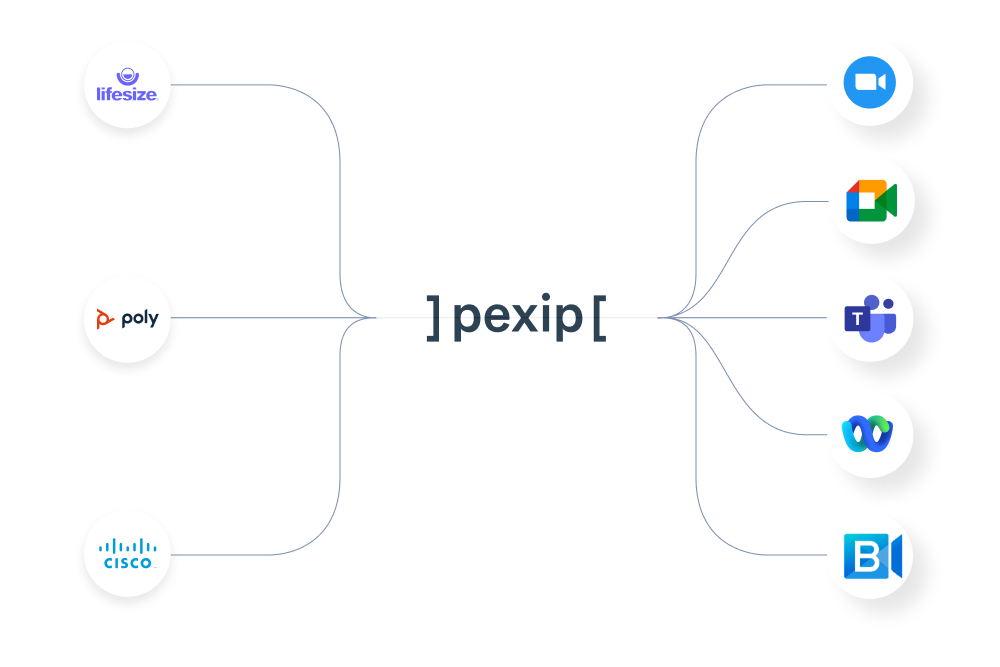 Make video meetings easy to join
Make it your own
Add in your brand and customize the domain so both employees and guests know they're in the right place.
Integrates with your scheduling app
Join information is automatically added to calendar invitations. Removing technology hurdles from the start.
Join a meeting with one click
Join any video meeting seamlessly. All it takes is to click one button – even on a video conference device.
No more waiting in the lobby
Join your meetings immediately with lobby-bypass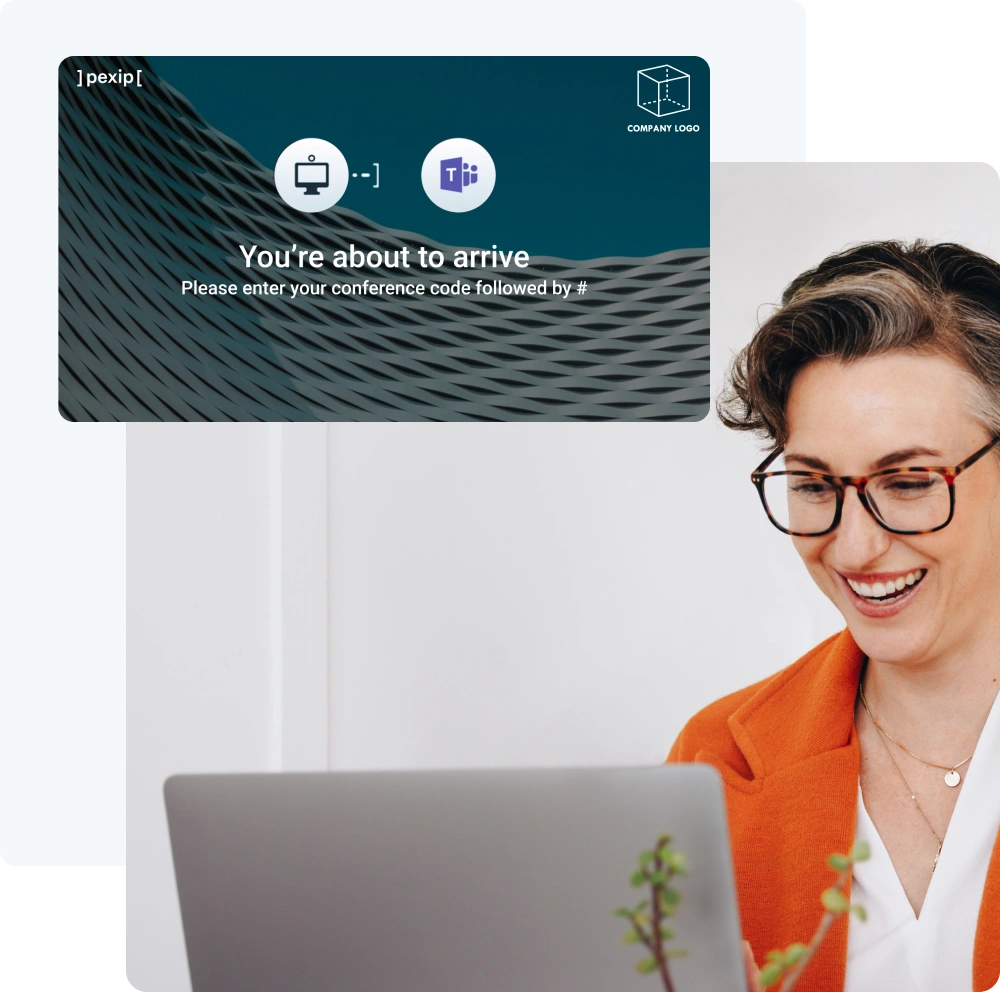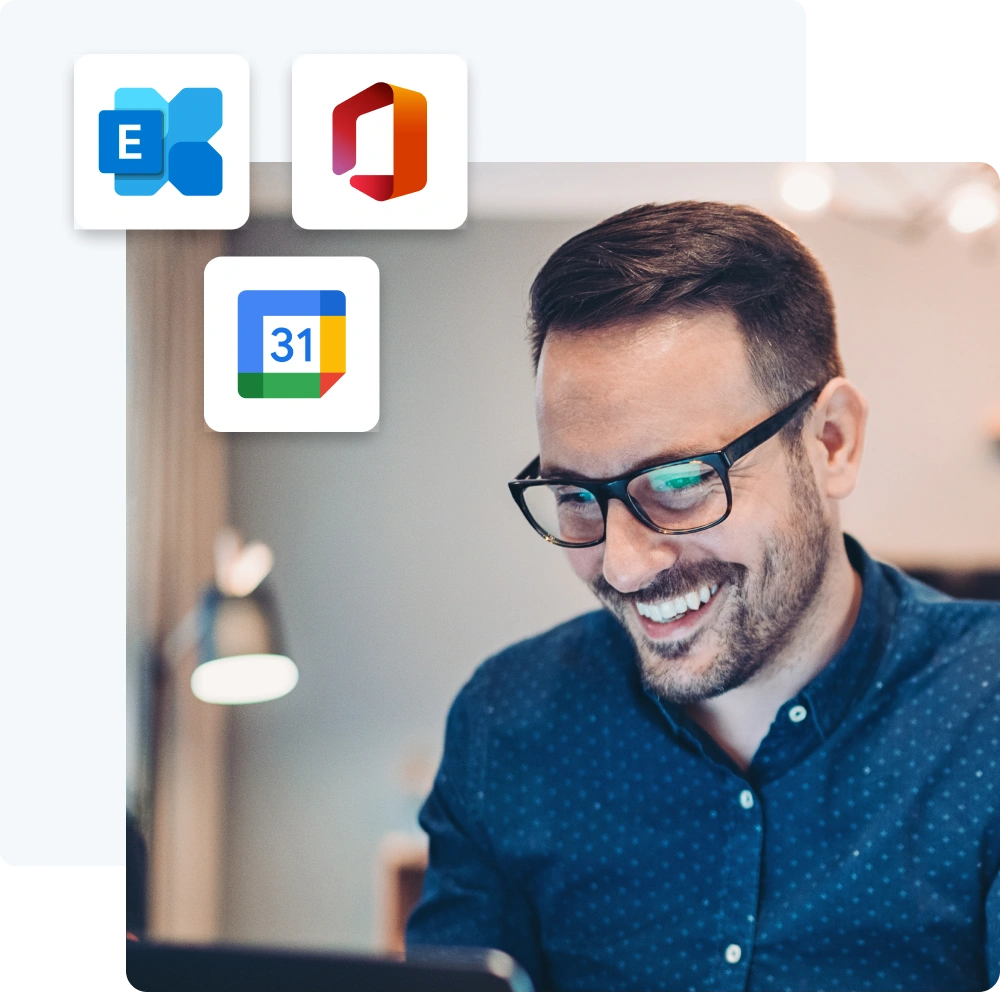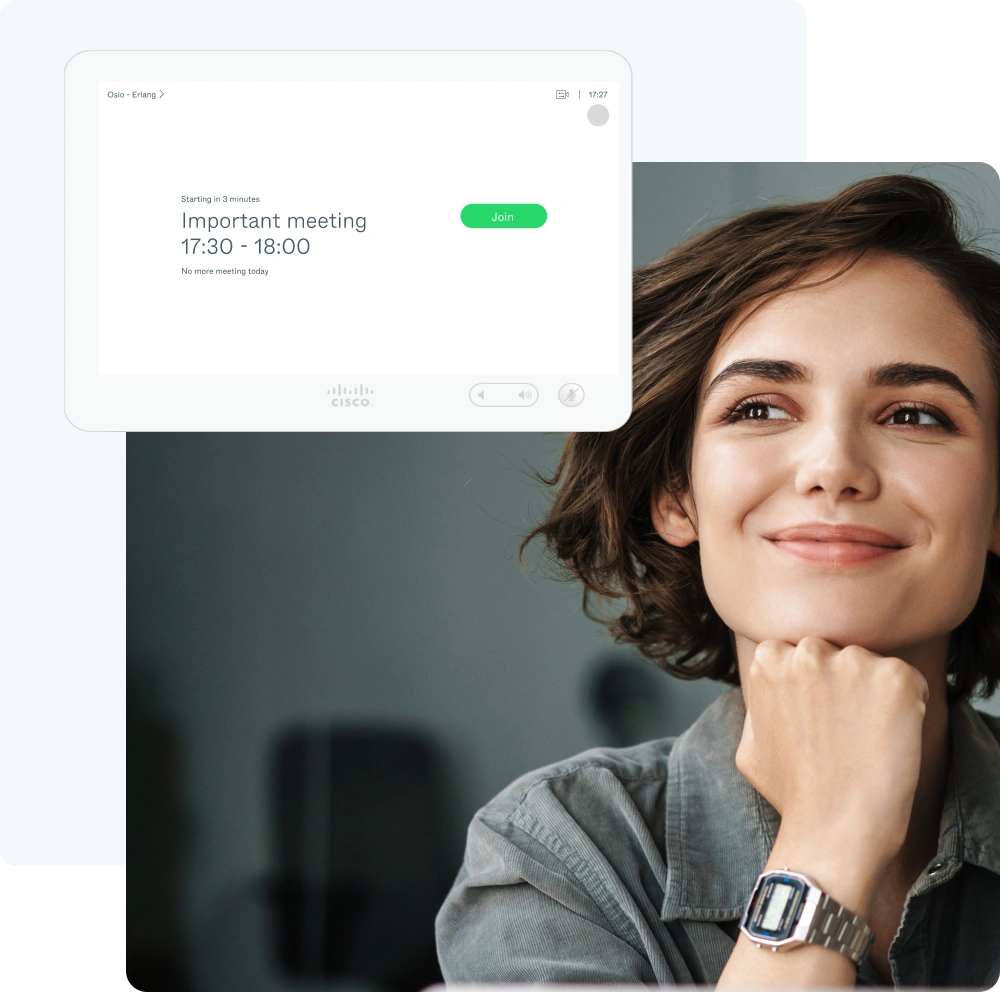 Video meetings that are a pleasure to be a part of
Teams-like experience for all your devices
Give all your video meeting room devices a familiar Teams-like user experience. You can:
Indicate raised hands, active speaker, recording and transcription, and guests in lobby
Activate Teams' Spotlight functionality
Show images from Active Directory when a participant is not using video
Reduce space on those without camera turned on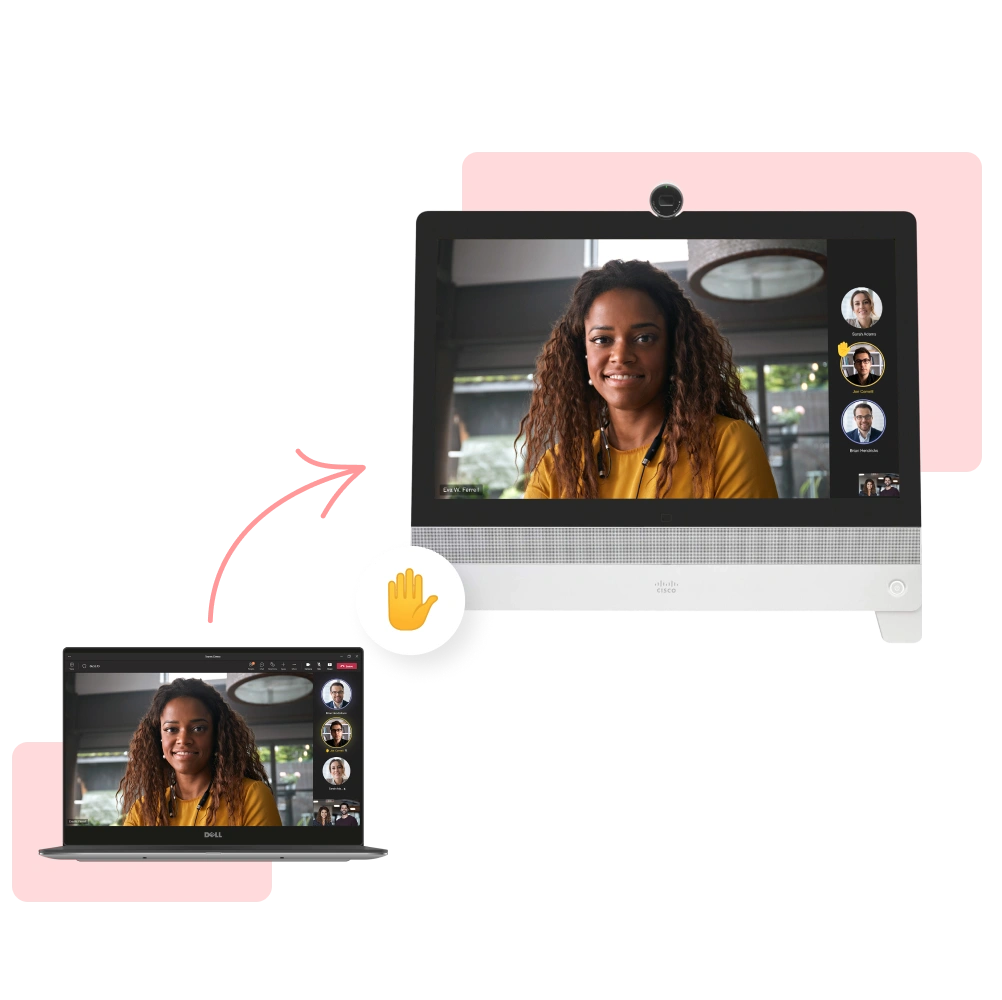 Put people in focus
With intelligent layout design, people are in the focus. Even if they are moving around. Give everyone space to be seen and make meetings engaging and productive – without having to do anything.
The only sound that matters
Suppress unwanted sounds. Leaf blower outside, dog snoring, or kids home from school playing. No distractions. Only your voice.
So much more than CVI
Simplified infrastructure. All-in-one license.
Standard offering
Pexip offering
Basic cloud video interop (CVI)
Advanced cloud video interop (CVI)
Exchange calendar integration
Phonebook & directory integration
Customization and customer domain
Registration & provisioning
SIP guest join for Google
Dual screen endpoint support
The sustainable choice
Simplify video collaboration while reducing cost and waste.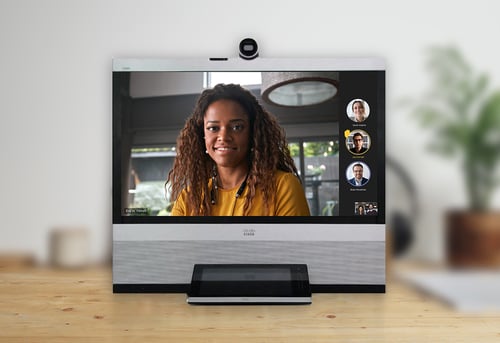 Cloud modernization
Get the latest cutting-edge software and experiences, even using older video systems.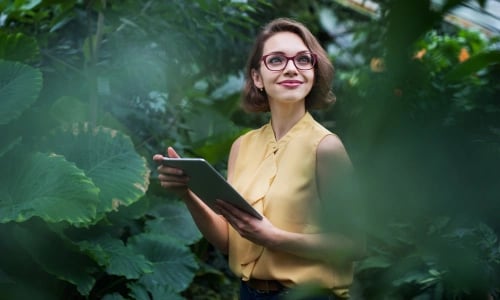 Extend the lifetime of your devices
Extending the life of your devices helps reduce e-waste and allows you to transition to newer devices at your own pace.
Putting you in the driver's seat
Manage your network infrastructure, meeting platform & video conferencing devices all in one place.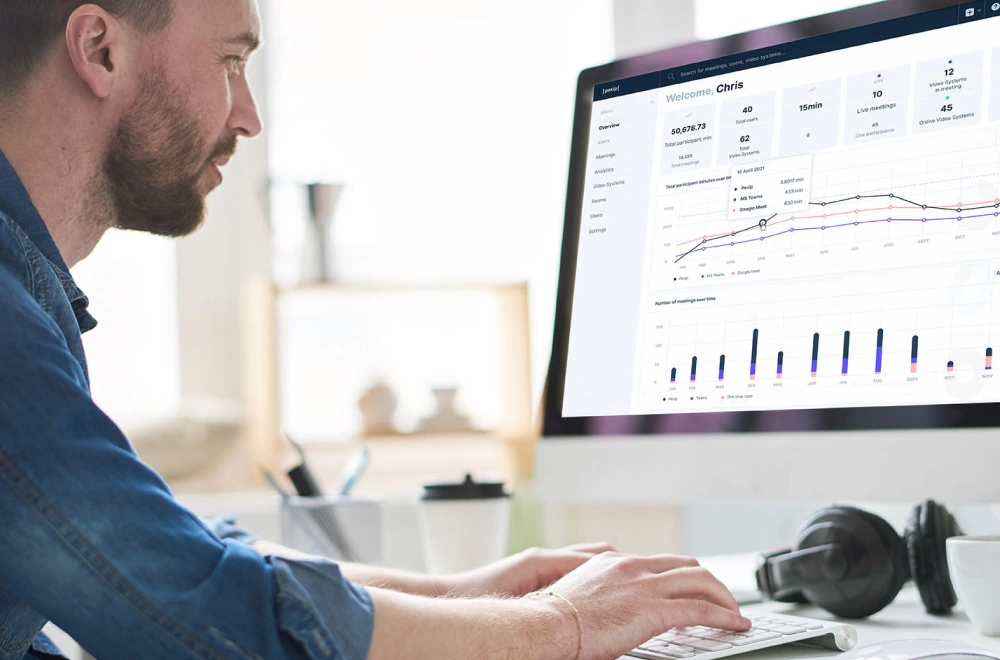 Reduce costs & carbon-footprint
Companies connecting siloed technologies
Enhanced Room Management
Effortlessly manage your organization's video conferencing systems.
Professional Services
Get help to install products reliably, quickly and cost-effectively.