Management & reporting
With Pexip, you're in the driver's seat.
Manage everything from the tip of your finger regardless of how you consume it.
Management of the Pexip Infinity self-hosted solution
Single screen management
Manage an entire worldwide Pexip deployment from a single screen. Simply deploy a management node and deploy Pexip conferencing nodes where you need them, anywhere in the world.
Deploy worldwide
Deploy Pexip simply and easily from your management portal. Need a new location spun up on the other side of the world? Easy. Just define where you want it, and minutes later you are up and running.
Troubleshoot and act
Pexip Infinity allows you to see the status of your entire platform with a single glance. Down to every conferencing node, every conference and meeting, every participant, and every connection. You can immediately identify and locate problems and take action as needed.
Upgrading is easy
As new software releases become available, you can simply let the entire platform upgrade itself, all under your control. No need to worry about unwanted or unscheduled service updates. Simply plan ahead and initiate when you want - entirely invisible to the end user.
A single management screen for all your needs
Everything you ever need to plan, set up, deploy, or manage is available from the same management screen. Which you can access regardless of where you are.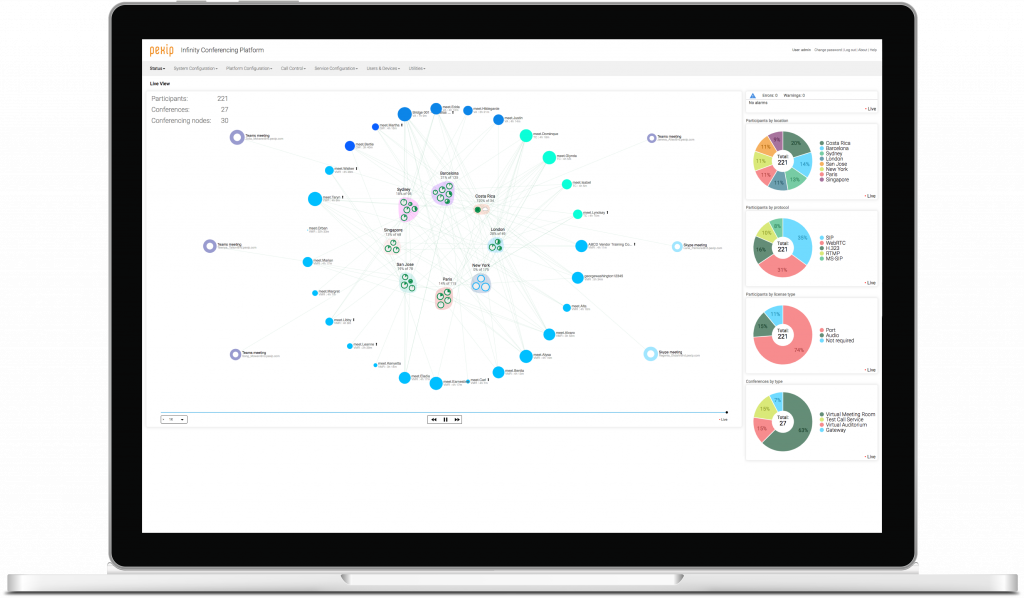 Management of Pexip as-a-Service
Monitor usage at a glance
Monitor your service usage with easy-to-understand graphs and actionable statistics and history.
Manage all your users
Add or remove users with simple drag-and-drop functionality, and easily reset passwords and PIN codes, edit user names, access rights, and much more. With an ELA (Enterprise License Agreement), each individual user can have a Virtual Meeting Room attached to them.
Manage Virtual Meeting Rooms
As an administrator, you can quickly edit and manage company-wide accessible Virtual Meeting Rooms and team rooms. Change names, addresses, accessibility, and more.
Manage endpoint registrations
If your company has endpoint registration subscriptions, you can easily manage those through your dashboard. Edit names, locations, video addresses, and more
Manage interoperability capabilities
In the administration portal, you can set up and prepare your environment for both Cloud Video Interop for Microsoft Teams, Skype for Business, and Google Hangouts Meet environments.
Service management
A single screen gives you access to usage reporting and management of all your users and capabilities when subscribing to Pexip as a service.