Integrations
Seamlessly connect to the tools, systems, and programs you use already to get work done.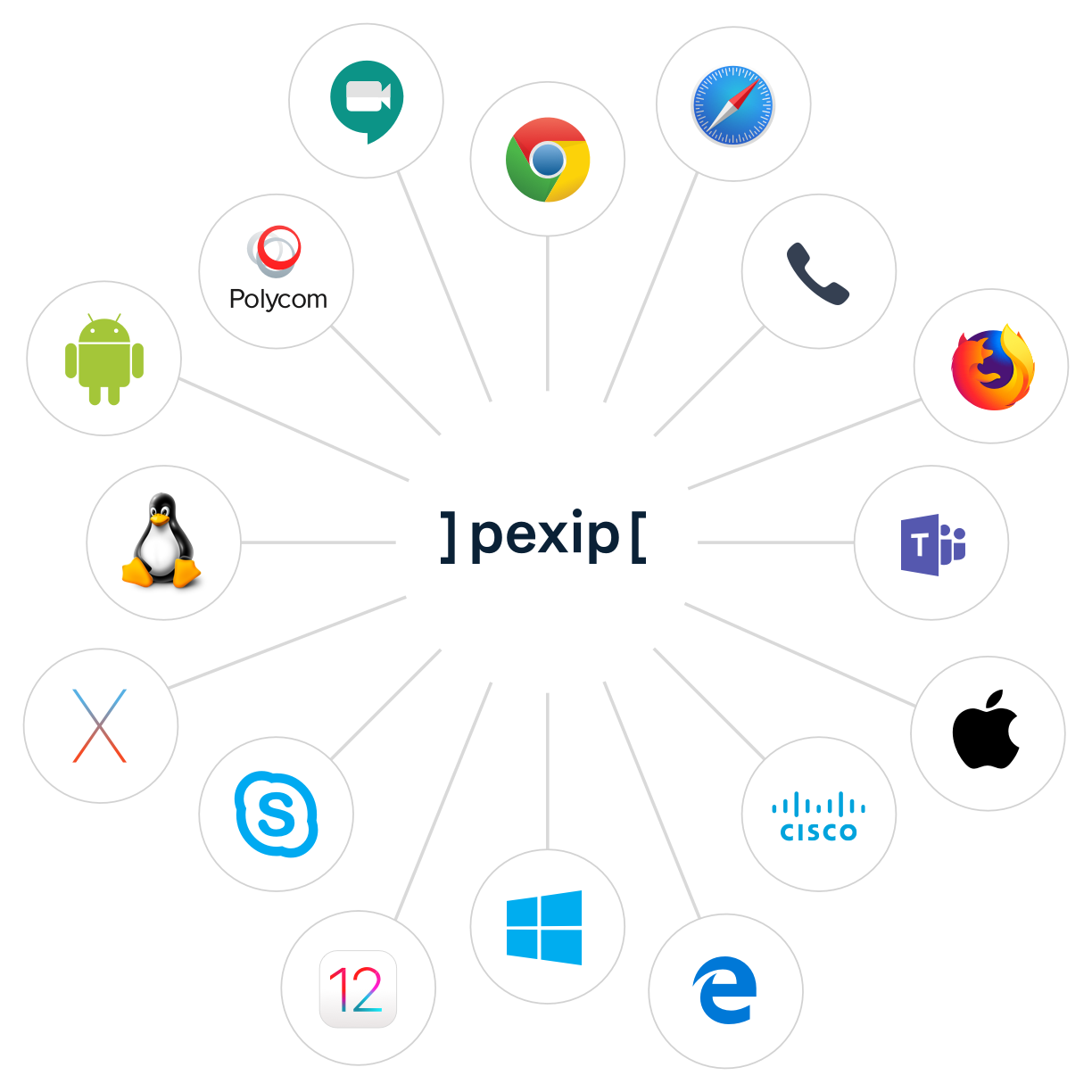 Connect with your productivity tools
Pexip integrates easily with many meeting services, regardless of whether Pexip is hosted in the cloud or on-premises including:
Microsoft Teams
Google Hangouts Meet
Skype for Business and Microsoft Lync
Microsoft Teams integrations
Pexip allows for any-to-any video interoperability with Microsoft Teams. This means that Pexip enables third-party professional video conference equipment to join Teams meetings. Participants outside of an organization can join a Microsoft Teams meeting with the video solution of their choice, and employees can continue to use the Teams workflow they are accustomed to.
G Suite integrations
As with all integrations, Pexip provides for any-to-any video connections through the Pexip distributed gateway. The Google integration provides seamless HD video between Google Hangouts Meet and professional meeting room systems, Skype for Business and WebRTC. Employees can continue to schedule meetings through Google Calendar, and external participants can join the meeting with their preferred video solution.
Skype for Business and Lync integrations
The Pexip Skype for Business and Lync integration connects users to professional video conferencing systems as well as web browsers and vice versa. Participants enjoy HD video, wideband audio and two-way content sharing. As usual, all participants maintain their native join and call experience.
Pexip can be easily integrated with popular SIP, H.323 and Skype for Business call control solutions including:
Cisco UCM & VCS
Polycom DMA & CMA
Avaya Aura and Equinox
Microsoft Lync 2010 & 2013
Skype for Business
Many others
Advanced call control
You can combine Pexip with external and/or local policy to apply call policy and routing based on your specific needs. This feature allows you, for example, to create custom PIN entry rules for participants in different locations (employee or remote) as well as designate a location for the media management of specific calls. Read more about using external and local policy in our technical documentation.
Include your endpoints
You can register video conference endpoints like those from Cisco, Polycom, Yealink, Avaya and Lifesize directly to Pexip. Pexip can then route calls to these registered SIP and H.323 endpoints without needing to go through an external proxy or gatekeeper or rely on DNS.
Learn more about registering your endpoints.
Video meetings from your browser
Pexip's built-in WebRTC video conferencing clients allow users to join meetings directly from their web browser - no downloads necessary. Browser-based video calling is available on browsers such as:
Google Chrome
Mozilla Firefox
Microsoft Edge
Apple Safari
Opera
Calendar integrations
Pexip integrates with your Outlook or Google calendar to make scheduling video meetings easy. Schedule a meeting in your regular room or using a "one-time" use room, and have the dial-in information for the meeting automatically added to your calendar invites.
YouTube integration
The YouTube integration for streaming / recording events offers a fast, simple workflow to stream and record from your virtual meeting room directly to a nominated YouTube Live account. Get ready for live video events with video contributors in multiple locations, broadcast and archived on a dedicated worldwide platform with only a few clicks.
Custom streaming and recording integrations
Broadcast amazing video conferencing events on multiple 3rd-party platforms. Configure the Pexip service for streaming / recording to your choice of multiple selected third-party streaming platforms. Choose your perfect combination of event, platform, and audience. Supported services include industry leaders such as:
Facebook Live
Periscope
Qumu
Kaltura
Many others
For enhanced flexibility, advanced users can select the custom RTMP integration. RTMP (Real-Time Messaging Protocol), is a standard technology used throughout the streaming industry.
Unlock custom integrations with APIs
Comprehensive RESTful APIs are available with the self-hosted solution. These APIs allow deep and advanced integrations with numerous services and tools such as PowerBI, plus authentication, authorization and provisioning capabilities against an AD/LDAP database. You can also defer decision-making to external policy servers with Pexip.