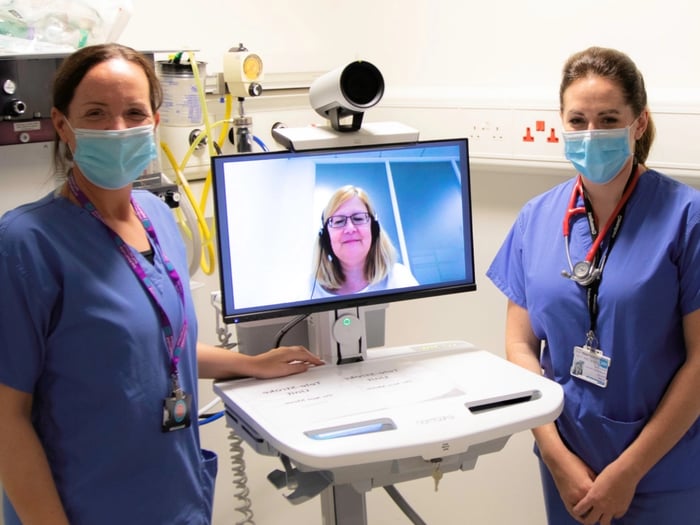 Customer story
Healthcare
Digital transformation
Stroke Care Telecarts - Belfast HSCT
In Belfast, Pexip video solutions are integrated into telecarts for remote stroke diagnosis. Stroke consultants can connect quickly and easily, and Pexip's high-quality video and sound allow for more accurate diagnoses.

About the Stroke Care Telecarts within the Belfast Health and Social Care Trust
The Belfast Health and Social Care Trust is the largest integrated health and social care Trust in the United Kingdom. Telehealth for stroke care services is provided at Royal Victoria Hospital and embedded within the infrastructure that runs collaboration technology for the Health Service in Northern Ireland, with plans to install the stroke care system in hospitals across Northern Ireland.
Challenges
Need to integrate various telehealth solutions with internal systems and allow access for consultants from any device.
Need for a solution that's easy to access and efficient to provide fast and reliable video diagnostic consultations for stroke patients, where time is critical.
There was a need for high-quality audio and video to allow accurate diagnostics.
Pexip services in use
Pexip Infinity (self-hosted) with a tailored telemedicine suite from partner Hospital Services Limited (HSL) built into video conferencing infrastructure on medical-grade carts.
Results
Telehealth carts for stroke patients that are integrated with Pexip video solutions.
The carts are connected to the hospital's systems, and the video consultants are easily accessible from any device.
Faster and more effective remote diagnostics, which lead to better patient outcomes.
Why Belfast Health and Social Care Trust
decided to improve existing remote stroke diagnosis services
Although the remote diagnosis of emergency room patients with possible stroke symptoms had been available within the Belfast Health and Social Care Trust for several years, the improvement of the service, using a Pexip-integrated HSL Telehealth solution, has brought a unique and innovative approach to this type of critical technology.

The Trust's previous virtual healthcare solutions ran on external systems, had no integration, and relied on dedicated devices and network services to work.

"Time is of the essence when treating someone who has had a stroke," says Dr. Enda Kerr, a leading consultant responsible for diagnosing and caring for potential stroke patients at Royal Victoria Hospital. "A staggering 1.9 million neurons are lost every minute during a stroke, so every minute counts, and that can be reversible if the patient can get treatment within the first three to four hours."

Therefore, emergency departments needed faster, more efficient solutions that could provide accurate and prompt diagnostic consultations for potential stroke patients.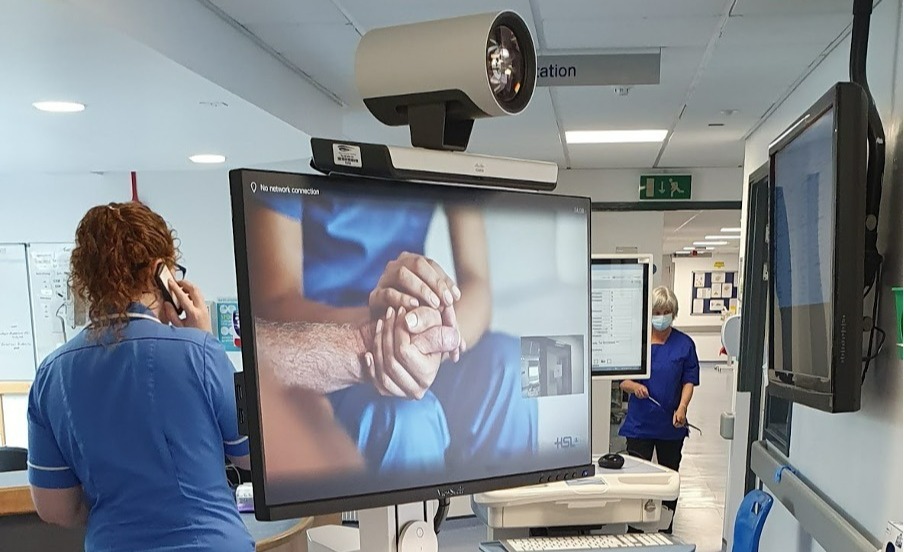 Why they chose Pexip to improve existing telehealth solution
Hospital Services Limited (HSL), a Pexip technology partner, began establishing its telehealth solution for stroke care in June 2019. Pexip video is integrated with HSL's Telehealth solution, providing video conferencing that's interoperable, integrated, easy to access, and secure. Clinical trials were agreed to, and work began on converting a concept into a medical-grade solution for stroke patients in Belfast.
The telehealth service comes in the form of telecarts, which are integrated with Pexip's video conferencing platform and linked to the hospital's existing ICT infrastructure. The carts can be wheeled into patient rooms and instantly connect via a simple app to a consultation from a specialist over Pexip-powered video conferencing. Pexip's flexibility allows these consultants to connect to the service quickly and from their devices, such as a laptop, smartphone, or laptop.
Pexip's ultra-high-quality audio and video were crucial to setting up these telecarts as practical diagnostic tools. The clear video and low sound latency allow consultants to make more accurate diagnoses based on factors like speech, appearance, and behavior.

"Being able to intervene, support our colleagues and conduct remote consultations with the patient from a tablet or phone has changed how we work and speeds up diagnosis and time-critical treatments."
Implementation and outcomes
After receiving positive feedback from leading consultants, the first integrations of the telehealth solution were installed in June 2020 and are now embedded within the infrastructure that runs all of the conferencing and collaboration technology for the Health Service in Northern Ireland. Once proven in Belfast, plans are in place to install the system in hospitals across Northern Ireland.

Commenting on this exciting step in stroke care, consultant stroke physicians Dr. Enda Kerr and Dr. Michael McCormick said, "We are impressed by the simplicity and elegance of the solution. Time is of the essence when treating someone who has had a stroke, so literally, every minute counts. The telehealth platform has the potential to make a significant contribution to improved patient outcomes after stroke."