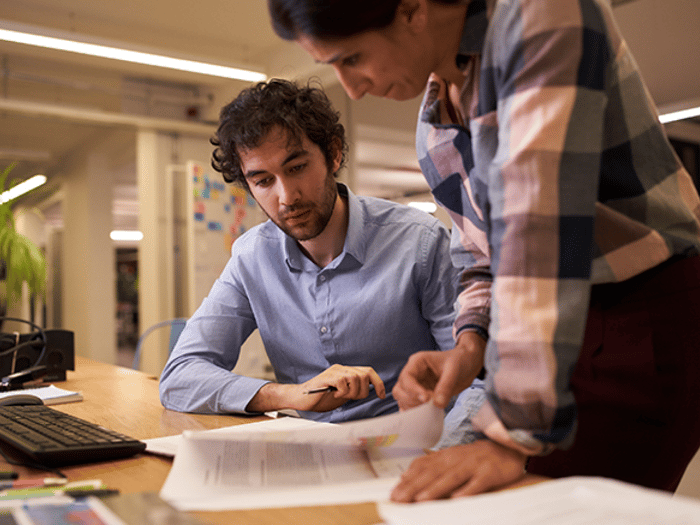 Customer story
Financial services
Customer engagement
P&V automates digital customer journeys and appointment scheduling
About P&V Insurance

P&V stands for Prévoyance & Voorzorg, a Belgian cooperative insurance company founded in 1907.
P&V feels strongly about values such as solidarity, cooperation, and proximity.
This collaborative spirit shows in various areas:
Fair protection for the insured
Multiple brands and distribution channels
The strength of cooperatives
Locally anchored
Support for solidarity projects
One of our core values is: taking care of each other. It translates back into our product offering and other endeavors such as the 'P&V foundation.' Our foundation supports several good causes to help the people of our society.

We're an insurance company with a big heart.
Life before Pexip Engage


Before we used Pexip Engage, we planned appointments with our customers mainly by phone or email. Our agents used their calendars to note down the appointments.

"As you can imagine, this was a manual, labor-intensive, time-consuming, and inefficient process with a certain error rate."

Innovation is necessary to improve the quality of our service and offering. Hence, there was a strong need to improve efficiency, offer a better customer experience, and streamline customer journeys. We set out to look for a solution that would help us with this.

We partnered with Pexip to automate our customer journeys and appointment scheduling. By doing so, we can offer our customers an over better service and experience while improving our agents' efficiency.
Starting to work with Pexip Engage

After a short introduction to the project team and the agents, we quickly got to work with it, as Pexip Engage is a highly intuitive and user-friendly solution. Next, the web app and the plugin also look clean and sophisticated. Pexip's great strength is the communication flow for our customers. They can now effortlessly schedule appointments with their agent and appreciate the convenience of it.

Thanks to the structured flow and the automated messaging for confirmation and reminders. Pexip Engage also helps draw our agents into our digital journey. Because of its intuitiveness and ease of use, it is the ideal solution to get our agents across the proverbial digital threshold.

Since using Pexip Engage, our agents have been delighted with the solution as it helps them be far more efficient and saves them more time to focus on business that genuinely matters—namely, the customer conversations and offering solutions. Pexip Engage is not replacing our current processes but complementing them and making our digital journey even more streamlined.

Pexip Engage is integrated with Salesforce to create leads automatically. Appointments are linked to the right lead/client, significantly increasing our efficiency.
Pexip Engage use cases


Today, we use Pexip Engage in our website and marketing campaigns. Customers can easily schedule appointments on our website through the Pexip plugin. Next to that, personalized booking links are also used intensively by our agents as they allow personalization according to the needs of the individual agent. They appear on different touchpoints like email and social media.

In addition, together with marketing and sales, we also set up a campaign to make our insurance roadshow known to the general public. As part of this campaign, we used Pexip Engage to capture leads and customer visits. We noticed that after our last campaign in June 2021, the bookings almost doubled on Pexip Engage around the tax return. In the future, we will integrate the solution further into our marketing campaigns.

Pexip Engage bridges the digital customer journey and face-to-face conversation with our advisors.
Working together with Pexip


What stands out in working with Pexip is that it feels more like a partnership than just using a tool from an external partner. We help each other to achieve our goals. The cooperation with our dedicated customer success manager goes smoothly, and Pexip can always respond quickly. The speed of response to questions or minor problems is awe-inspiring.

I appreciate that Pexip and our customer success manager are very proactive in thinking about how we can achieve our growth trajectory.

It feels like a full partnership.
What the future holds


Digitalization is high on our agenda when we look at the future of the insurance sector in Belgium and P&V. We are working hard on several axes for our agents and independent broker network. We aim to turn our agents into digital salespeople by giving them the tools and skills to attract and service their customers.

The next step we will take with Pexip Engage is to integrate video appointments into our daily operations. We expect this to cause another boom in meetings and offer our agents and customers more possibilities.