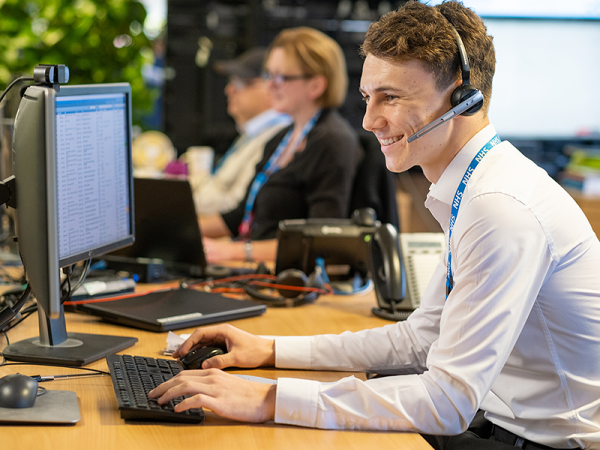 Customer story
Healthcare
Room connector
How NHS Wales modernized and scaled up their video conferencing in response to the Covid-19 pandemic

About NHS Wales
NHS Wales is the publicly funded healthcare system in Wales and one of the four systems that make up the National Health Service in the United Kingdom.
NHS Wales provides emergency services and primary, secondary, and specialist tertiary care services. The organization employs almost 78,000 staff members who work in various settings.
In addition to staff employed directly by the NHS, there are contractor professions, including dentists, opticians, pharmacists, and nearly 2,000 doctors who predominantly work in primary care settings.
Challenges
Modernize video conferencing to meet the demands of the Covid-19 pandemic

Move from an on-premise service to the cloud

Rapid need for interoperability between Pexip and Microsoft Teams

Facilitate remote working and connect with staff working in hospitals

Meet GDPR and NHS Wales Information Governance compliance
Pexip Solutions
Adoption of Pexip Cloud Video Interoperability (CVI) with some Virtual Meeting Rooms (VMRs)
Results
Helped maintain patient care throughout the Covid-19 pandemic

Smooth upgrade to an effective cloud service with seamless integration between Pexip and Microsoft

Enabled remote and hybrid working while meeting an increase in demand

Provided a "value for their money" service within limited budgets
Challenges
NHS Wales began using video conferencing in 1989. By 2020, they had over 500 room systems and 1000+ PC software clients supporting medical care in dedicated cancer multidisciplinary rooms, hospital wards, and postgraduate centers.
These systems also support various meetings, from day-to-day management to critical care, such as cancer multidisciplinary team case meetings.
However, by 2019, the on-premise system was nearing the end of its life, and NHS Wales started to move from Skype over to Microsoft Teams. The arrival of the COVID-19 pandemic in 2020 created a massive challenge in combining the rapid shift to Microsoft Teams with facilitating the rapidly growing numbers of employees working remotely to provide patient care.
After substantial investments in traditional video conferencing endpoints made by NHS Wales over the years, the introduction of Pexip was poised to help them fully optimize this technology.
Why Pexip?
NHS Wales started evaluating Pexip in 2019 as an on-premise solution interconnecting traditional video conferencing with an on-premise Skype for Business platform. After the move to Microsoft Skype online and eventually Microsoft Teams, Pexip offered an alternative solution that ticked all the boxes.
NHS Wales started piloting the Pexip system while their key remote staff moved to Microsoft Teams. As the pandemic took hold, essential areas for testing were cancer multidisciplinary meetings that had moved to Microsoft Teams. Here, Pexip delivered impressive results, instilling the confidence needed to roll out the system more widely. Pexip was invited to national service management board meetings to introduce its technology and demonstrate the benefits of Cloud Video Interoperability (CVI).
With the Pexip system shown to be effective, it was decided that it would become available to all staff across all of NHS Wales.
"When it became clear that we needed a cloud service, Pexip demonstrated value for money while providing the level of service we required. As the COVID-19 pandemic hit, Pexip quickly supported us in adopting the cloud service."
Results
One of the significant benefits has been the ability to continue using traditional video conferencing endpoints with new ways of working remotely. For NHS Wales, their organization can get more out of the existing investment and phase in devices compatible with Microsoft Teams while keeping within limited budgets.
"The need to connect back to colleagues in hospitals using traditional endpoints was urgent, so we needed to move quickly," says Chris Barber, Product Specialist at Digital Health and Care Wales. "Pexip was able to provide a cloud service in our tight timescales."
Secure encryption of communications is critical for protecting patient information, and Pexip's security protocols can meet the exacting demands of GDPR and comply with NHS Wales' Information Governance.
NHS Wales achieved the high level of service they needed using Pexip CVI with some Virtual Meeting Rooms and the video conferencing endpoints working in a standalone mode. After a successful retender of the service, they are now considering a move to Enterprise Room Connector that will extend the capabilities of meeting rooms even further.
"For NHS Wales, the biggest impact has been maintaining services when many staff is working remotely and more flexibly," says Chris. "Maintaining patient care has been the main priority throughout."
Learn more about how Pexip is helping healthcare providers and government organizations worldwide deliver modern telehealth solutions.