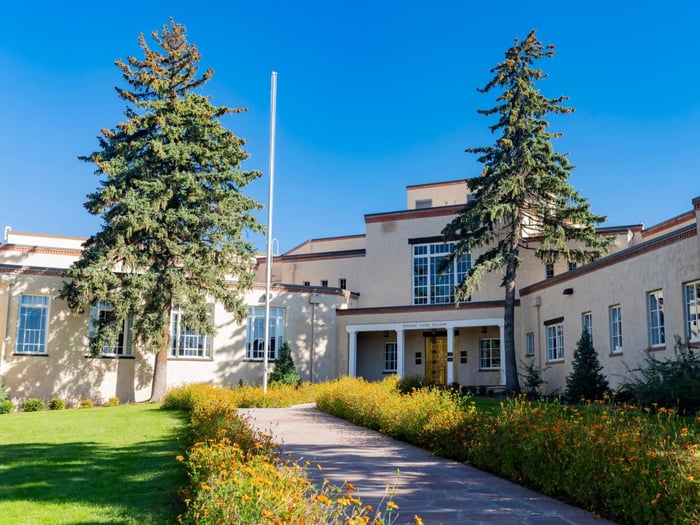 Customer story
Judicial
Digital courtrooms
How New Mexico Supreme Court enabled virtual hearings with Pexip

About the New Mexico Justice System
New Mexico is in the southwest United States with approximately two million people.
The New Mexico Supreme Court in Santa Fe is the state's highest court, overseen by five judges.
Courts work closely with lawyers, police, the prison system, and other government agencies. Hearings, mediation, and testimony in the New Mexico justice system increasingly occur over video.
Challenges
Need to quickly adapt the court system to video in the wake of the COVID-19 pandemic

Need to bridge different technologies being used by participants, including Google Workspace and Microsoft products, as well as aging Poly video conferencing units

Need for the cost-effective solution given financial constraints
Results
Pexip's value is now being widely acknowledged by judges who are using it to support the courtroom

This could involve video interactions with a lawyer, defendant, prison inmate, or expert witness

Pexip's flexibility as a bridging solution means it will continue to transform the justice system as new video use cases mature
Challenges
New Mexico courts have been slow to adopt video, instead preferring physical presence. "You show up, you stand before the judge, and you say your piece," explains Dick Wilkinson, chief technology officer of the New Mexico Supreme Court. "American justice – that's it."
All that changed with the COVID-19 pandemic: Social distancing requirements meant strict limits on how many people could be inside courtrooms – but the legal participants who needed to communicate over the video were all using different technologies.
The New Mexico courts had Google Workspace as their core platform, inviting people seeking legal services to get free Gmail accounts and interact using Hangouts and Meet. However, the executive branch of government was using Microsoft Outlook and Teams. Many agency employees were also using aging Poly video conferencing units.
Why Pexip?
Pexip was an attractive investment for Wilkinson's team six weeks into the pandemic, as the demand for video soared and it became apparent that existing services weren't coordinating well.
The key was finding a flexible multi-platform cloud solution. "We were already a Google organization, using Meet. The public was accessing services the court offered for free on Google, and I wasn't going to abandon that," Wilkinson says. "Pexip allowed us to create a crossover between Teams, Zoom, Meet, and everything else."
Pexip's price point also made it more cost-effective than continuing to invest in aging Poly hardware. As Wilkinson puts it, state government agencies in America are not "swimming in dollars" even as they "have to find a way to get rid of the old stuff."
"When I heard there was an opportunity for a bridge that may have one, two, three or four products talk to each other, I said - Yes, Absolutely, Let's go.

Buying from Pexip was a no-brainer investment in a valuable solution."
Results
Pexip's value is now widely acknowledged by judges using it to support courtroom video interactions – for example, with a lawyer, defendant, prison inmate, or expert witness.
Typically, the judge launches a session over Google Meet or Zoom and directs participants to behave as they would in person. However, keeping people from interrupting or joining specific conversations is still a struggle.
As video solutions mature, they can replace other court processes – for example, by allowing evidence to be shared securely – and make hearings truly transparent to the general public.
"Now we can just do business with anyone and not have $5 million of equipment in buildings that don't have to be there," Wilkinson says. This is a springboard to push us into newer versions of whatever video meetings need to be."
For more information on New Mexico Court considerations for their video strategy, download 'Empowering the modern workplace through enhanced video collaboration experiences,' a Frost & Sullivan report in collaboration with Pexip.