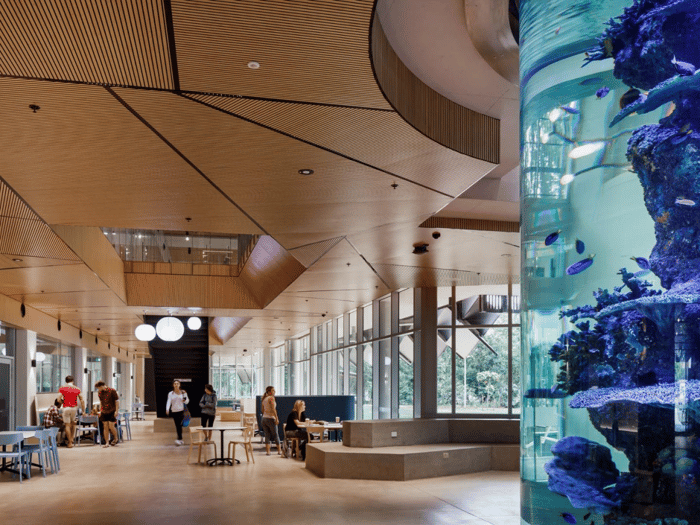 Customer story
Room connector
How James Cook University updated its legacy video technology systems and optimized the ROI of their video strategy
About James Cook University
James Cook University (JCU) is a major university in regional Queensland, Australia. It has Townsville, Cairns, Mackay, Thursday Island, and Singapore campuses.
There are also scores of smaller sites with IT needs, including student accommodation and local hospitals where medicine and nursing students are doing placements. Marine biology and brain research are among JCU's world-leading areas of specialty.
Challenges
Need to enhance JCU's video strategy to meet various teaching, learning, corporate, and community engagement needs

Need to phase out aging room-based video conferencing equipment that is no longer fit for purpose – in a sustainable way

Need to ensure the best user experience possible, given the centrality of video to JCU's business model
Pexip Solutions
Integration with existing Cisco hardware

Interoperability with Skype for Business and Microsoft Teams
Results
Pexip is used to help transition away from physical video conferencing and buy time to make a longer-term decision about a longer-term vision

The solution is compatible with Zoom, Microsoft Teams, Cisco Webex, and BlueJeans; teachers and students using a variety of platforms on-premises experience minimal disruption with the transition

Further opportunities exist to improve video collaboration between JCU and partner organizations like Queensland Health
Challenges
JCU relies heavily on video conferencing as a teaching institution serving a wide geographic area. "If our video conference system failed, it would affect our business significantly. It'd be hard to put a dollar value on it, but there would be a major impact," says Kevin Lane, Head of Digital Infrastructure Solutions based at JCU's Townsville campus.
Lane's team is responsible for JCU's network communications infrastructure. But old room-based video conferencing units, which included Tandberg and Cisco equipment – were aging to the point of being no longer vendor supported. In 2021, the university searched for a solution that satisfied changing user expectations where people wanted to access high-quality video on their devices.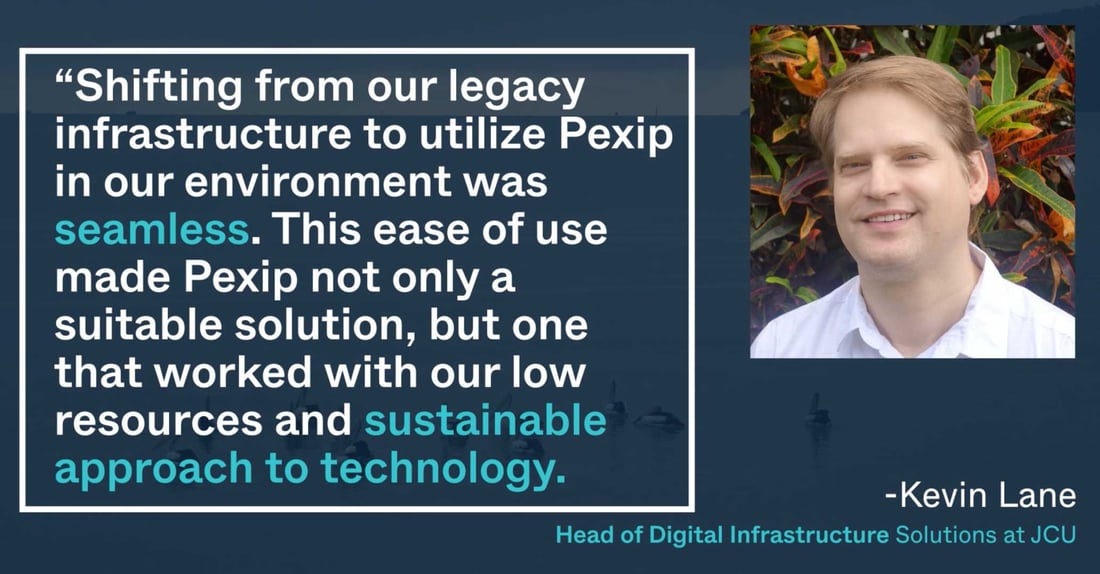 Why Pexip?
Pexip's advantage was its flexibility – accommodating different platforms used by teachers and students without causing disruption or forcing them to learn something new. Especially desirable was Pexip's ability to "join together" Zoom, Microsoft Teams, Cisco Webex, BlueJeans, and other video conferencing solutions.
"Video conferencing is part of what we do – and Pexip has given us that breathing room to ensure we can move into the future appropriately."
Results
JCU's experience of working with Pexip has been positive. The Pexip Control Center has been particularly useful in helping Lane's team keep abreast of technical issues and providing a view of video usage across the university at a glance.
About 120 video conferencing rooms will be managed across the university in the coming years. Its main benefit is removing an element of risk within JCU's IT environment and buying more time as it finalizes its long-term collaboration architecture.