Ibermutua
Case Study
Industry: Healthcare
Company size: 2200 employees
Pexip's security and reliability supports Ibermutua's interactive collaboration solution for surgeons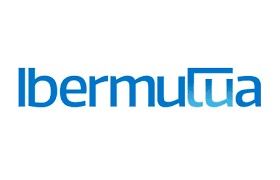 About Ibermutua
Ibermutua is a mutual insurer partner of Spain's Social Security system and its missions include treating occupational accidents and diseases and also monitoring short-term disability resulting from non-occupational illnesses and accidents.
The Castilla y León and La Rioja Comprehensive Service Centre has a newly opened site in Valladolid which hosts a major outpatient surgery unit featuring integrated operating theatres and a surgical day hospital area. It provides healthcare coverage to a protected group of over 138,000 employees from more than 12,330 companies.
Ibermutua has some 120 of its own facilities throughout Spain, protects a group of more than 1.6 million employees and delivers coverage to some 170,500 companies, making it the third largest mutual insurer partnering the Social Security system by market share in Spain.

Challenges
The need for a solution using image, video, and audio tools for remote specialist collaboration in surgeries, including microsurgery and plastic/reconstructive surgery
The need for a solution for e-learning distance education for training healthcare practitioners, featuring interactive collaboration
User-friendliness
A highly secure solution


Pexip Solutions
Pexip Infinity, integrated with partner Azinsol's operating theater integration solution "MVM Operating Room Manager".
The MVM solution is equipped with Pexip VMRs (Virtual Meeting Rooms) with managed node hosting on its own servers to ensure privacy and security.


Results
A successful solution for remote collaboration between professionals, surgery theaters, and e-learning scenarios
Simplicity, versatility, and user-friendliness
Ensured security, reliability, and confidentiality, which is critical for the healthcare sector
Gains in productivity, with clinical and financial benefits
Ibermutua, a healthcare organization that treats occupational accidents and diseases while also monitoring short-term disability, needed a way to provide remote specialist collaboration at the Castilla y León and La Rioja Comprehensive Service Centre. Here, there is a newly opened site in Valladolid which hosts a major outpatient surgery unit. The goal with the program was to enable best practice, diagnosis, and second opinions when performing surgery in the organization's operating theaters by using image, video and audio tools. This is relevant particularly in units specializing in occupational accidents and diseases and including:
Comprehensive arthroscopic surgery

Hand surgery and microsurgery

Plastic and reconstructive surgery

Instrumented pain management procedures
It was also important that they had a way to provide e-learning distance education and training for healthcare practitioners from other facilities. By doing this during surgery sessions, they can offer interactive collaboration between participants so that they can remotely guide other people in their learning or in their personal and professional development. This can provide training, for example, in specific interventions and also in using new procedures or techniques.
The handling of any image source generated in the operating theater or the hospital information system must be user-friendly. This includes medical instrumentation, overhead and lamp cameras, vital signs, diagnostic tests, etc. for viewing on local screens and transmission to others in order to actively collaborate in the medical procedure. Another goal was to build a repository of classified cases for later querying and retrieval for diagnostic or teaching purposes.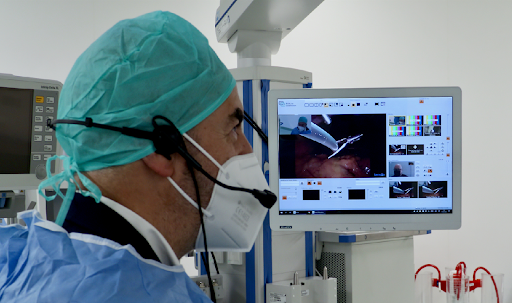 Partner Azinsol's operating theater integration solution "MVM Operating Room Video Manager" has been used to capture, distribute, and manage images produced in the operating theatre. It is powered by the "MVM Live Collaboration" module which allows interactive support by combining video, audio, images and relevant contextual information coupled with the application of interactive add-ons such as pointing with a laser or drawing freehand annotations on the visual field which enhances the shared and two-way real-time control of the session.
The MVM solution has been integrated with the Pexip video conferencing platform equipped with Virtual Meeting Rooms (VMR) with managed node hosting on its own servers. This ensures the security and privacy of the meeting along with the image, video, and audio quality required for clinical practice. The Pexip Infinity platform makes it possible to generate customized VMR for each event, allowing the mentor to connect to a secure web and intervene using interactive tools on the images broadcast from the operating theatre, combining diagnostic quality images and outstanding two-way communication.
"The integration with Pexip has allowed Azinsol's Medical Video Manager to offer fast two-way communication with external specialists, who remotely mentor the interventions, with high image quality and minimal latency," says Ismael Fuentes Crespo, Managing Director of Azinsol.
"Pexip's certifications and high availability ensure the security, reliability and confidentiality of the solution which is essential for the healthcare sector."

Ismael Fuentes Crespo, Managing Director of Azinsol
The solution rolled out in Ibermutua's operating theaters is made up of physical elements meeting security and environmental standards in line with specific needs, including: processor, high-resolution touch control and display screens, peripheral switching, capturing and scaling devices, motorized ambient cameras and wireless audio, etc.
"The system is exceptionally powerful and versatile yet also extremely user-friendly and intuitive," says Dr. Jesús Baeza López Ibermutua's Healthcare Management Director in Valladolid.
"It brings clinical and financial benefits with significant productivity gains and cost reductions," adds Crespo.
Logical elements enable integrated and collaborative management between professionals, and telecommunication elements deliver interactivity through videoconferencing and tools for sharing images between the operating theatre and the remote expert professional or mentor. Any medical practitioner in Ibermutua's corporate network or at other healthcare facilities can support the surgery by providing specific client software featuring audio and video intercommunication tools and interactive image add-ons for diagnostic assistance.
"The Azinsol + Pexip solution is a simple and effective tool," says Dr. López. "We are very happy with it. It's ideal for collaboration sessions with specialists from our group or other healthcare facilities and provides us with guidance and training in specific operations and also in using new procedures and techniques."
Learn more about Pexip Health solutions.