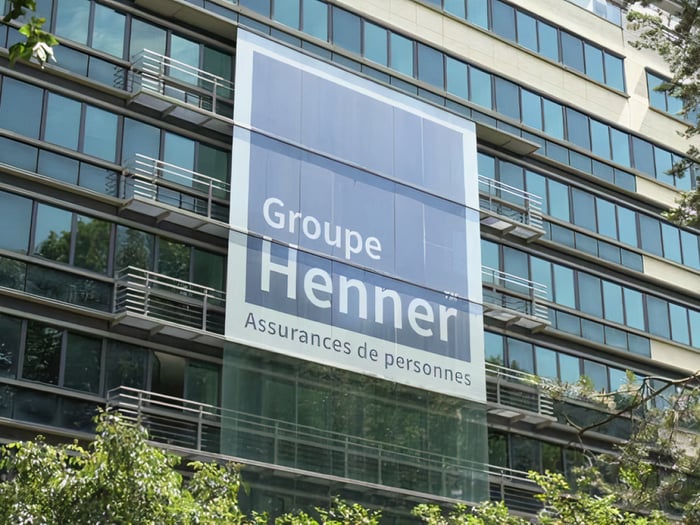 Customer story
Financial services
Room connector
How Henner Group transitioned to an interoperable solution for cloud-based video conferencing

About Henner Group
Founded in 1947, the Henner Group develops innovative personal insurance solutions. It is the leading French player in the group health insurance market.
The independent French group has 1,500 employees in Paris and across the country and is expanding internationally. Providing all kinds of personal insurance (including health insurance and life insurance), it works with nearly 10,000 companies of all sizes (VSEs, SMEs, ISEs, major groups) to create and manage their social protection programs for some 2 million members.
The group has established the largest network of healthcare partners (with almost 59,000 professionals in 189 countries) to provide its clients with access to healthcare wherever they are.
Challenges
By anticipating future uses for hybrid working, the Henner Group developed a set of specifications for a video-conferencing solution.
The new solution should:
Be an interoperable cloud service compatible with Skype, Teams, and Office without abandoning the company's existing meeting room infrastructure





Guarantee secure communications by integrating with the company directory





Be a service that wouldn't disrupt users' ways of connecting via different systems like Skype and Teams while providing VIP conferences using meeting rooms





It would provide the latest innovations in terms of user experience, including WebRTC for connections without installing software, temporary virtual meeting rooms, invitations from Outlook, telephone input feeds, customized connection portals, etc.
Pexip solutions
The Pexip Service cloud-based solution


Cloud Video Interoperability (CVI) with Microsoft Teams and Skype for Business
Results
An interoperable service that makes video conferencing smoother across offices and with both internal and partner communications





A smooth transition to remote working during the pandemic and hybrid working in the future





Widespread adoption of video conferencing across the global company
Challenges
With 18 offices worldwide and 1,600 employees, the Henner Group introduced video conferencing to reduce the need for travel for its sales teams, who often go between the company's French and international sites.
Although their previous solution was innovative at the time, the group's adoption of Microsoft Skype for Business in 2019 clearly showed the limitations of their chosen solution in terms of integration. Moreover, in anticipation of the group's future collaborative uses, Director of Information Systems Bruno Goubin also wanted a video conferencing solution compatible with Microsoft Teams.
"It was 2019, but it was clear that to move away from H.323 without losing our investment in meeting rooms, we needed a solution that was highly compatible with our IS choices while also being transparent, secure, and stable," explains Goubin. "That's when BF Réseaux told us about Pexip and suggested setting up a Proof of Concept (POC)."
"The objective was to replace an existing cloud service to integrate new uses and communications tools (Microsoft Teams) while maintaining a VIP conference bridge for meetings requiring enhanced quality and security," says Goubin.
Why Pexip?
Pexip's partner BF Réseaux introduced Henner to Pexip's services in the third quarter of 2019; its bid was successful after a security testing and verification process that lasted about a quarter. The test process consisted of verifying the interoperability between the installed video conferencing devices and Pexip's cloud service, ensuring compliance with IT security rules at every stage.
At the same time, they reviewed the user experience with a particular focus on inviting people to meetings via Outlook by making it possible to use temporary virtual meeting rooms (VMRs) and by directly integrating the invitation in the Avaya video-conferencing device's calendar to enable participants to join the proper meeting with a single click with their Avaya remote control.
Pexip and BF Réseaux actively contributed to this process by assisting with implementing a POC for several weeks and participating in presentations to demonstrate the security of the proposed service. The group could test and approve the integration for three months and opted for an annual license, ensuring that Pexip met their needs without disrupting employees. The actual roll-out took a month.
"This full-scale test verified that the service worked via WebRTC, meeting rooms, Teams, and Skype and that they didn't jeopardize the company's IT security. In the end, it improved the flexibility of our video communications services," Goubin says. "BF Réseaux played an essential role in the process, from choosing Pexip's service to offering technical and commercial assistance and ensuring current operations by providing support with Pexip and Avaya for all our video-conferencing solutions."
"We were ready to respond to the pandemic and the increased need for remote working. We didn't have to manage a significant and unplanned up-scaling of services; this ensured everyone could use video conferencing services from all our sites in France and worldwide."
Results
More than a year after its implementation, Pexip's service has enabled the Henner Group to achieve its interoperability objectives and provide a modern service that meets its specifications. Moreover, Pexip's service is widely used across the company.
The group's employees and senior management can choose to use the following:
Internal Avaya XT Series video-conferencing devices

External H.323 and SIP video-conferencing devices

Internal and external users can access the video-conferencing service from their PC, MAC, and iOS or Android smartphones.

Microsoft Teams

Skype for Business

Bookings made with Microsoft Outlook
"Our development has been driven by technological change, and video conferencing is a strategic service for the whole company, both internally and with our partners. As such, we have already observed a return on investment by using this technology, but when Pexip and BF Réseaux demonstrated that their technical efficiency would meet our needs." Bruno Goubin says.
"The solution was perfectly able to adapt to the increased demand that we experienced in 2020 because of the pandemic, and it enabled the group to make a very smooth transition to remote working."
Learn more about Pexip's secure, flexible, and forward-thinking solutions for the financial sector.