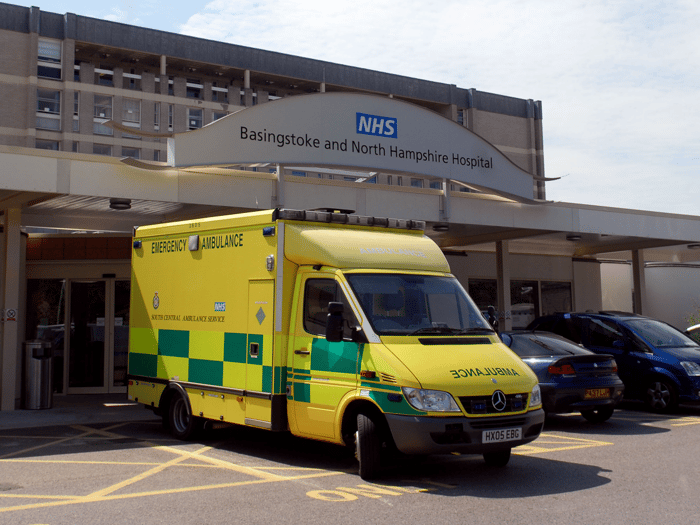 Customer story
Healthcare
Room connector
How Pexip helped Hampshire Hospitals provide quality, multi-disciplinary healthcare services

About Hampshire Hospitals
Hampshire Hospitals NHS Foundation Trust provides acute hospital services to 600,000 patients in Basingstoke, Winchester, Andover, and surrounding areas in Hampshire and West Berkshire.
Challenges
Need for medical professionals in multi-disciplinary teams to meet remotely and discuss patient care

Need for a flexible system that can accommodate both small and large groups
Results
High-quality remote patient care

Integration with patient records

Flexibility to host meetings of various sizes

High-quality video meeting UI

The solution being rolled out to additional departments in the future
Challenges
The COVID-19 pandemic created numerous challenges for healthcare. Not only did facilities and healthcare professionals have the massive undertaking of treating COVID patients, but they also had to continue providing safe, quality care to other patients while maintaining strict rules related to social distancing.
Some people couldn't come to the hospital for consultations. Because of this, Hampshire Hospitals NHS Foundation Trust in Hampshire and West Berkshire in the United Kingdom needed a solution that could facilitate remote working and social distancing without sacrificing the quality of patient care.
Why Pexip?
Working with Pexip partner Hospital Services Limited (HSL), the Hampshire Hospitals orthopedic team created an innovative solution to enable better collaboration among Multi-Disciplinary Teams (MDTs) across multiple hospital sites.
The Pexip Infinity-powered system integrates with Microsoft Teams and Cisco equipment. It allows attendees to join a meeting from a boardroom or meeting scenario using a Cisco system or from anywhere using Microsoft Teams.
Users can view all clinical data shared within a meeting room, working alongside the Electronic Patient Record (EPR) to include all information in one ecosystem. Participants can also take control of the screen and 'drive' the display, offering equal and secure access to the EPR, imaging, and test results for all participants within the meeting, regardless of their location.
"Pexip has proven to be a safe, reliable platform that provides a stable environment for us to run our video conferencing."
Results
"We are delighted by the outcome: an easy-to-use and adaptable telehealth solution devised to encourage collaboration and sustainability and help improve the quality of patient care through additional expert input on cases," says Joanne Rix, Telehealth & Communications at HSL.
With the Pexip/HSL solution, Hampshire Hospitals has improved collaboration amongst regional MDTs working across multiple sites while reducing travel time and costs.
The Hip MDT, Knee MDT, and Upper Limb MDT have successfully embraced the system, accommodating meetings of approximately 6-15 team members, seminars of up to 50 people, and recently, an extensive meeting with regional hospitals that accommodated 104 participants.
The solution's format and size flexibility make it an optimal platform for MDT, training, and general meetings for Hampshire Hospitals. It facilitates remote working as social distancing and working from home remain essential for combatting the pandemic.
"Pexip has proven to be a safe, reliable platform which provides a stable environment for us to run our video conferencing," says David Howard, Lead Orthopaedic Surgical Practitioner at Hampshire Hospitals.
"It works seamlessly with all other software. The video's high-definition quality and speed give a feel of face-to-face traditional meetings. It is vital in today's health environment."
Learn more about Pexip Health solutions for your telemedicine service, or contact us today to get started.