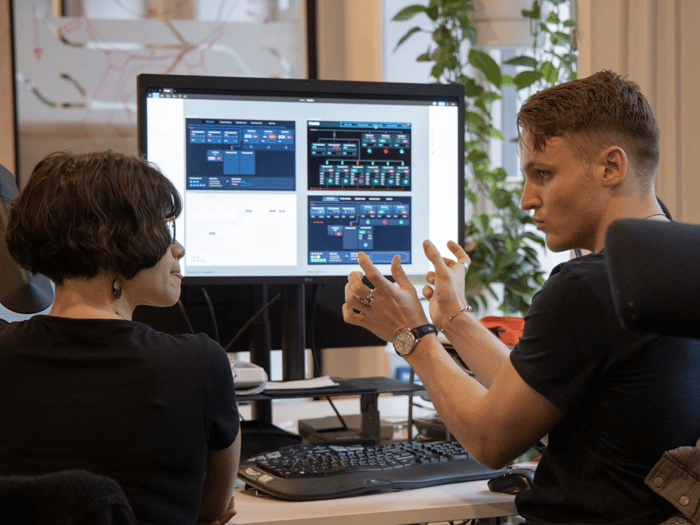 Customer story
Enterprise
Room connector
EGGS Design adopts Pexip's Microsoft Teams integration and continues using existing Pexip VMRs

About EGGS Design
EGGS Design is a Norwegian innovation consultancy that helps clients craft new products, services, and business transformations. With offices in Oslo, Trondheim, Stavanger, Bergen, and Copenhagen, the company comprises over 100 professionals from 25 nationalities.
EGGS Design prides itself on bringing life to sustainable ideas and balancing tech innovation and human experience.
Challenges
Need for interoperability between Microsoft Teams and in-office infrastructure upon return to the office after the first Covid-19 lockdown.


In a company that relies on visual references, there was a need for a long-term and flexible video meeting solution that could be accessed from anywhere.
Pexip solution
Adoption of Pexip's Microsoft Teams integration, with continued use of existing Pexip VMRs.
Pexip services in use
Enterprise room connector bundle, with:
Endpoint subscriptions


Enterprise User Licenses for virtual meeting rooms (VMRs)


One-Touch Join licenses


Domain hosting


Unlimited concurrent calls with the Microsoft Teams cloud video interoperability (CVI)
Results
The Teams integration helped EGGS adapt to a hybrid workforce. The ability to join a Teams meeting from home or an in-office conferencing system created a more flexible and scalable video meeting solution.
The Pexip VMRs provide an additional video meeting service with high-quality UI features.
Challenges
High-quality video is crucial for daily collaboration at EGGS Design, from chats between designers to board meetings and customer consultations. The organization relies on video for demonstrations, presentations of visual assets, screen sharing, and more. "Video meetings are hands-down one of our core services," says IT Manager Emre Balik.
The arrival of the Covid-19 pandemic forced the company, like so many others, to expand its existing video conferencing solution. With business trips canceled and offices closed, EGGS, a Pexip user since 2014, experienced skyrocketing demand for the Pexip VMRs (virtual meeting rooms) they had available.
With Microsoft systems already in use at EGGS, it made sense to transition to Microsoft Teams as their primary communications platform. Then, as Covid-19 regulations eased during the late spring and summer of 2020, about half of EGGS' employees returned to their offices. Within weeks, individuals began asking whether they could keep using the Teams video solution on the company's existing Cisco devices at the office.
Why Pexip?
Luckily, Pexip had a solution: a cloud-based Microsoft Teams integration that would serve as a gateway to their in-office infrastructure. The Pexip Cloud Video Interoperability (CVI) enables professional video conferencing systems to join Microsoft Teams as native Microsoft clients. Pexip offered to redesign EGGS' existing agreement into a new package deal that included both the VMRs and the Teams integration.
From there, testing and implementation of the new integration was smooth, and internal communication around the rollout was also straightforward: "I could just say to everyone: now you can even join a Teams meeting from a conference room, isn't that great?" says Emre. "Of course, people embraced it."
"I'm very impressed at how customer-oriented Pexip is. Everyone on the team is friendly, responsive, and helpful. It's left a positive impression on me."
Results
Utilizing Pexip's Teams integration eased EGGS Design's transition into a hybrid workforce. It streamlined their overall user experience of video conferencing. The flexibility provided by this solution is long-term, secure, and scalable, allowing EGGS to maintain business continuity regardless of where people are working.
EGGS Design continues to use their Pexip VMRs alongside the Teams integration, as these extra "rooms" are helpful for specific meetings. The high-quality UI is one feature of the VMRs that stands out to Emre. Emre says that the UI of some other video providers can be confusing and outdated, especially for Mac users. With 85% of EGGS employees using Mac, this makes a difference.
"The first time you log in, you need to be able to find the Share button or open a new chat within a second or two," says Emre. "The option has to be right there, and with Pexip, those options are very neatly placed."