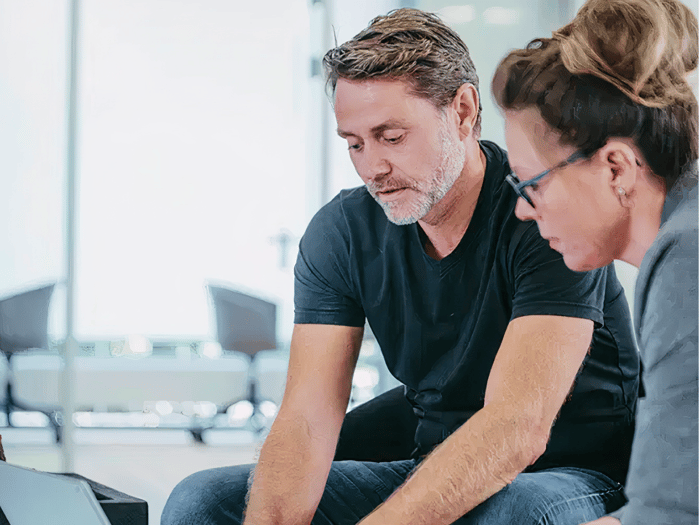 Customer story
Enterprise
Standardize on Teams
C2IT transitions to Microsoft Teams without changing their hardware or workflows
AVDAN and Pexip helped C2IT with a smooth and cost-efficient transition from Skype for Business to Microsoft Teams without changing their workflows or hardware.
About C2IT
C2IT Group works with the digitalization of Danish companies and organizations and consists of 3 units:
C2IT provides IT services based on standard software primarily from Microsoft, such as Dynamics NAV/Business Central, Power BI, Power Apps, Office 365, and Teams.


IT Kartellet develops unique software solutions like learning portals, web applications, and integrations.


People-IT works in the freelance IT services market for Denmark's largest companies and organizations. C2IT Group has offices in Kolding, Aarhus, Herning, Ballerup and Copenhagen in Denmark.
Challenges
The need to transition to Microsoft Teams from Skype for Business


The desire to keep using existing video conferencing hardware, which had been a significant investment


The Covid-19 pandemic, which required their employees to work from home during the same period that they were transitioning to a new video conferencing platform


The workflow for the users needed to remain the same
Pexip Solutions
Pexip's CVI solutions allowed C2IT to use Microsoft Teams on their existing Poly hardware, saving them money, time, and hassle


Pexip made it so that the users did not need to learn a new workflow when invited to or attending video meetings


With Pexip One Touch Join, the user can push the green button on the touch panel to start the meeting
Results
C2IT implemented a seamless transition to Teams, retained their office hardware, saved money, and prepared their workforce for a new way of working from home and office
Challenges
C2IT, an innovative IT company based in Denmark, had previously used Skype for Business for their video conferencing needs. This solution was hosted on-premise at their offices and registered on Poly Trios, their video conferencing hardware devices.
However, C2IT, like many other businesses in Denmark, needed to transition away from Skype for Business, which is to be retired in the summer of 2021. In shifting to Microsoft Teams, the company also wanted to change from an on-premise video solution to a cloud-based one.
However, the company faced a challenge: they wanted to continue using the same Poly hardware they already had, which still worked well and had been a significant investment.
C2IT needed a solution that would allow their users to keep their hardware, workflows, and user interfaces they were already familiar with while transitioning to Teams.
Why Pexip?
Pexip's partner AVDAN introduced C2IT to Pexip as a solution allowing them to use their existing hardware investments with Teams by registering the hardware on the Pexip Service.
Using Pexip for Microsoft Cloud Video Interoperability (CVI), they could connect to Teams meetings using the devices already installed in their offices. After comparing different options, they calculated that this was a more efficient way to solve their problem and a more cost-effective solution.
As a European tech company, adhering to GDPR and ensuring other security standards was essential when choosing a new solution. They were pleased with Pexip's emphasis on security and privacy, which also helped cement the decision.

It was a painless process, with good support from the partner and Pexip. Our internal rollout was seamless, with no problems since we were already used to our existing hardware.
Results
Adopting Pexip's Enterprise Room Connector proved to be hassle-free, with the entire implementation, including registration and set-up, taking only two and a half days. In addition, they could save money by using their existing in-office hardware, which was still serving them well.
With the arrival of Covid-19 in the spring of 2020, everyone at C2IT was sent home to work, like so many other businesses. But in this case, the sudden shift to the home office and the need to adapt to a dispersed workforce sped up the process of rolling out their use of Pexip for Teams on a larger scale.
"With Covid-19, we suddenly had a bigger task," says Preben Justesen, CIO. "Many more of our people, in every single job type, were forced to use video, some of whom were maybe not so familiar with it. So then, we had a bigger responsibility to deliver a solution everyone could use easily. And that was Pexip."
C2IT uses video conferencing for internal and external meetings. The ability to quickly join Teams meetings on their in-office infrastructure has allowed them to smoothly transition into the so-called hybrid workforce, with some people still working from home and some back at the office. Preben believes this culture of work will continue post-pandemic and is happy to have a solution that makes video meetings easy to join and use.