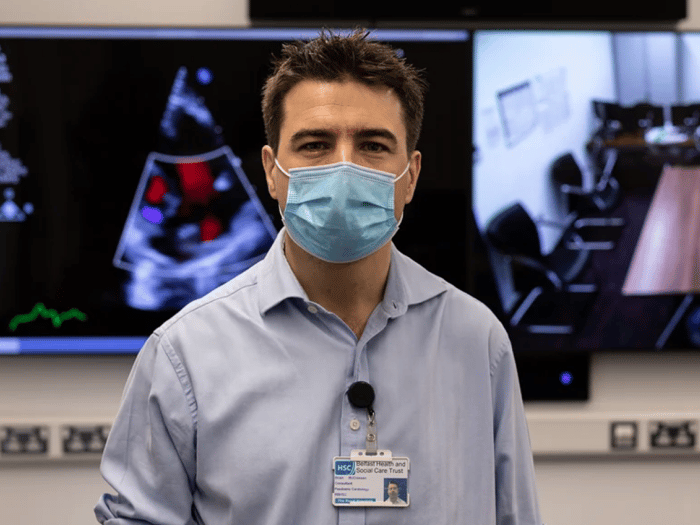 Customer story
Healthcare
Video technology platform
Royal Belfast Hospital for Sick Children

The Royal Belfast Hospital for Sick Children is part of the Belfast Health and Social Care (HSC) in Northern Ireland, the largest integrated health and social care Trust in the United Kingdom.
HSC provides social care services such as:
home care
family and children's services,
daycare, and social work services
Challenges
Need for easier, faster access to the telehealth service for patients.
Need for a scalable solution for staff.
Pexip Solutions
Implementation of the self-hosted Pexip Infinity solution allows patients to access appointments more easily and providers to communicate more efficiently while maintaining security and privacy.
Results
Pexip's video solution helps the clinic to provide better and faster care:
Fewer children admissions to the hospital

Deteriorations in the underlying cardiac status are detected faster

There are fewer delays in providing potentially life-saving treatments

Safe alternative to hospital visits for high-risk patients during Covid-19
Challenges

Since its introduction in 2007, video conferencing has played an integral role in providing better care at Clark Clinic, the pediatric cardiology ward at the Royal Belfast Hospital for Sick Children.

The use of video assists in the post-operative care and monitoring of babies and small children with major congenital heart conditions.

In partnership with Pexip, HSL Telehealth supports and further develops the clinic's telehealth service. While the program has been successful for the past ten years in providing expanded care to young cardiac patients, it needed some upgrades to ensure that it could be easily accessed and used by as many patients as possible.

Previously, the time to install individual video conferencing equipment limited the home monitoring program. To make this process faster and less complex, the platform required video conferencing technology that provided a more straightforward user experience.

At the same time, they required a scalable solution that could meet the needs of patients and staff now and in the future.
Why Pexip?

Over the last two years, the HSL team has worked with the e-Health and core ICT service in Northern Ireland's Health and Social Care (HSC) board to jointly develop the service to make it more scalable and affordable to provide support to more families across the country.

With Pexip Infinity at the core of the clinic's bespoke telehealth offering, HSL has been able to build a solution that is not only highly secure and flexible but also one that meets the specific needs of the patients and families.

The service is now available to patients via a simple download, making it more widely accessible to the growing number of patients and their families.

As the platform has advanced, it has significantly improved the timeliness and ease of connecting with patients and the pediatric cardiology team. It is extremely reliable and easy to access. We are also reassured by the security of the platform.
Results

By providing easy access to a reliable telemedicine solution, the service helps the clinic offer better, faster care. This telehealth solution means fewer children's admissions to the hospital, deteriorations in the underlying cardiac status are detected more quickly, and there are fewer delays in providing potentially life-saving treatments.

The Covid-19 pandemic has also made this technology more critical than ever. Throughout the crisis, Clark Clinic's telehealth platform has acted as a lifeline for parents and families of children with heart conditions during isolation at home.

Telehealth has allowed the clinic's young patients, who are at an extremely high risk of infection, to receive the same vital health care and urgent consultations without regular visits to the Belfast medical facility.

Pexip has helped enable broader distribution of the technology, meaning that doctors have been able to monitor patients and perform urgent care consultations from the comfort and safety of their homes. The application has also provided advice and support for parents during this stressful time.

"Telehealth has played a vital role during the Coronavirus pandemic as it has enabled our team to conduct several urgent video consultations for patients at home, which have obviated the need for them to come to the emergency department," said Dr. Brian McCrossan, Consultant Pediatric Cardiologist at the Royal Belfast Hospital for Sick Children.

"Parental anxiety has been more heightened than usual due to the pandemic. Therefore we have found that supporting families at home with regular video consultations has helped to reduce stress, reduce health service utilization, and is much appreciated by parents and clinicians alike."