You've worked hard online to make a connection with your potential consumer. You've used social media; you've reached out and engaged them. Now, the ideal next step occurs: they want to make an appointment with you. Great! But now that you've come this far, what's the best way to convert your online relationship to an offline sale?
First, recognize the challenges businesses face when setting customer appointments.
Streamlining customer experiences and empowering your employees is a good place to start in the appointment setting process.
When it comes to setting appointments, micromanaging will only slow down the already complex sales process. Many organizations find that setting appointments is a time-consuming process in and of itself. In fact, some companies' employees lose up to 17 minutes per day just booking appointments. That's productivity time lost.
Appointments offer you, the business, an opportunity for some face time with your potential customer, either using a video meeting or setting up an in-person appointment. However, the process of finding a time to meet can disrupt business model if done inefficiently. Your customer can become frustrated with too much back and forth, and you may lose them before you even get to the meeting.
So, how can you prevent that? Awareness of the issues is the first step.
How many times have you tried to make an appointment with a doctor? They have availability when you don't, and you go back and forth until you settle on something that is least inconvenient for both parties. How much of your day did you waste on that? Did you experience a streamlined patient scheduling process?
Additionally, how much time did the receptionist waste on you trying to find a time that worked for everyone? When you're talking about ROI, it's no wonder a doctor's appointment can be expensive. You just spent 30 minutes of your time, and the receptionist's time, and you haven't even seen the doctor yet. So, how can we make this experience better and more successful for everyone?
---

Free eBook: How retail banks can master customer engagement
Did you know?
Only 10% of retail banks regularly work on enhancing the customer experience
Yet over 70% of retail banks believe that digital customer engagement is important to the success of their businesses today and tomorrow
Customer engagement is essential in today's competitive landscape.
Get your free copy of our guide and learn how to win more customers and scale your business.
---
Efficiency is key in streamlined scheduling
As with any business model, efficiency is the key to getting the best return on your investment. This applies to many parts of your business, but it is very relevant when it comes to the way you set appointments with customers. Here are some best practices:
Offer flexible time and date options for appointments. Offering as many available employees as possible to accommodate your customer's schedule can maximize appointment setting. Remember, your ultimate goal is to make a sale. You do that first by accommodating your customer. They're interested in your product now, so don't make them wait two months to find out more. Do whatever you can to make the process easy for them, and that includes offering many available times to meet.


Find out what your customer needs. If your goal is to accommodate your customer, you should find out exactly what they need and pair them with the appropriate employee accordingly. Do not waste their time or your employee's time by scheduling an appointment they don't really need. For instance, if you run an air conditioning business, make sure the scheduler gets as much information as possible about the problem so that your technician is appropriately equipped when they show up. Doing this effectively can eliminate the potential for mistakes, frustration, and unhappy customers.


Keep schedulers informed. This is vital. Use software, Post-It notes, email, or any other form of communication to keep schedulers as up-to-date as possible about your availability for clients. Nothing will turn a potential sale away faster than having to reschedule an appointment. It's unprofessional and a waste of everyone's time, which results in dollars lost. The bottom line here: keep appointment setters in the loop.


Consider using software. A software solution like Pexip Engage can help bridge the gap between your business and your consumer when scheduling appointments. Below, you'll find some ways to get the most out of this option.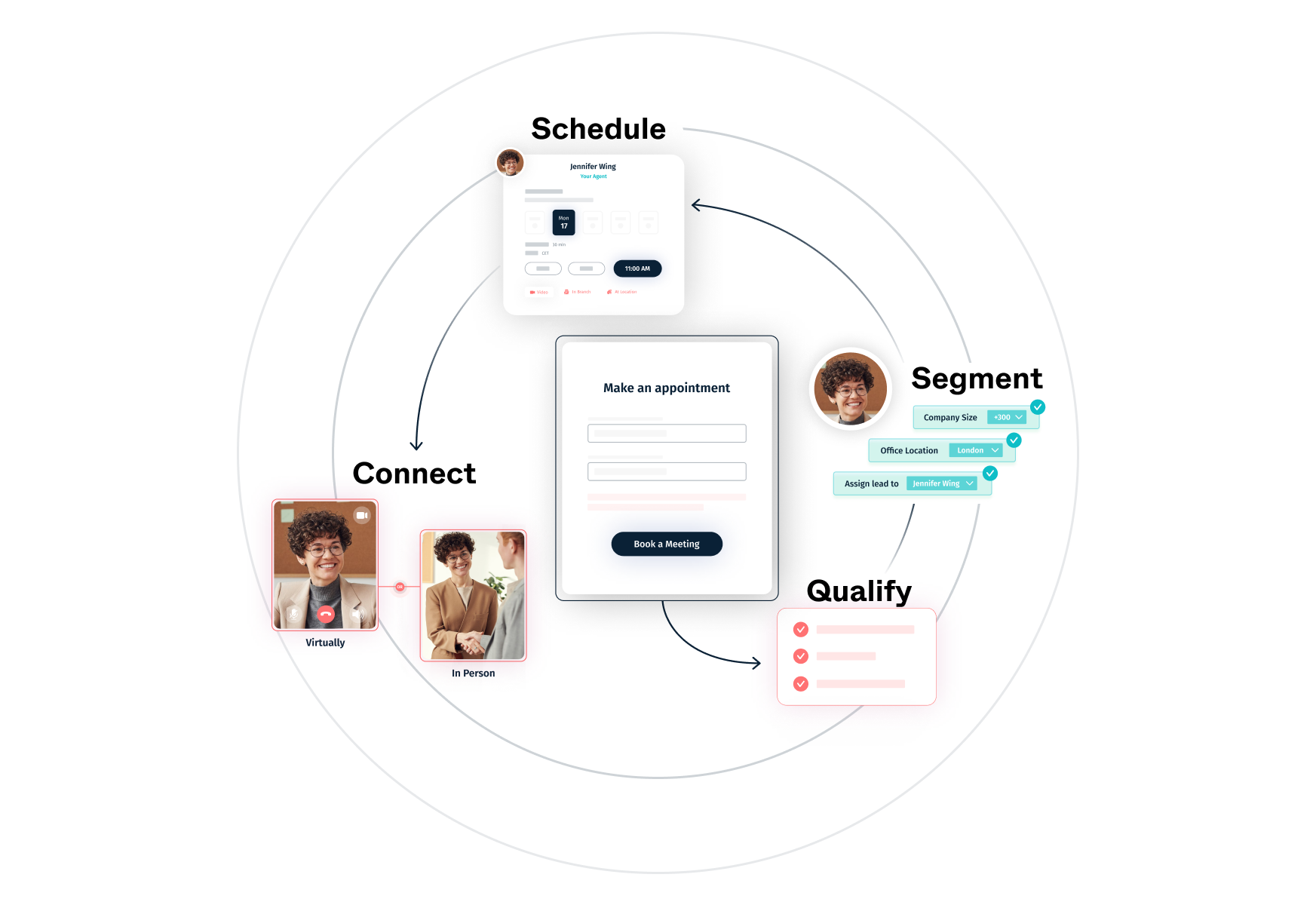 Make your software solution work for you
Regardless of what type of scheduling method you use, the right software can help streamline the process by following appointment setting best practices. Solutions like Pexip Engage can access many different calendars, which maximizes availabilities for both parties. There's less back and forth, saving time and money for everyone. Because it offers a faster and more streamlined process, there will be less impatience and frustration felt by the customer, especially if they're used to being put on hold during these kinds of interactions. Time, effort, and stress are all reduced.
Schedule matching is also important to setting appointments efficiently. Pexip Engage can help match your client and your business on the first try. This reduces the risk of cancellations later down the road, meaning optimum ROI for your business. Software solutions can also use auto-reminders and auto-saving features to automatically keep your client aware of their appointment with you, which minimizes no-shows.
Help your employees help your clients
At Pexip we're all about efficiency, both when it comes to scheduling and the meeting itself. Not only can Pexip Engage help streamline the scheduling process for your clients, but it can quickly and easily connect your employees and clients using easy-to-access video meetings. This seamless process frees up everyone's time, meaning your employees are more available for other meetings and tasks, and your customer feels like they saved time in their day as well. All of this equates to more sales and better ROI.
Optimize the rescheduling process
What do you do if someone gets sick or has an other conflict? Life happens, and sometimes it's necessary to reschedule an appointment with your customer. Using a software program like Pexip Engage can help your employees reschedule appointments in three seconds or less. The faster the rescheduling process, the happier your client is. It's also best if your employee offers them plenty of options to best accommodate their schedule. This means offering several dates and times, as well as methods for the meeting. For example, is the first appointment was meant to be in-person, maybe it's more convenient on another day to use a video meeting instead. Luckily, Pexip Engage offers a seamless experience for scheduling and accessing easy-to-use video engagement.
Running a business is a complicated process filled with many small parts that all have to run efficiently for maximum ROI. Setting appointments is not somewhere you want to be losing money, particularly when there are many options streamlining and simplifying the process.
Let Pexip Engage help you today!