Pexip has now released the latest version of our self-hosted Infinity software 🎉 Version 24 includes updates and improvements in quality, scalability and security as well as some much requested new features.
One of the main features of the release is One-Touch Join support for Poly devices. Pexip announced support for Cisco endpoints with One-Touch Join's debut in version 23 and our continued development of the feature now includes Poly One Touch Dial. This release will support the following video systems from Poly:
Poly HDX series
Poly RealPresence Group series
Poly Trio series
Poly Studio X series
Poly G7500 series
Poly Debut series


This expansion to our current solution means that you can deliver a One-Touch Join experience to almost any Poly endpoints in your network.
The new release also includes the ability to use OAuth authentication for G Suite, adding support for those customers who cannot use a service account to integrate One Touch Join with their G Suite environment. Please read our technical documentation for more details: https://docs.pexip.com/admin/whats_new.htm
Version 24 also includes additional HTTP Proxy support, including for One-Touch Join. This feature is essential for customers who need Pexip Infinity to communicate with calendar services and endpoints through a proxy.
There are also updates to the administrative experience. This release includes an all-new endpoint status page to give administrators a more profound overview of the One-Touch Join deployment for easier monitoring and troubleshooting.
Microsoft integration updates
Pexip now shows profile pictures for participants joining by audio only. In previous versions, audio-only participants were represented by a phone icon. Starting in version 24, colleagues with Microsoft profile pictures available will be represented with their pictures. This important security update gives meeting hosts confidence that all meeting participants are invited guests. If colleagues do not have a profile picture available, their initials will be shown.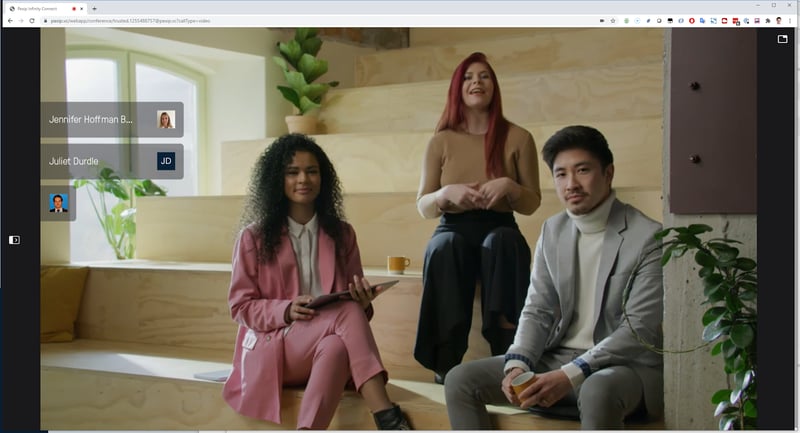 A much-requested feature has been an indication when there is a video room waiting to be admitted in the lobby. This gives the colleagues joining from the meeting room a clear indication that they are waiting to be admitted to the Teams meeting by the host.
We recommend that any customers who are currently using previous versions of the Teams Connector should update to version 24 to ensure compatibility with the latest updates to the Microsoft Teams APIs.
Google Meet updates
The biggest improvement for our Google customers in version 24 is the normalization of the audio from different joining devices. Previously, when video endpoints joined a Google Meet call they were often at a lower volume than guests joining directly from their computer. This was noticeable in larger meetings with many Google Meet participants. The normalization means that all participants will now join at the similar volume without manual adjustments.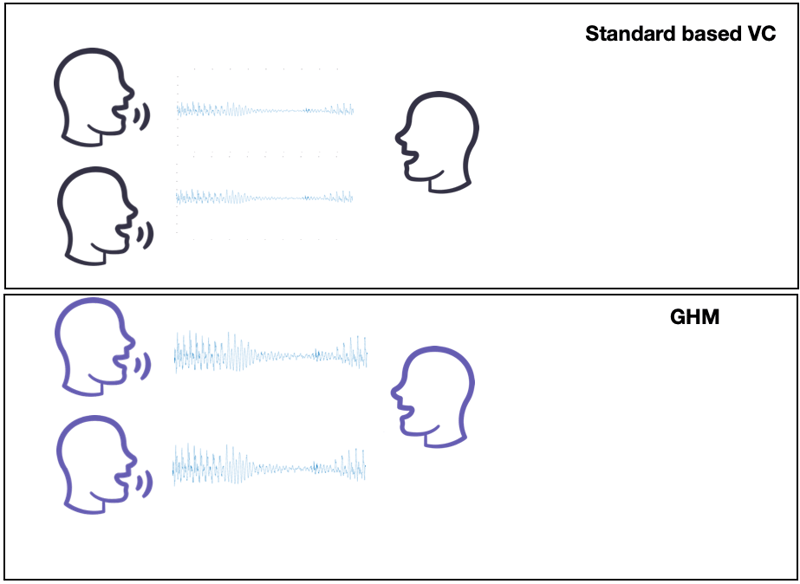 When all users join with video conferencing systems or all users join with Google Meet, there is no perceived difference in audio levels.

When one user joins a Google Meet call via a video system and one uses their computer, there was previously a noticeable difference in audio volume. Version 24 now normalizes this difference.
The second major improvement is related to handling of lossy audio. When participants joined a Google Meet call from non-ideal networks it led to participants joining from meeting rooms to hear a robotic or garbled audio quality. Pexip is now optimizing this audio feed so the experience is improved in calls affected by poor network connection.
We also recommend that any customers who use Google Meet interoperability should update to version 24 to ensure compatibility with the latest updates to the Google APIs.
Infinity Exchange Scheduling
This release now includes support for the VMR Scheduling for Exchange service within delegate calendars. To take advantage of this feature users will need to be on Office 365 and using a supported version of Outlook. Please see our documentation for more details on this update: https://docs.pexip.com/admin/scheduling_overview.htm#delegate
This release also includes support for completely secure offline environments, where it's key that all features can work without any access to the internet. More details on configuration can be found in our technical documentation: https://docs.pexip.com/admin/scheduling_infinity_config.htm#advanced
Infinity Core
This release contains three features focused on improving the administrator experience
For our largest customers, upgrading Infinity deployments can take some time. We're now including the ability to upgrade 10 nodes simultaneously instead of the previous 5. It's not only our largest customers who will see upgrade improvements with version 24, all customers will experience a faster upgrade starting immediately.
AES 256 support is now introduced. This ensures that we have the highest possible level of encryption available for the newest endpoints on the market. All older endpoints will still be able to connect to the highest level of AES encryption available for the hardware.
Our largest customers have asked us for more than the default two overflow locations to support larger on-demand scaling. Through local or remote policy, you can now run as many overflow locations as you'd like. Your Pexip Solutions Architect will be happy to help you talk through the best set up for you.
Infinity Connect client improvements
More and more users are joining meetings through our clients. In version 24, the amount of CPU that is used to transcode these calls made via our clients has been significantly reduced. VP8 and VP9 codecs will experience reduced resource usage allowing more participants to be handled by the same server.
But we're not finished yet!
Pexip will soon be debuting our Infinity Self-Service VMR Portal. This portal will allow all VMR users to login and manage their own meeting rooms. Users can update their PINs, adjust guest settings, change their default room layout and view all aliases associated with their rooms. Dialing information for all rooms is also easily accessible in this portal. To catch a sneak peak of the portal you can watch the video overview of v24 with Jordan Owens and Marius Nilsen here: https://www.pexip.com/webinar/registration/whats-new-in-pexip-infinity-v-24/thank-you-1