Faced with many legacy room-based video technology systems, a leading university has deployed Pexip to anchor its video strategy, optimize return on investment, and meet its sustainability commitment.
There's a lot to think about when running the digital communications infrastructure of James Cook University (JCU), which has campuses in Townsville, Cairns, Mackay, and Thursday Island - not to mention Singapore - and scores of smaller sites. JCU is based in Australia.

Video is vital to connect all 15,000 full-time students and 5,000 staff and bring an outstanding curriculum to life.
A leader in tropical research and innovation
JCU's specialty areas include marine and freshwater biology, biodiversity conservation, and brain research. It is the #1 university in the world for marine and freshwater biology and #2 for biodiversity conservation. JCU has 21 specialized research centers and institutes, eight campuses in Australia, and an international campus in Singapore.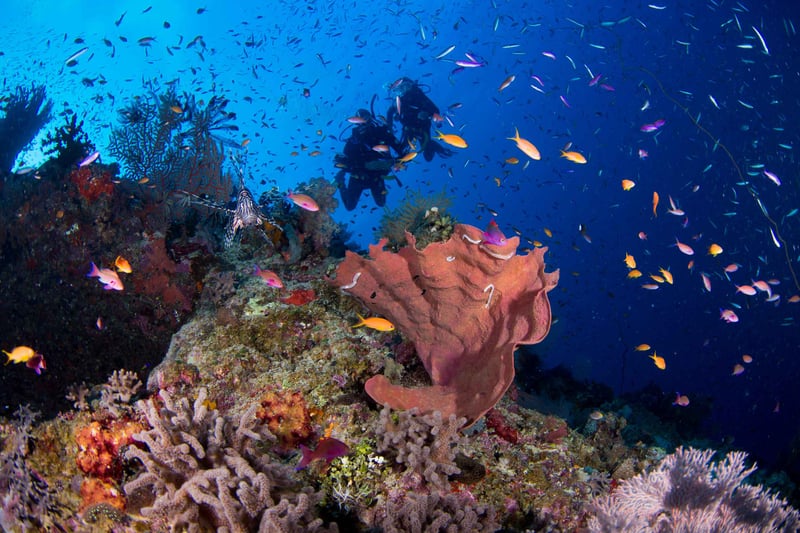 The university also heavily focuses on outreach to the broader community and local indigenous population. It frequently makes its technology available to people in the community as a way to bridge the digital divide using video for community engagements, as well as for corporate use and executive board meetings.
---
"Video communication is part of what we do," says Kevin Lane, Head of Digital Infrastructure Solutions and based at JCU's Townsville campus. "We are a teaching institution, relying on video heavily for education.
"If our video platforms failed, and we couldn't teach through video conferencing, it would affect our business significantly. It'd be hard to put a dollar value on it, but there would be a major impact."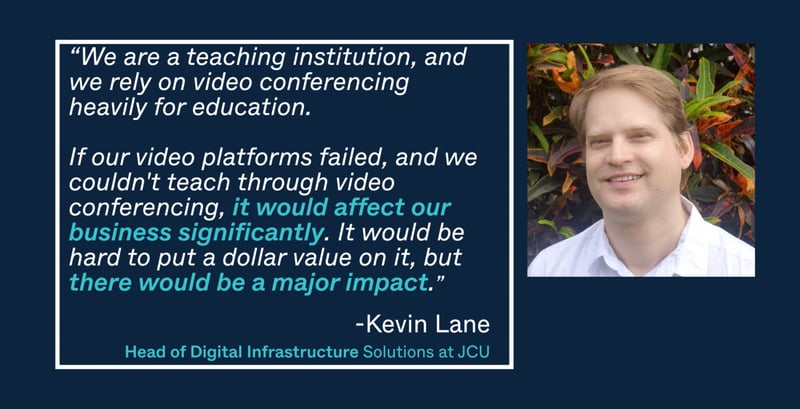 ---
Need for a flexible, scalable, and interoperable solution
Lane's team is responsible for JCU's network communications infrastructure, including business telephone systems, video conferencing, and firewalls. He says the university's room-based video conferencing units, which included Tandberg and Cisco equipment – were aging to no longer being supported by the vendors.
JCU decided that merely updating its physical video conferencing units was not forward-looking enough in an era when more people wanted to access video on their devices. As cloud-based (software as a service) video conferencing and soft codec (compressed digital video formats) have become more common, "it simply wasn't the way the world was heading," Lane says.
"People are getting out of that physical video conferencing system space. We were expressing frustration to our partner office about how hard it was to find a solution. And they said, 'Have you considered Pexip?'
How Pexip became the correct answer
The recommendation ignited JCU's partnership with Pexip when the university decided against deploying a single platform such as Microsoft Teams or Zoom as a single solution. In early 2021, JCU began conversations with Pexip and collaborated to develop a proof of concept implementing the Pexip Endpoint Subscription service with device registration and call control.
This enables JCU to re-use over 120 aging video conferencing units and Cisco equipment hardware to receive point-to-point calls with other video systems internally and externally - Microsoft Teams, Google, Zoom, and others - without needing additional video conferencing infrastructure.
Pexip's advantage was that it was seen as flexible, providing the best user experience and being able to accommodate different platforms already being used on premises by teachers and students with minimal disruption. "It was important to maintain similar contexts and functionality. We didn't want the staff to relearn everything," Lane says.
Particularly attractive is Pexip's ability to "join together" Zoom, Microsoft Teams, Cisco Webex, BlueJeans, and other video conferencing solutions.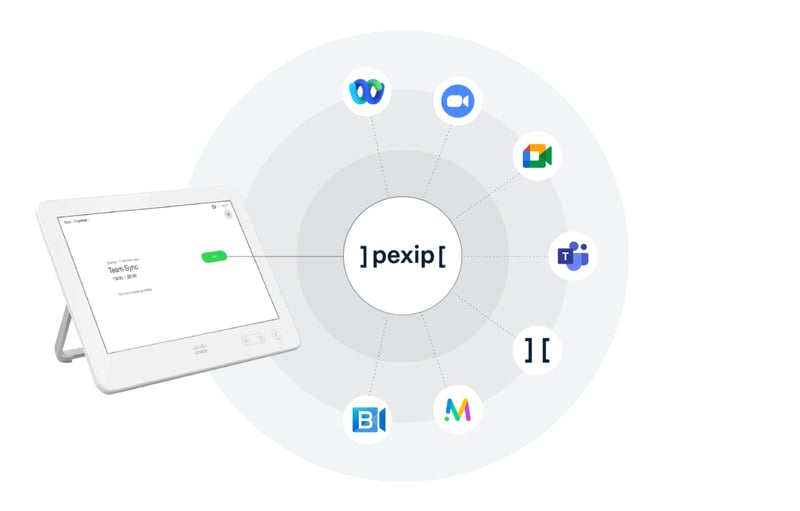 For example, a critical JCU partner - Queensland Health - uses Microsoft Teams, whereas JCU's College of Medicine and Dentistry uses Zoom.
"Different platforms across departments and partners make it difficult for us to engage with each other properly," Lane says. "So, we had to consider Pexip as potentially filling that role in this multi-video conference technology world we're living in. We could future-proof our entire call control and management capabilities and enjoy seamless video calling on a dedicated, quality-assured network."
Looking to the future
Over the next few years, JCU seeks to transition about 120 video conferencing rooms – replacing them with new equipment and designs. Lane says this will happen across the university's main campuses and remote sites, almost every hospital where students are undertaking placements, as well as student accommodation locations. Lane says the experience of working with Pexip was positive.
"Shifting from our legacy infrastructure to utilize Pexip in our environment was seamless.  Given the project's scope across networks and devices, it involved broader team engagement within JCU. Our Senior Infrastructure Architect, John Croft, with VAVs Specialist Nick Patterson, found both the design and implementation of the proof of concept straightforward and intuitive.  This ease of use made Pexip not only a suitable solution but one that worked with our low resources and sustainable approach to technology."
User content security and privacy had to be considered carefully in this transition - another key consideration for JCU. Pexip's Control Center has also been particularly useful in monitoring the university's device and network set-up, keeping abreast of technical issues, and providing data about video usage at a glance.
"Pexip is removing an element of risk within our environment," he says. "It's buying us more time to decide about our video conferencing architecture. Video conferencing is part of what we do – and Pexip has given us that breathing room to make sure we can move into the future appropriately."
Importantly, by re-using aging technology and devices, JCU is demonstrating its commitment to reducing waste.
"The implementation has meant we've extended the lifespan of our video conferencing technology, saving it from landfill and giving it a second life."
---
Modernize your Meeting Infrastructure for Today's Workforce
Learn how to get the most from your existing video hardware and platforms
while reducing ongoing costs.
---
Topics:
Enterprise
Digital transformation