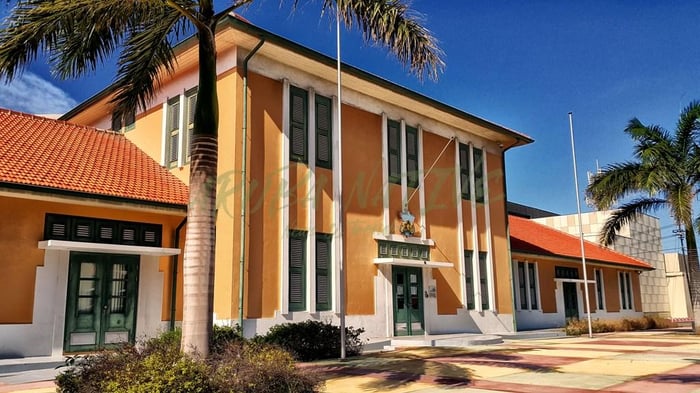 Customer story
Judicial
Virtual courts
How the Joint Court of 6 Caribbean Regions moved all proceedings to a virtual format

About the Joint Court of Justice
The Joint Court serves the three Caribbean countries of the Kingdom of the Netherlands (Aruba, Curaçao, and Sint Maarten) and the three Caribbean special municipalities of the Netherlands (Bonaire, Sint Eustatius, and Saba).
The Court is on the same level as similar courts in the Netherlands, and members deal with civil cases, criminal cases, and cases of administrative law (tax law, among others). The Court has seats in courthouses located in Aruba, Curaçao, and Sint Maarten. It is also authorized to hold sessions on Bonaire, Sint Eustatius, and Saba.
Challenges
The need for all court proceedings to take place remotely due to the COVID-19 pandemic

Ability to connect multiple participants at different locations into one meeting

Need to maintain a very high level of security and privacy required for court hearings.




Need for interoperability with the Joint Court's existing Cisco video systems and the flexibility to join meetings securely from any device

Need for a video conferencing platform with a simple, convenient interface
Pexip Solutions
Adoption of Pexip Virtual Meeting Rooms (VMRs) for multiple participants

Use of the Pexip Service, with interoperability for Cisco video systems
Results
Enabled the Joint Court to fully migrate court hearings to a virtual format

Facilitated greater safety during the COVID-19 pandemic

Provided a reliable, easy-to-use experience for meeting participants
Challenges
Many justice organizations worldwide use video conferencing to enable virtual court proceedings. While this trend has accelerated in recent years, the COVID-19 pandemic has forced even more rapid video adoption to facilitate continuity of operations amidst travel restrictions and health guidelines like social distancing.

The Joint Court experienced this increase in need firsthand. The court has physical courtroom locations spread across several Caribbean islands, meaning that even before the pandemic, there was a need for a reliable video-conferencing solution.

Therefore, the Joint Court was already using video solutions from Pexip. But, when the COVID-19 restrictions came into effect, it needed to scale up this facility and migrate its entire proceedings to a virtual format.

As a justice organization, maintaining reliability and security are critical considerations and paramount for conducting virtual hearings. The security criteria also needed to be balanced with the flexibility of using multiple devices and platforms. At the same time, offering an easy-to-use experience was another critical factor.
Why Pexip?
After testing multiple collaboration platforms, the Joint Court selected Pexip because of its high-quality video and audio connections. They found that other platforms did not offer a consistently reliable experience, and sometimes the quality would drop, whereas Pexip was always consistent.
The Joint Court's chosen system uses Pexip Virtual Meeting Rooms (VMRs) to connect multiple participants into one meeting. Parties are often located on different islands and even overseas in the Netherlands. Still, Pexip brings everyone together seamlessly, regardless of their location or what devices they're using.
Pexip's interoperability also means guests can join from devices such as a laptop, webcam-enabled PC, web browser, mobile device, or video conferencing system. The Joint Court uses Cisco video systems in their courtrooms, and judges can quickly join remote hearings hosted on Pexip using these devices. Integrating video meeting software with their existing Cisco hardware makes hybrid meetings between in-office and remote attendees easy and frictionless.
Another standout feature is Pexip's ability to set PIN codes and lock VMRs, ensuring that meetings are private and secure. The court relies on the Pexip Service, which leverages best-in-class industry encryption standards and complies with the UK's National Cyber Security Centre 14 Cloud Security Principles. Offering a simple and safe interface was yet another box ticked for choosing to use a Pexip solution.
"In some other solutions, we tested, the audio and visual quality was not good. With Pexip, it was perfect."
Results
Pexip's solutions have helped the Joint Court successfully migrate all its court hearings to a virtual format. Detainees can virtually meet the judge without leaving the police station or jail, limiting potential exposure to the COVID-19 virus. The Joint Court has set up a dedicated video conferencing workstation at the police station for this purpose and has received positive feedback on the Pexip solution.
"Before, people would have to travel, even between islands, or from outside the islands to attend trials," says Igor Campagnard, Junior System Administrator. "Now we can just send a link, and they can join from their desk."
The judicial staff has found that video calls are much more reliable when hosted on Pexip's service. The court also thinks Pexip's solution offers a simple, easy-to-use experience. Users can join a virtual session just by clicking a button from their chosen device. With Pexip, everything works.
As video conferencing expands, training and education can help new users more easily get started and support organizations in overcoming barriers to adoption.
Recognizing this, the court sends instructional guides to participants in new legal cases. Hence, they understand how to join their virtual session. By preparing them in advance, judicial staff can ensure that hearings start on time and maintain efficiency in their processes.
Overall, the solution provided by Pexip has played a vital role in helping the Joint Court modernize its technology for collaborative operations and accelerating its move towards digital transformation.
Learn more about how Pexip helps government organizations make remote communication more efficient.