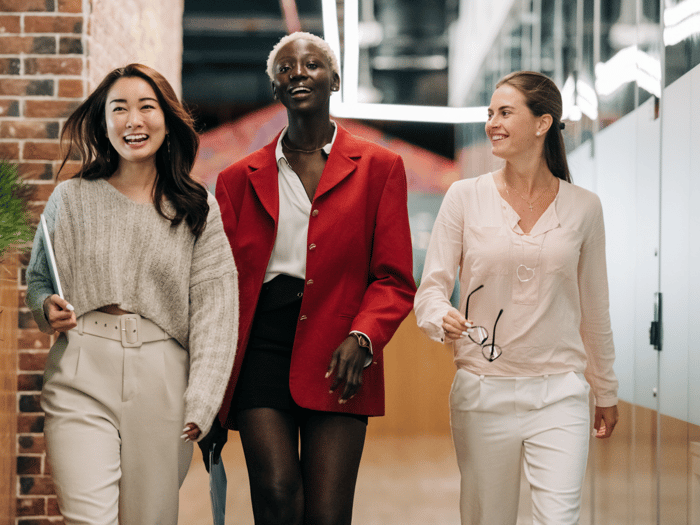 Customer story
Enterprise
Customer engagement
How Skill Builders improved talent mobility with Pexip Engage
Results at a glance
40%
efficiency increase estimated
45%
conversion rate between introduction conversations and coaching tracks
30
manual tasks removed per customer
About Skill Builders
Skill Builders was founded in 1986 as a family business. With 280 permanent employees and around 50 loyal partner colleagues, we coach more than 15,000 people annually in or towards a job throughout Belgium from our over 40 locations, mainly in Flanders and Brussels.
Skill Builders Mission
We strongly believe in Talent Mobility. Those who discover, develop, and deploy their talents today are better equipped for the future. In every phase of a career, Skill Builders supports and coaches both companies and individuals.
Skill Builders is mainly active in the following:
Guidance to work through VDAB and coaching of people who are looking for work

Outplacement of people who have been made redundant or faced a bankruptcy

Training & consultancy mainly aimed at higher management around leadership, communication skills & sales

Assessment & development center

Career guidance through career cheques
Skill Builders meet Pexip Engage
Before using Pexip Engage, the Assessment & development center mainly made these conversations happen over the phone with endless back-and-forths before a coachee and coach were finally paired together with an appointment in place, a very manual and labor-intensive process.
Skill Builders came in contact with Pexip Engage when the Assessment & development center wanted to offer a quotation module on their website that would make it easy to schedule appointments and, offer insights, and allow existing customers to book assessments, as previously, there was always a planner in between.
Skill Builders has extensively been using Pexip Engage since early 2020 and remains very satisfied, both with the technology and the close cooperation, as with the daily support and the influence on the roadmap.
"Skill Builders & Pexip Engage have a powerful partnership that both value. We always see rapid solutions in case of problems and are delighted with the collaboration."
The Voucher project
This case study focuses on a project with the Jump to Work business Unit that, in cooperation with the VDAB (public employment service of Flanders region in Belgium), aims to help people looking for a job with career coaching and guidance.
Enabling the coachee and coach conversation is critical in this project. For the VDAB mediation voucher test project in Antwerp specifically, where coachees receive a voucher and can choose from 8 parties for guidance, Pexip Engage and Skill Builders teamed up to offer a solution that not only provides an excellent customer experience but would also be natively integrated into the CRM system of Skill Builders.
Contrary to the other parties in this test project, Skill Builders and Pexip Engage have built a specific customer journey and scheduling flow that seamlessly informs coachees about the services Skill Builders offers and lets them immediately make an appointment with a coach.
Because the other parties in this test project work with contact forms, email, and phone, thus creating additional obstacles for coachees, we expect significantly higher results than our competitors where the overall user experience is poor, which makes it harder for those in the target group that is less digital-savvy.
Making it easy to create a targeted offer for this target group is thus crucial, and we expect great results. Despite a very ambitious goal of being fully live in 3 weeks, the setup of this project went very well, thanks to the close collaboration between all parties involved.
Integration with MS Dynamics
A vital part of this project was also natively integrating Pexip Engage with MS Dynamics, the CRM system used by Skill Builders. It was a cooperation between the Customer Success team at Pexip, the IT Manager of Skill Builders, and the CRM Partner.
"Starting this project, we knew that we were building the first full Pexip Engage/MS Dynamics integration, so there could be some minor growing pains, but we ensured that the right people were always around the table so that this integration went smoothly and well," says Gerdy Goditiabois Digital Project Manager, Skill Builders.
Before integrating Pexip Engage and MS Dynamics, the process went through a contact form to a mailbox, mail communication, call, contact created manually, then file created manually, …., until finally a coach was found. This process took about 30 steps manually.
Today with the integration between Pexip Engage and MS Dynamics in place, someone signs up, leaves his details, an appointment is scheduled, contact and file are created automatically, and the consultant automatically receives everything via her dashboard and can get to work immediately without having to do 30 administrative tasks before being able to start.
A smooth operation and colossal efficiency gain for the coaches as 99% of the work happens in the background with little impact on front-end users.
The primary drivers for this integration were:
Overview in one CRM tool on everything related to this project

An easy way of working for project employees

Increased efficiency
It allows for a fully automated follow-up for each coaching track from A to Z, creating massive gains in efficiency and customer satisfaction.
"We are delighted with the results as this integration has led to more efficiency through time savings and a fully automated process offering our coachees a better customer experience. We are also pleased with the 45% conversion rate between introduction conversations and coaching tracks. It was an example project within Skill Builders that allowed our IT department to shine." - Gerdy Goditiabois, Digital Project Manager, Skill Builders.
Looking forward, Pexip Engage and Skill Builders will continue to work together on other projects, such as a career guidance tender, where the integration between Pexip Engage and MS Dynamics is estimated to lead to a 40% efficiency increase vs. the current manual process with coaches all across the country.
Explore Pexip Engage offering.