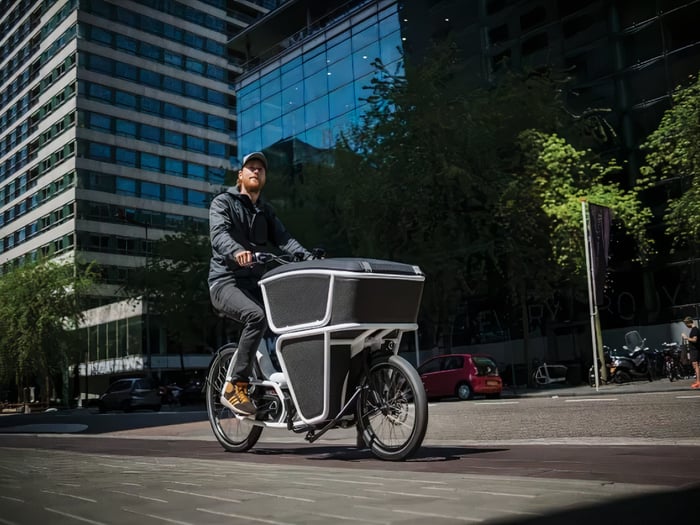 Customer story
Retail
Customer engagement
Bike Center brings order to chaos with Pexip Engage

Pexip Engage started as a tool for picking up bicycles but quickly became a solution for planning showroom appointments.
Nowadays, a bicycle is a high-involvement purchase where people might orientate themselves online but want personal advice in the showroom to guide them in their choice.
"We used to work on a first-come, first-served basis, which at busy times sometimes led to chaos and a sub-optimal customer experience." - Tim Sohier, CEO of Bike Center.
About Bike Center
Bike Center opened its first shop in Sterrebeek in 1985. Later, in 2006, we moved to Heist-op-den-Berg. In 2010, my wife and I took over the shop from my mom and stepdad, and in 2017, we opened the second shop in Lier to create additional volume and serve a new geographical market. Since the beginning, we focused mainly on selling city bikes. In 2009, we quickly adapted to new market demand and specialized more in electric (leasing) bikes.
We are an omnichannel bike shop. We see our website as a friendly additional showroom where customers can orient themselves for bicycles and accessories (while consulting stock levels online so that people are not faced with surprises when coming in-store).
Although we sell directly online, many sales in our physical shops originate from the website as people want personal advice for a high-ticket item like an e-bike. Bike shops have changed. It's not like the old days when a bicycle was uncomplicated, and you could choose a bike in 5 minutes and pick it up in 2 minutes. With the rise of the e-bike, we spend more time guiding people to their perfect ride, delivering the bike, and giving explanations.
In-Store experience
With the importance of personal advice in-store, we see a lot of customers coming to visit us. But what we often found was that, at peak times, 15-20 customers would be here together.
When large crowds are waiting and queuing up in the showroom, this is not a good experience for anyone. And, of course, we want to offer the best service possible and keep our customers happy. We want to avoid situations that create stress for the employees but also frustration for the customers.
Using Pexip Engage brings order in the chaos and turns this into a delightful experience. There is a tremendous added value, especially for the collection of bikes where the customers themselves book a time slot. Having reserved time slots allows us to have the bike ready and waiting in our pick-up area, providing a superior customer experience.
It is a much more structured way of working, vital for employees and customers when purchasing a high-involvement item such as an electric bike.
"Today, we work largely by appointment, and they take precedence over our walk-in visitors, ensuring everybody gets the attention they deserve."
The Pexip Engage effect
In addition, the information we capture in the Pexip Engages plugin when making the appointment is very useful in our sales process. Data include which type of bike they're interested in whether they are private consumers or want to lease a bike. If they lease a bike, we can capture who their employer is and which leasing company.
Capturing this data beforehand helps us to prepare the sales process and increases the efficiency of this process. The same goes for bike pick-up appointments, where we capture information such as the need for accessories or insurance, which helps us to upsell.
We only receive positive feedback from our customers for the ease of use, resulting in fewer no-shows due to notifications. Our showroom advisors are also delighted as Pexip Engage lets them structure their day and keep their agenda filled with leads.
Looking forward, customers will orient themselves more and more online, but the biggest challenge will remain the same as today: guiding people to the right bike for them and offering them top-notch after-sales service. Something that will continue to require personal guidance in the showroom, on test rides, and in after-sales.

"Pexip Engage will play a key role in our omnichannel strategy to make our showroom advisors accessible for expert advice and convert our online visitors into customers," says Tim Sohier, CEO of Bike Center.
Explore Pexip Engage solutions.