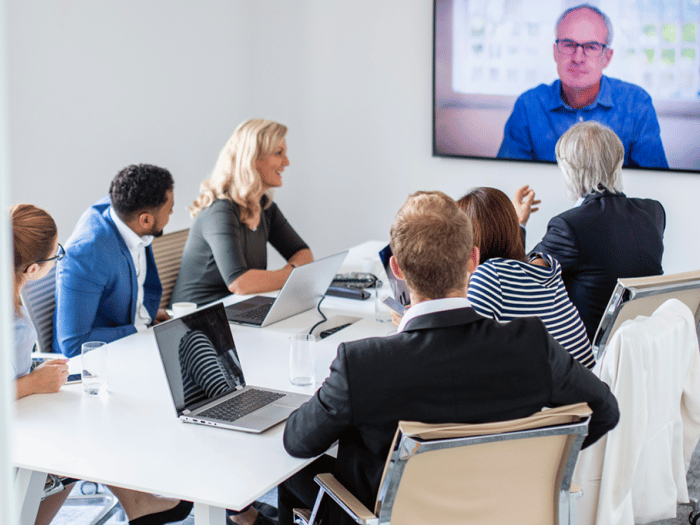 Customer story
Financial services
Secure meetings
APG utilizes existing hardware to improve the employee meeting experience for in-office, remote, and overseas workers
About APG
APG Group NV (APG) is the most significant pension provider in the Netherlands and Europe. The institution manages over EUR 500 billion in capital on behalf of eight pension funds and their members and beneficiaries.
Approximately 3,000 APG employees work in the Netherlands, Hong Kong, and New York. APG aims to make a difference so that we, our parents, and our children have a good income now and in the medium and long term.
Challenges
Need for a system that could integrate Cisco hardware, Microsoft Teams, and virtual meeting rooms all in one


Need for new dial-in capabilities to replace previous video infrastructure


Any new solution must meet high compliance requirements and be a highly secure platform
Pexip solutions
Adoption of the Pexip Infinity platform with Microsoft Teams CVI and integration with Cisco hardware
Results
Helped APG create a seamless virtual meeting environment across MS Teams and Cisco devices





Improved the employee experience, connectivity, and efficiency between office, remote, and overseas workers





Ensured regulatory compliance without compromising on the user experience
Challenges
At the onset of the Covid-19 pandemic in March 2020, 80% of APG's employees worked from home. It increased the importance of Microsoft Teams for collaboration, communication, and meetings from anywhere.
However, the employees still at the office needed to keep using Cisco meeting hardware to talk to their remote-working colleagues via Teams meetings. Because of APG's excellent experience with their high-quality Cisco video systems and keeping in line with their goals for environmental sustainability, they wanted to find a way to keep using this existing infrastructure rather than replace it.
At the same time, the pension provider needed a new solution for dialing into meetings. Their existing video conferencing infrastructure for virtual meeting rooms worked on ISDN30, which was phased out in the Netherlands in 2021. Given that APG operates in the European financial sector, any new solution must meet strict regulatory requirements regarding data protection.
Why Pexip?
Tasked with finding a way to link the Teams and Cisco video environments and replace the previous video system environment, APG System Engineer Patrick de Klerk was impressed with the demo Pexip technology partner Avesqo provided him.

"Given the positive stories we had heard from other companies and the scalability, ease of use, and wide variety of capabilities available, we felt confident in choosing Pexip," says Patrick.

APG also had a security consultant and solution architect review potential regulatory and policy compliance solutions. They were delighted that the Pexip Infinity solution provided complete control over data and was easily adaptable to their specific compliance needs.

"Pexip's interoperability between Teams and Cisco met our needs better than other potential solutions.

We also appreciated that robust dial-in and compliance capabilities are included so we could meet all our virtual meeting needs from a single, secure platform."
Results
Home internet connections are sometimes less reliable in the U.S. and Hong Kong than in the Netherlands.
As a result, the dial-in options and intelligent bandwidth optimization of Pexip Infinity helped cut down on technical issues and make virtual meetings with overseas remote workers more efficient.
Being able to quickly join meetings at the touch of a button from home and the office, regardless of device, has improved the employee experience at APG. It has made coping with widespread remote working during the pandemic easier.
Before the pandemic, APG employees frequently traveled across the Dutch countryside to hold on-site presentations for employers and participants. Since most of these meetings happen digitally, easy-to-use and high-quality video conferencing plays a key role internally and externally.
Pexip added value here by making it easier for guests to join meetings, thus improving the efficiency and experience of these presentations. "Pexip's seamless integrations between Microsoft Teams clients, Cisco hardware units, and phones dialing in from around the world was just what we were looking for," says Patrick.
While some compliance-focused solutions do not offer the best user experience, APG was pleased that they could enjoy simplicity and security without choosing one. Another benefit of the solution's simplicity is that it only took about two months to completely switch to the new video conferencing solution.
"We were delighted with the fast turnaround time for implementing Pexip," says Patrick.