With the new version of Pexip Engage, our team has worked hard to enhance and improve the functionalities and features of the web application to deliver extraordinary user experiences.
In short, we made our solution faster, better, and more user-friendly.
Here's a quick summary of what's new. 🔎
V2 Pexip Engage Web Application
Notification when calendar sync is broken
Email templating
Scheduling Plugin upgrade
Don't hesitate to contact your dedicated Pexip contact person for a more detailed explanation.
V2 Pexip Engage Web Application new functionalities and improvements
1. Improvement of UI - look and feel.
One of the main focuses of V2 of the web app was improving the look and feel of the user interface and the user experience.
The web app now follows familiar logic to make it more user-friendly and intuitive. It is easier to find the next steps in the configuration process.
Another addition to the web app is pop-ups. These pop-up pages make it a lot easier and quicker to update your preferred settings. At the same time, you continue to adjust the configuration.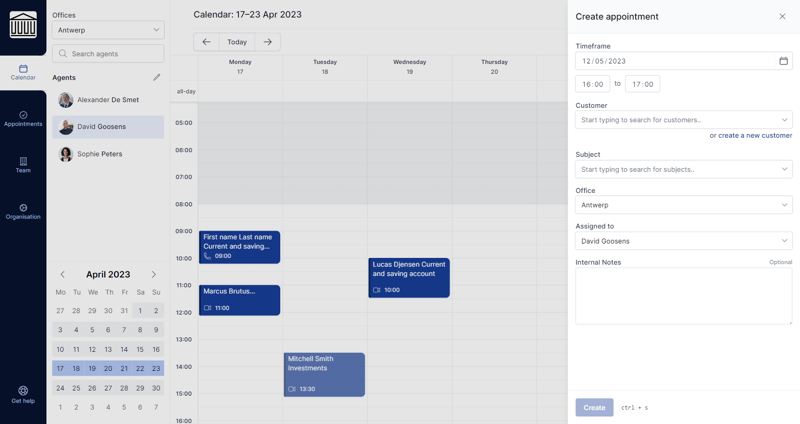 2. Account settings changes
In the previous version, users had to set up their Pexip Engage account in multiple places, which could be confusing. Now, all personal settings are in one place, which makes it easier to get going.
It also helps to limit mistakes and errors.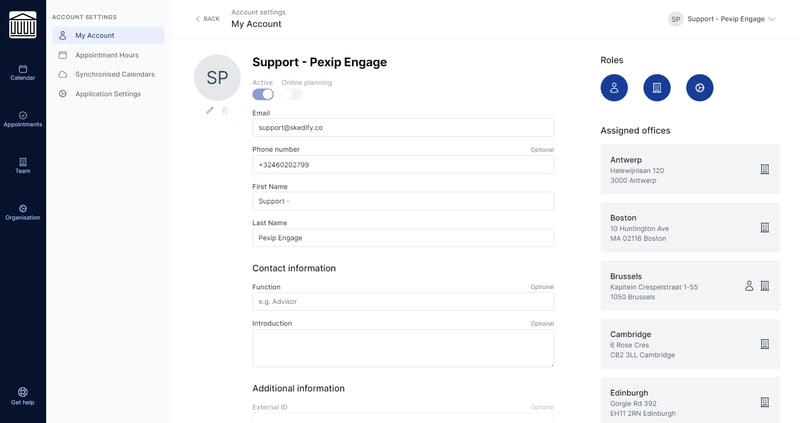 In settings, you can now adjust basic account settings, configure your appointment hours and templates, sync your calendar, and adjust the application settings to your preferences.
There are also some improvements to the calendar synchronization setting. Previously, there were a couple of steps and clicks to set it up. Now, it's easier and faster, and it only takes three clicks to set up your calendar synchronization.
3. Calendar changes
One of the first things to cover is office selection. This option is used if you are a part of multiple offices, are a central planner for the organization, or need to manage appointments over numerous offices.

With the new solution version, you can easily find your dedicated office on the top left and choose it from a drop-down menu. If there is a long list and you cannot find the right office immediately, there is now a search bar that you can rely on.

The same selection options are also available in the agent search box.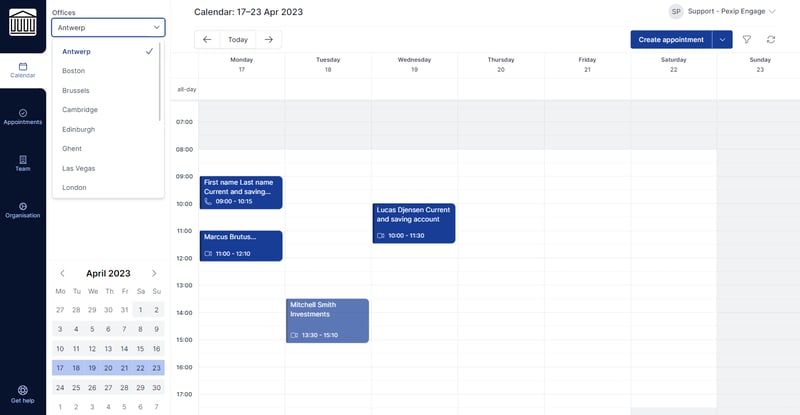 Creating an appointment is now faster and easier. A pop-up opens where you can enter all relevant information for the appointment. On top of that, there is a drop-down where you can invite a customer directly to an appointment or create a meeting invite link to use in your email signature or targeted campaigns.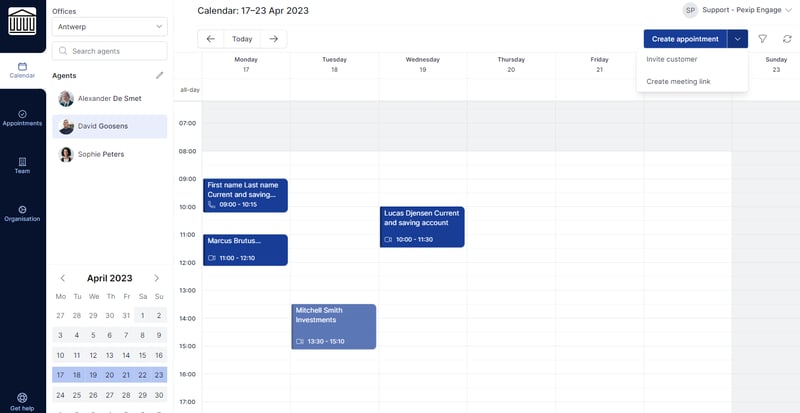 The calendar view also got an update. Your meeting type is now immediately visible in the calendar without clicking on the appointment to see it, limiting confusion and allowing you to be better prepared. For example, if it's a physical meeting and you need to reserve a room or drive to a customer, you can see it at a glance.
Next to that, you can now filter your calendar view. It allows you to quickly see the appointments, appointment requests, synchronized calendars, listings, and bookable listings over a day, a week, or a month. Pending requests are easily spotted and confirmed or rescheduled. This feature helps to reduce the risk of not accepting or missing an appointment.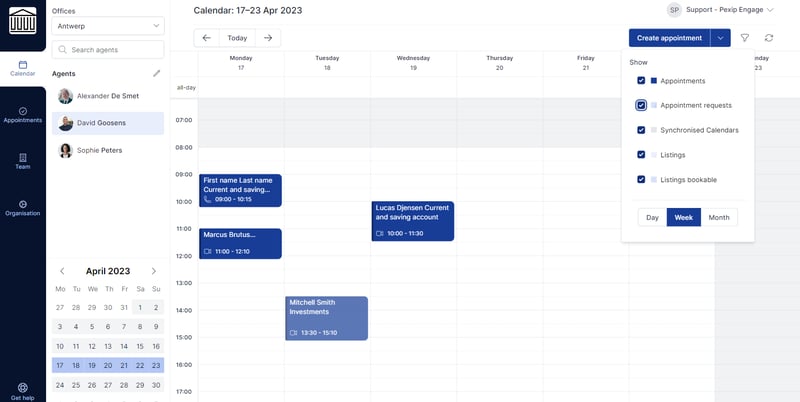 4. Appointments tab changes
The Appointments tab got a new look as well. It is now easy to quickly see your upcoming appointments, appointment requests, past and outgoing appointments, and completed appointments. You can also filter your appointments on a specific date or week.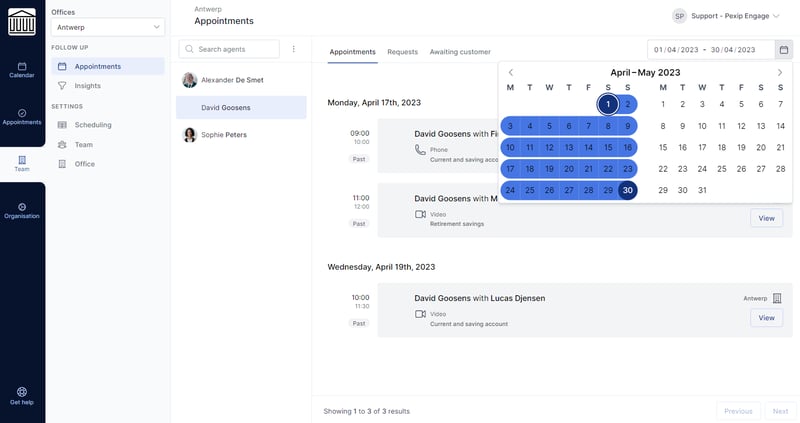 Notification when calendar sync is broken
To ensure that customers and prospects can book meetings with your client-facing staff, connecting the correct calendar to the Pexip Engage solution is vital.
In the past, if a calendar sync was broken, it took a while to discover that this was the issue when advisors were not bookable.
Now, if synchronization is broken in the web app, the agent gets a notification via mail to reestablish the sync with their calendar in the web app.
Email templating
One of the missions of Pexip Engage is to streamline the complete customer journey. It means delivering a consistent experience over all steps throughout the customer journey.

With V2, our team worked to develop templates, making it easier to configure branded confirmation emails when someone books a meeting.
Scheduling Plugin upgrade
Last but not least, with V2 comes a significant upgrade to the plugin. Thanks to changes in architecture and the Schedule Rule Server, the plugin now loads data significantly faster than the previous version.

Increasing speed will increase conversion rates since people will not drop off the scheduling flow due to load times.
For more information, contact your dedicated contact person or via Contact Us page.
Topics:
Financial services
Enterprise
Government
Retail
Personalize customer engagement
Customer engagement