Celebrating our Channel Partner Community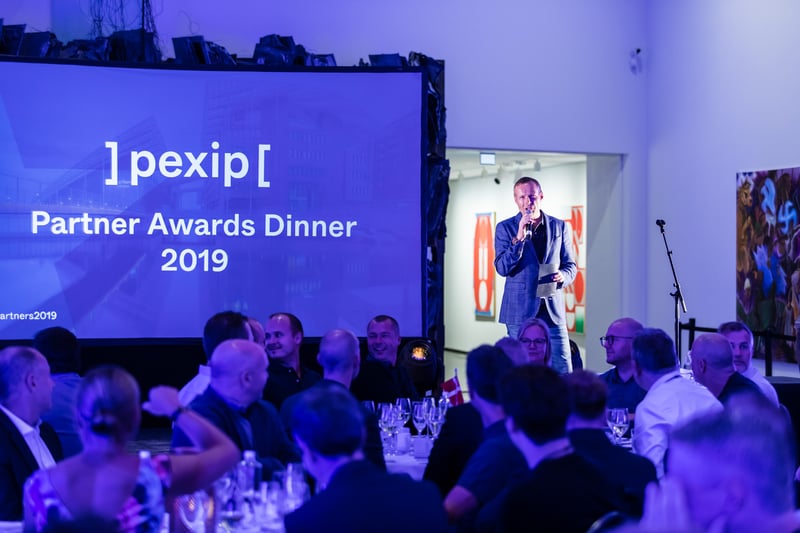 This week we were delighted to welcome representatives from our global channel partner community to Oslo, Norway for two days of knowledge sharing, activities and an awards ceremony.
Our channel partners are a key element in Pexip's success and we believe it is important to acknowledge their important contribution to our business.
Congratulations to all the awards winners and thanks to everyone who attended the event!
Partner of the Year Award
Partner of the Year:

Kinly
In recognition of the partner that has really stood out in 2019 in terms of sales performance, marketing initiatives and operational excellence as they build sales pipeline, drive sales and deliver a great customer experience leveraging the full Pexip offering to their customers
Sales Excellence
Sales Excellence EMEA: Chris Young,

Videocall

Sales Excellence Americas: Meagan McCloskey,

ConvergeOne
In recognition of the sales professionals from our partner community that have demonstrated a strong understanding of the Pexip offering, an engagement approach that embraces working closely with the Pexip sales & engineering team, and has closed sales opportunities demonstrating their Sales Excellence
Best Newcomer
Best Newcomer of the Year EMEA: Allan Klitmøller Mogensen,

Comm2ig



Best Newcomer of the Year Americas: Ryan Humble, ConvergeOne
Each year we strive to strengthen build and develop our partner community. This includes bringing on new partners that can leverage the Pexip portfolio to grow and expand our sales success. This award recognizes the new partners for their execution in their first year for their contribution to training and developing their sales, technical and marketing community and executing on a plan that builds sales pipeline and achieves sales success
Deal of the Year
Deal of the Year Americas: Peter McCarthy,

Presidio
In recognition of the most strategic, large sale over the last 12 months that leverages the Pexip platform, overcomes competitive challenges and creates a customer experience that is second to none
Best Dual Partner of the Year Award
Best New Dual Partner Americas: Cliff Frankenberger,

IVCi
As Pexip & Videxio came together in January 2019, it afforded an opportunity for our respective partner communities to embrace moving forward with the power of the full Pexip portfolio-Service & Infinity. This award is in recognition of partners that moved forward with the combined Pexip portfolio and has made the most progress with their pipeline development and sales success
Best Pipeline Creation
In recognition of the partner that has generated the most demand for Pexip solutions through marketing and sales engagement activities.