The concern around the spread of Covid-19 (Coronavirus) has accelerated many of the collaboration trends we have already seen in the market today, especially around distributed workforces and workplace flexibility.

As more workers stay home to reduce the risk of exposure, they are inviting more people into video meetings, and it's important that these meetings are kept private and secure. Pexip delivers a scalable, high-quality video collaboration platform designed for the enterprise, and with ease of use combined with privacy in mind.

We make it easy for you to join a meeting by just clicking a link in your web browser, dialing in from your phone, or using our app on your computer or smartphone. You can even connect to the meeting from a standards-based video conference room system. Independent of how you join, we use the latest technology to encrypt your media - turned on by default - to ensure it's private, even as you are using your internet at home.

To further enhance the security and privacy of your meetings, there are a few additional easy steps you can take. These include:


Use a one-time meeting room

- When scheduling a new video meeting with our Outlook or Google calendar add-in, you can use a one-time-meeting link to ensure that every meeting has a unique link. This way, you don't have to worry about uninvited guests joining your meeting or sensitive information being exposed if your room link is posted publicly.
Lock your meeting

- When all participants have entered the meeting, you can lock the meeting. This ensures that you don't get any surprise guests visiting your meeting if they have gotten a hold of the invitation link.
Monitor your participant list

- You can not participate in a Pexip meeting without being present in the participant list, so actively use the participant list to view and monitor all the active participants during your meeting. If you are the host, you can also use the list to invite, mute, or disconnect your guests.
Use PIN codes

- If you want additional security, we would recommend that you set up a PIN code for your meeting. This will require every guest to enter a PIN code in order to join, and will keep others in a virtual lobby until you admit them.

To learn more about how to communicate securely using Pexip, please click here.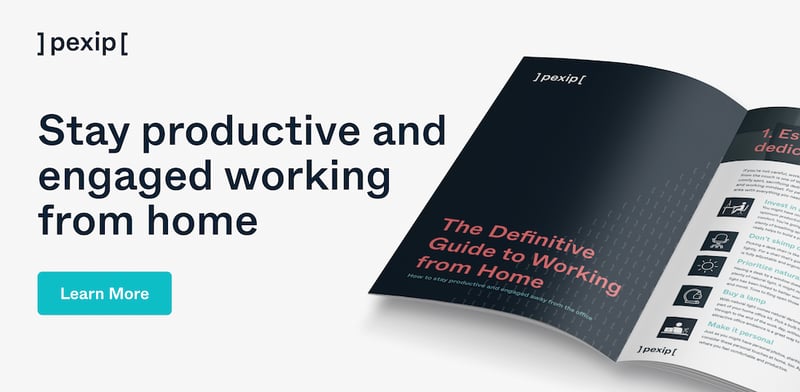 Topics:
Meet & collaborate securely